How Much Are Romney's "47 Percent" Remarks Hurting Him?
Mitt Romney's "47 Percent" remarks seem to be hurting him.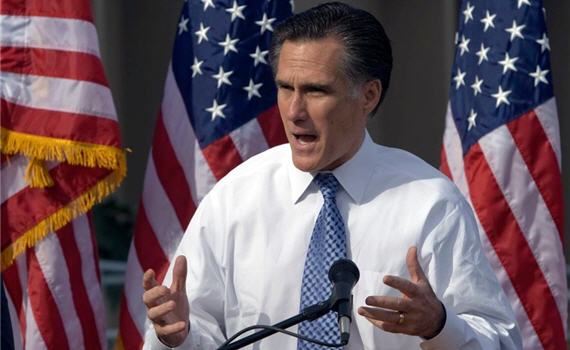 The Obama campaign is out with yet another "47 percent" ad that The Atlantic's Molly Ball calls brutal:
Jonathan Chait comments:
What's devastating about the ad, aside from the juxtaposition of Romney's words against photos of regular Americans, is something I only noticed the second time I watched it. It's the sound of silverware clinking on china in the background as Romney speaks. That detail contrasts the atmosphere Romney inhabits with the one in which most Americans live. You can tell, even though you're not seeing this, that the remarks are being made to people enjoying a formal dinner.

The damage of the remarks is twofold. Obviously, it deeply reinforces the worst stereotypes voters have of Romney. Indeed, the fact that he is currentlyrunning ads trying to make the case that he does care about all of America testifies to the grim position in which Romney finds himself. If you're trying to clear the threshold of "does this candidate hate me" six weeks before the election, you're probably not on the verge of closing the sale.

Worse still, the comments destroy Romney's fundamental credibility. Here America sees what he says behind closed doors. Nothing he can say in public can possibly overcome the damage of these comments, because voters will quite correctly assume that he is telling them what they want to hear. George W. Bush's campaign figured out how to do this to both Al Gore and John Kerry — by painting them as liars, Bush destroyed them as a message delivery platform. Romney has, essentially, done it to himself.

The size of the political damage Romney has incurred is beside the point. He was trailing narrowly, but in a polarized electorate with a tiny number of undecided voters. Not only has he turned some of those undecided voters against him, but he's blown up his bridge to reach them.
Ball says in her post that this ad, which just came out yesterday morning is already running heavily in the Canton, Ohio area. Presumably, it's also being run in Cleveland, Toledo, Dayton, Columbus, and Cincinnati as well. And, while I haven't seen it show up yet from the limited television viewing I've done over the past 24 hours, I would imagine that it will show up here in Virginia too. It really is quite an effective ad. As Chait notes, juxtaposing Romney's own words over the images of people meant to represent average Americans who make up this "47 percent" that Romney was speaking of sends a message as much as the Bain ads that the Obama campaign and Priorities USA were running this summer. Fair or not, that message is that Mitt Romney is a man who is disconnected from the concerns of such a large segment of the American public that he can actually utter the words "I don't need to worry about them."  Indeed, according to a recent poll out of Ohio, only 38% of those surveyed believe that Romney cares about the needs and problems of people like them.  If you're looking for a reason why Ohio is now considered by many pollsters to be a state that leans toward Obama, that would be the reason right there.  In other words, the "47 percent" comments are a problem because they reinforce the narrative that the Obama campaign and its supporters created about Romney, without any push back at all from his campaign, over the summer.
Nate Silver tries to figure out the impact that the "47 percent" remark has had on the race:
By Sept. 17, the date when the video of Mr. Romney's remarks was released and received widespread attention, the momentum from Mr. Obama's convention appeared to have stalled (although not necessarily reversed itself). Mr. Obama led in the popular vote by 4.1 percentage points on that date, according to the "now-cast."

Since then, however, Mr. Obama has gained further ground in the polls. As of Thursday, he led in the popular vote by 5.7 percentage points in the "now-cast," a gain of 1.6 percentage points since Mr. Romney's remarks became known to the public.

It's hard to tell whether this recent gain for Mr. Obama reflects the effect of the "47 percent" comments specifically. But the most typical pattern after a party convention is that a candidate who gains ground in the polls cedes at least some of it back.

Instead, the more pertinent question seems not whether Mr. Obama is losing ground, but whether he is still gaining it.
Silver produces this chart which shows the polls since late August and the impact of the four major events that have occurred since then: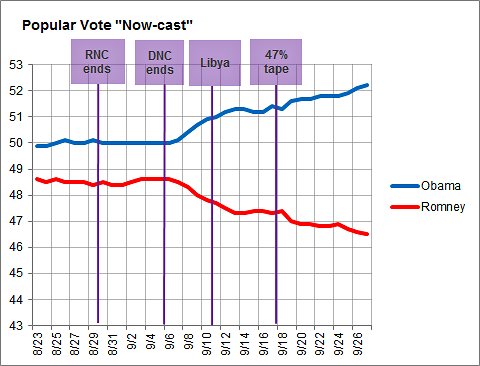 While it certainly isn't clear if the "47 percent" remarks have resulted in a sea change in the race, they do seem to have delayed any fall that might have occurred from the end of the President's convention bounce. Even that puts Romney in a conundrum. .
At this point, I'm kind of at a loss to figure out what Romney could do to overcome this problem. We are now 39 days away from Election Day, people are already voting, and the first debate is only a few days away. Josh Barro lists a few ways that Romney could fix this problem, although he doesn't think he'll succeed in doing any of them. It occurs to me, though, that we're coming close to the point now where Romney's only hope of victory would be the hope that President Obama makes a major mistake or that some kind of crisis causes the public to turn against him. Possible? As I've said before when talking about Romney's chances, anything is possible. The problem for Mitt Romney is that it isn't very likely.