If Trump Is Innocent, Why Is He Acting Like He's Guilty?
It's a valid question, but one should also be careful about drawing conclusions based on how a person in Trump's position acts.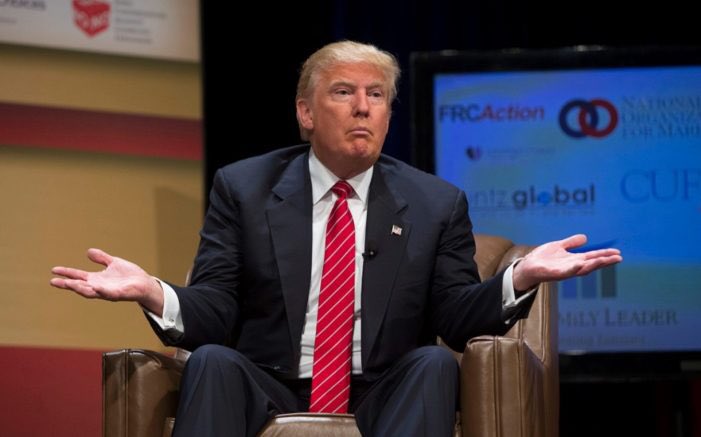 The Washington Post's Philip Rucker notes that, for a person who keeps proclaiming that he is innocent of any claims of wrongdoing, President Trump is certainly acting like someone who is guilty:
As concern grew inside his orbit that Michael Cohen might become a cooperating witness to federal investigators, President Trump issued a declaration about his longtime personal lawyer and fixer.

"Most people will flip if the Government lets them out of trouble," Trump tweeted over the weekend. He added: "Sorry, I don't see Michael doing that."

By asserting that the government would not be able to "flip" Cohen, Trump invited a question: If the Russia probe is the "witch hunt" the president says it is — and if he is as innocent as he so often proclaims — what incriminating evidence would Cohen have on Trump that would give him leverage to flip?

It was only the latest instance of the president adopting a posture vis-a-vis his legal troubles that is both combative and defensive — and, perhaps unwittingly, seems to assume guilt.

Trump accused the FBI of going rogue by seizing Cohen's records. He went to court to try to deny investigators access to his communications with Cohen. And he threatened to fire Justice Department officials, protesting overreach. Again and again, many legal experts say, the president has taken the steps of a subject who has something to hide, creating the appearance of a coverup even if there is no crime to cover up.

"I've seen criminal defendants do this before," said Joyce White Vance, a former U.S. attorney in Alabama. "When they speak about topics where other people protest their innocence, these folks have an assumption of guilt."

"A normal person," she added, "would say, 'You can go ahead and search my lawyer's office, and I'll give you access to everything' because they know they didn't do anything wrong. With Trump, there's this consciousness that things should remain hidden."

As Rep. Trey Gowdy (R-S.C.) put it last month after Trump's then-attorney John Dowd called on special counsel Robert S. Mueller III to end his Russia investigation: "If you have an innocent client, Mr. Dowd, act like it."

Trump's desire to shield details of his business dealings and personal life from Mueller and his team of investigators is in keeping with his general instincts to be opaque and impenetrable when it comes to his finances. He was the first major-party presidential nominee in more than a half-century not to release copies of his tax returns before the election; a year and a half later, Trump still has not shared them with the public, citing an IRS audit but providing no evidence that the audit is real.

Trump's aggression toward Mueller, FBI investigators and anyone else he considers a legal enemy is consistent with his determination over many years to cast himself as a victim of a system — "the swamp," as he denounces it — run amok.
Of course, several people have noted that Trump's strategy of attacking the investigators looking into his campaign and the business dealings of his attorney Michael Cohen isn't all that dissimilar from the way previous Presidents acted:
When President Bill Clinton was under investigation for lying about his affair with White House intern Monica Lewinsky, he and his advisers debated how aggressively to go after independent counsel Kenneth W. Starr. They calculated that attacking Starr made Clinton look guilty but that pulling punches legitimized a probe they felt was expanding far beyond its original mandate to look into the Whitewater real estate controversy.

Lanny Davis, one of Clinton's legal advisers during this time, said he argued then in favor of attacking Starr. But he said Trump is making "a big mistake" by similarly going after Mueller.

"If in fact he has nothing to worry about on the issue of Russian collusion, which is the big enchilada, then anything he does or says that's a criticism of Mueller is a huge mistake," said Davis, arguing that with every outburst Trump risks adding a new exhibit to any obstruction-of-justice case. "Every time that he tweets about Michael Cohen and about flipping and about Mueller and FBI and all of the political rhetoric in his tweets, he is in fact extending the subject matter of the Mueller investigation."

(…)

During the 1970s Watergate investigation, President Richard M. Nixon fumed about what he saw as a "witch hunt" and plotted with his advisers on how to thwart investigators, as revealed later in Oval Office audio recordings.

"What's very peculiar for students of the Watergate era is to see Trump speaking in the same self-incriminating terms publicly. Nixon had enough self-control to only do it privately," said Timothy Naftali, a historian at New York University and former director of the Richard Nixon Presidential Library and Museum.

Naftali added: "President Trump's own rhetoric is not helping him exonerate himself. He shouldn't have to care about whether someone 'flips' or not. If you're innocent of crimes, you shouldn't worry about what your lawyer tells law enforcement. Similarly, if Richard Nixon had not been worried about the truth, he would not have been suborning perjury."
The important point to note here, of course, is that both Presidents Clinton and Nixon were guilty of something at the same time they and their supporters were lashing out at the investigators going after them. Clinton did, in fact, lie under oath in violation of State and Federal laws against perjury. While it now seems obvious that Republican efforts to impeach him over that were over the top and that they ultimately politically backfired on Congressional Republicans once Clinton was acquitted in the Senate as everyone knew he would be when the impeachment process began, the fact that he was guilty of perjury can't be erased and neither can the fact that he had what would now be recognized as an entirely inappropriate sexual relationship with an employee in the workplace. In Nixon's case, of course, the guilt was far more apparent and became so once all the evidence was made public and it was clear that, from the start, the President was involved in an active effort to undermine the investigation of the Watergate break-in as well as a number of other crimes involving the misuse of Federal law enforcement against political critics and enemies. Given that, the fact that Trump appears for all the world to be reacting to the Mueller and Cohen investigations in a similar manner leads many to make the conclusion that he must have something to hide.
Perhaps that will turn out to be true, but at this point, it's important to note that we do not have any real evidence that the President personally or those close to him committed criminal acts that he could be responsible for either directly or indirectly. Additionally, as with anyone else who is the subject of a criminal investigation, Trump is entitled to a presumption of innocence that would exist even if he were ultimately charged with something, which is unlikely as long as he's President for reasons I've discussed previously. Additionally, Alan Dershowitz makes an excellent point in the article linked above when he says this:
Alan Dershowitz, a retired Harvard Law School professor and veteran criminal defense attorney, said the president is taking the right approach.

"I tell my innocent clients as well as my guilty clients, act as if somebody can incriminate you," said Dershowitz, who defends Trump's legal strategy on cable news shows and has informally discussed it with the president.

"I think any person who is the subject of an investigation should assume that the government may very well flip a witness — and may get him not only to sing but to compose, that is to make up stories, to elaborate, to add," he added. "Innocence is not enough."
While Dershowitz has often gone very far over the top in his defense of Trump and his criticisms of the Mueller investigation, he is absolutely right here from the point of view of legal strategy. Even if you're completely innocent, if you're the subject of a criminal investigation, especially one being conducted at the Federal level, you should at the very least be careful about being willing to cooperate with investigators and in any case should never do so without being represented by a competent criminal defense attorney. As people ranging from Scooter Libby to Martha Stewart have learned in the past, even if a prosecutor can't ultimately uncover evidence that allows them to charge you in the case they are investigating, the act of merely talking to them opens you up to potential charges of lying to an investigator if you end up saying something inconsistent with the evidence even inadvertently.
Additionally, there is a significant danger in the attitude that someone who is acting defensively toward law enforcement must have something to hide. It's akin to the argument that many people have made in the past that someone who chooses to exercise their rights under the Fifth Amendment against self-incrimination must be guilty otherwise they would be willing to speak openly. As I've noted before in the past — most especially here and here — that Amendment, and indeed the entirety of the protections provided to criminal defendants by the Bill of Rights exist to protect everyone, and the fact that someone is invoking those rights cannot and should never be taken as evidence or an admission of guilt. The same thing rings true for trying to draw conclusions about a persons innocence or guilt based on their behavior before charges are even brought against them.
It may very well be that Trump's rhetoric and the manner in which he has actively sought to undermine the Russia investigation, and how he is now seeking to draw attention away from the investigation of Michael Cohen's affairs, are rooted in some consciousness of guilt. It could also be, though, that this is all rooted in something else, such as deep seeded paranoia on Trump's fault or the desire to keep his business affairs private, something that has manifested itself in the past in things such as his refusal to release his tax returns. We won't know until these investigations come to a close and the facts are on the table. Until then, I think it's premature to be jumping to conclusions.