Is Mitt Romney Running Against Barack Obama, Or Jimmy Carter?
He may be running against Barack Obama, but Mitt Romney seems to mention Jimmy Carter a lot.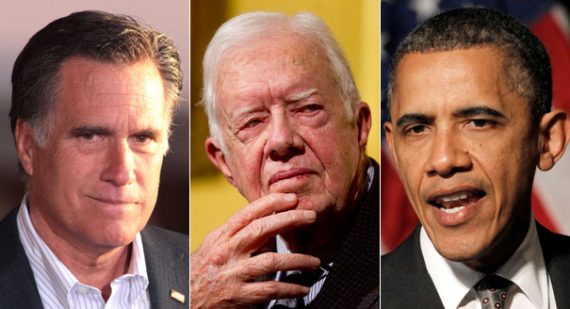 Sometimes it's hard to figure out if Mitt Romney is running against Mitt Romney or Jimmy Carter:
FORT LUPTON, Colo. — For President Barack Obama, Mitt Romney is an obvious throwback to another era — a stiff Father Knows Best-type who straps the dog to the station wagon and marries his high-school sweetheart.

But Romney is pursuing his own strategy to puncture Obama's next-generation cool and paint the president as a retread, comparing him to Jimmy Carter and his fuzzy-headed liberal thinking. To the presumptive GOP presidential candidate, Carter is not just a former president, he's a potent metaphor and political weapon.

"When you mention Jimmy Carter, that lightens up certain regions of the mind and brings to mind ineptness and incompetence," said Peter Wehrer, who worked in the Reagan, George H.W. Bush and George W. Bush administrations. "That's going to be one of the things that Romney is going to try and tie to Obama."

Romney has mentioned Carter periodically on the campaign trail: Twice this month, he has made unflattering references to the 39th president. When asked on the anniversary of the killing of Osama bin Laden whether he would have green-lighted the mission, Romney told reporters on a New Hampshire rope line that "even Jimmy Carter would have given that order" to kill bin Laden.

Two days later at a rally in northern Virginia, he explicitly referred to the Carter era as better for businesspeople than the Obama years have been.

"What the president has done, and I think unknowingly, never having spent any time in the private sector himself … was one item after another make it harder and harder for small business to thrive and to grow and to start up," Romney said.

"It was the most anti-small business administration I've seen probably since Carter. Who would've guessed we'd look back at the Carter years as the good ol' days, you know? And you just go through the president's agenda over … the last several years and ask yourself, did this help small business or did it hurt small business?"
Romney isn't the first candidate for office to reach back into history to find an example of a previous President that can be used to create a negative impression of the incumbent. Democrats used the specter of Herbert Hoover, and to some extent Richard Nixon, for decades and President Obama himself has more than once referred to the policies Romney advocates as a return to the "failed policies of George W. Bush." Carter has been a Republican whipping boy pretty much from the day he left office. Indeed, it probably didn't help Democrats very much that their nominee in 1984 was the guy who had served as Jimmy Carter's Vice-President. When it comes to reminding people of a Presidency they'd rather forget, nominating Walter Mondale was like a big neon sign pointing back to Plains, Georgia. For Romney, there's some particular advantage in bringing up the 39th President:
The parallels between Obama and Carter — as Republicans see it — are too plentiful to ignore. There's a first-term Democratic president dealing with an economic recession, high gas prices, a prevailing sense of malaise following the hope-and-change election of 2008 and an executive Republicans have, almost since day one, painted as in over his head.

And then there's the best part: If you can frame yourself as Carter's foe, you get to lay claim to becoming Ronald Reagan.
And yet, I have to wonder how effective the Carter label really is anymore. Jimmy Carter hasn't been President for 32 years at this point. To the extent people do remember him, many of them remember him as the guy who builds houses and goes overseas to monitor elections. Yes, it's true that his post-Presidency has been marked by occasionally stupid comments about world affairs that have stepped on the feet of President serving in the Oval Office, perhaps one of the reasons he's the least-liked member of the Ex-President's Club, but he's hardly in the news on a regular basis. Moreover, according to data from the 2010 Census (PDF) there are some 100,000,000 Americans (roughy half of whom are currently of eligible voting age) who weren't even born when Jimmy Carter left the White House, and another roughly 83,000,000 (all of currently of voting age) for whom the Carter Presidency is mostly a childhood memory. While it's possible that the Carter analogy may resonate for people in their 50s, 60s, and 70s, I really have to wonder if people from 18-49 are really impacted all that much by the specter of the peanut farmer from Plains.
Republicans admit that they haven't really polled very much on the question of whether or not the Carter specter even has much of a political impact any more. I'm betting that, if they did, they'd find that the impact was minimal and largely confined to older voters. For the rest of us, Jimmy Carter is largely remembered as an all-around crappy President but hardly something that's relevant to the nation's problems in 2012.
Photo via Politico