Is The F.B.I's Reopened Investigation Real, Or Just A Political Sham?
Is the reopened investigation of Brett Kavanaugh a real investigation of the charges made against him by three separate women, or is it a political sham? It's beginning to look much more like the latter than the former.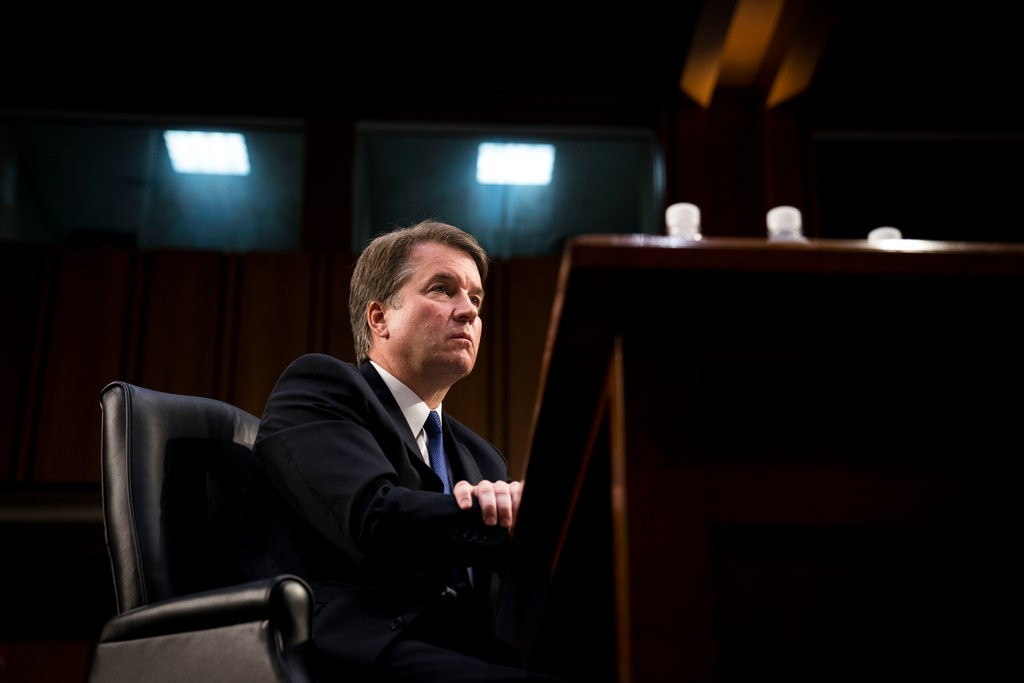 When we last discussed the confirmation of Judge Brett Kavanaugh, the process in the Senate had moved forward slightly with the vote in the Senate Judiciary Committee recommending Kavanaugh's confirmation and sending the nomination to the Senate floor. That didn't happen, though, before a last-minute effort by Senators Jeff Flake, Lisa Murkowski, and Joe Manchin to delay the process in the Senate to allow for a reopened background investigation to investigate the charges before the Senate. Those charges include not only the charges made by Dr. Christine Blasey Ford but also those made by Kavanaugh's Yale classmate Debbie Ramirez and by Julie Swetnick, who traveled in the same social circles as Kavanaugh and his friend Mark Judge, regarding Kavanaugh's drinking and his sexual behavior while attending both Georgetown Prep and Yale. As a result of this mini-rebellion, an agreement was reached that allowed for a one week delay in Senate action to allow for a reopening of the background investigation that the F.B.I. had concluded earlier this summer. All in all, it seemed on paper like this was a fair compromise, although as I noted at the time there were questions about just how wide-ranging the Bureau's investigation would be and whether a week would be long enough to conduct the kind of thorough investigation that most people seemed to expect at the end of the day on Friday.
As the weekend went on, confusion quickly began to reign over just how extensive the investigation would be. In public, the White House was claiming that the investigation was open-ended, but reports are emerging that seem to indicate that the Bureau's hands have been tied by the Administration to such an extent that it is unclear if the Bureau will be able to properly do its job:
The FBI investigation meant to defuse the explosive conflict over Supreme Court nominee Brett M. Kavanaugh sparked a new round of partisan combat Sunday, as the White House appeared to retain sharp limits on the probe even as President Trump and Republican officials publicly suggested otherwise.

Two Trump administration ­officials said Sunday that the White House had not placed any limits on the FBI investigation into claims of sexual assault leveled against Kavanaugh but was also opposed to a "fishing expedition" that could take a broader look at Kavanaugh's credibility and behavior.

The statements, made by press secretary Sarah Huckabee Sanders and presidential counselor Kellyanne Conway in television interviews, followed reports that federal investigators are pursuing allegations made by two women but not a third, Julie Swetnick, who signed a sworn affidavit accusing Kavanaugh of sexually aggressive behavior and being present at parties where gang rapes occurred.

Trump himself tweeted late Saturday that he wanted FBI agents "to interview whoever they deem appropriate, at their discretion."

But a senior U.S. official, speaking on the condition of anonymity to describe internal conversations, confirmed Sunday that Swetnick is not expected to be interviewed and said interviews pertaining to the other allegations will be limited to Kavanaugh, the first two accusers and people who have been identified as present for the incidents.

Sen. Lindsey O. Graham (R-S.C.), a member of the Senate Judiciary Committee, described a similar witness list in TV appearances Sunday.

White House counsel Donald McGahn is most directly involved in guiding the investigation and has been in frequent touch with Republican senators about its scope, the administration official said, adding that the administration is hoping a report could be filed even sooner than the Friday deadline.

Amid the confusion, Sen. Dianne Feinstein (Calif.), the top Democrat on the committee, wrote to McGahn and FBI Dir­ector Christopher A. Wray on Sunday asking for a copy of any "written directive" sent to investigators.

Other Democrats warned over the weekend against too many limits on the purview of the in­vestigation.

"They ought to be doing multiple investigations at the same time," Sen. Christopher A. Coons (D-Del.), a Judiciary Committee member, said in an MSNBC interview Saturday. "There are multiple allegations currently in front of the committee, and I think it is not hard to figure out the universe of witnesses. It is not 500. It may not be 50. But it has to be more than five."

White House spokesman Raj Shah said Sunday that Democrats are "merely attempting to further delay and politicize" the investigation. And Trump, in a shift in tone from the night before, tweeted Sunday afternoon that Democrats are "are starting to put out the word that the 'time' and 'scope' of FBI looking into Judge Kavanaugh and witnesses is not enough. Hello! For them, it will never be enough — stay tuned and watch!"

The squabbling added to the swirl of public confusion over the parameters of the FBI inquiry and who is setting them. The order to the FBI was signed by Trump but has not been made public. White House officials have sought to lay responsibility for the details on either the Senate or the FBI.

The president's Saturday tweet also sparked confusion in the FBI, which had previously been told to conduct only a limited investigation of particular allegations, a person familiar with the matter said. It was unclear Sunday whether there had been more communications between the White House and the FBI clarifying what agents should look into.

The only official description of parameters has come from ­Judiciary Committee Chairman Charles E. Grassley (R-Iowa), who said Friday that the FBI investigation would be no more than a week long and would be limited solely to "current credible allegations" against Kavanaugh.
Jane Mayer and Ronan Farrow, who were the ones who brought the allegations against Kavanaugh by Debbie Ramirez have also written about the limitations that the Administration has apparently placed on the F.B.I. investigation:
As the F.B.I. began its investigation this weekend into allegations of sexual misconduct by Brett Kavanaugh, President Trump's Supreme Court nominee, several people who hope to contribute information about him to the F.B.I. said that they were unable to make contact with agents. President Trumphas promised to give the F.B.I. "free rein" in its probe, but the Times reported on Saturday that the White House had asked the F.B.I. to question only four witnesses. In the course of the next day, confusion spread about whom the F.B.I. would be interviewing, and Senate Democrats demanded that the White House provide the Senate Judiciary Committee with a copy of the written directive that it had sent to the F.B.I. regarding the investigation.

With a one-week deadline looming over the investigation, some who say they have information relevant to the F.B.I.'s probe are suspicious that the investigation will amount to what one of Kavanaugh's former Yale classmates called a "whitewash." Roberta Kaplan, an attorney representing one potential witness, Elizabeth Rasor, a former girlfriend of Kavanaugh's high-school friend Mark Judge, said her client "has repeatedly made clear to the Senate Judiciary Committee and to the F.B.I. that she would like the opportunity to speak to them." But, Kaplan said, "We've received no substantive response."

(…)

Rasor dated Judge on and off for two to three years while they were students at Catholic University, and she is now a public-school teacher in New York. After hearing Judge's denials, Rasor came forward, offering to give a sworn statement to the F.B.I. challenging Judge's credibility. According to Kaplan, the F.B.I. has so far shown no interest in hearing what Rasor has to say, and efforts to contact the Bureau have gone nowhere.

A Yale classmate attempting to corroborate Deborah Ramirez's account that, during her freshman year at Yale, Kavanaugh thrust his penis in her face at a drunken party, said that he, too, has struggled unsuccessfully to reach the F.B.I. The classmate, who asked to remain anonymous, recalled hearing about Ramirez's allegation either the night it happened or during the following two days. The classmate said that he was "one-hundred-per-cent certain" that he had heard an account that was practically identical to Ramirez's, thirty-five years ago, but the two had never spoken about it. He had hoped to convey this to the F.B.I., but, when he reached out to a Bureau official in Washington, D.C., he was told to contact the F.B.I. field office nearest his home. When he tried that, he was referred to a recording. After several attempts to reach a live person at the field office, he finally reached an official who he said had no idea what he was talking about. At this point, he went back to the official at the F.B.I.'s D.C. headquarters, who then referred him, too, to an 800-number tip line. (He eventually left a tip through an online portal.)

"I thought it was going to be an investigation," the Yale classmate said, "but instead it seems it's just an alibi for Republicans to vote for Kavanaugh." He said that he had been in touch with other classmates who also wanted to provide information corroborating Ramirez's account, but that they had not done so.

On Sunday, a second Yale classmate, Charles Ludington, released a statement accusing Kavanaugh of blatantly mischaracterizing his college drinking during his testimony before the Senate Judiciary Committee last week. Ludington said that Kavanaugh often grew "belligerent and aggressive" when drunk, and that he had planned to share his information with the F.B.I. "I can unequivocally say that in denying the possibility that he ever blacked out from drinking, and in downplaying the degree and frequency of his drinking, Brett has not told the truth," Ludington wrote. "I felt it was my civic duty to tell of my experience while drinking with Brett, and I offer this statement to the press. I have nodesire to speak further publicly, and nothing more to say to the press at this time. I will however, take my information to the F.B.I." The Times reported that Ludington, a professor at North Carolina State University, said that the F.B.I.'s D.C. field office had told him to go to the Bureau's Raleigh, North Carolina, field office on Monday if he wished to speak with agents. Ludington said that he intended to do so and "tell the full details of my story." A lawyer representing Kavanaugh did not respond to a request for comment about Ludington's statement.

(…)

Democratic officials with experience overseeing F.B.I. background investigations disputed that there was anything procedurally routine thus far in the F.B.I.'s renewed investigation into Kavanaugh. Robert Bauer, who served as the White House counsel to President Obama, said that he had overseen numerous F.B.I. background investigations and never seen one so circumscribed. "The F.B.I. should have the latitude to determine what is necessary in a credible, professional inquiry," he said. "The issue on the table is, Did he or didn't he engage in the conduct that Dr. Ford alleged?" To reach the answer, he said, "The F.B.I. needs to utilize its expertise to investigate. But instead the White House has dictated a restricted investigative plan. So it's contaminated at the core."
According to a New York Times report on Saturday, the White House directive to the Bureau that was issued late on Friday after the Senate agreement was announced limited the Bureau's investigation to just four people, P.J. Smyth, a high school friend of Kavanaugh's who Blasey Ford believes was at the party where she was attacked, a high school friend of Blasey Ford's who was also said to be at the party, and Debbie Ramirez. Missing from that list, of course, are people such as Dr. Blasey Ford herself, who apparently has not been contacted by the Bureau yet even though she is willing to talk to them, Judge Kavanaugh, Julie Swetnick, other people identified as having been among the circle of friends that Kavanaugh and Ford had back in 1982 including, most importantly, Mark Judge, as well as the numerous Yale classmates that Mayer and Farrow identify in their reporting who are rebutting Kavanaugh's testimony regarding his drinking behavior and other matters that could potentially call into question the testimony he gave during the hearing last week as well as in other forums.
When this process was put on hold on Friday, the publicly stated terms of the agreement that had been reached stated that the vote would be postponed pending a renewed investigation of the "credible" charges that were before the committee. Objectively speaking, this included not just Dr. Blasey Ford's charges, but also those made by Debbie Ramirez and Julie Swetnick. Additionally, it seems clear that if those charges are going to be properly investigated then the Bureau should be allowed to follow up on leads that may come up during the course of the investigation regarding those three subject matters, including both checks for documentation and other evidence that may be relevant to those charges as well as interviewing witnesses that may have knowledge relevant to those charges. Instead, it seems clear that the White House has deliberately tied the Bureau's hands to limit the scope of the investigation something which, along with the one-week time limit, makes the probability that the Bureau will be able to conduct a full and complete investigation even more unlikely than seemed possible on Friday. Theoretically at least, the Bureau could seek authorization from the White House to expand the investigation as warranted but it's unclear if that permission will be granted or if there will even be sufficient time for the Bureau to chase down those leads before the end of the week. All of this goes to the question of just how legitimate this renewed investigation will be.