Jim Webb Announces He Will Not Run As An Independent For President
The end of Webbmentum is here, my friends.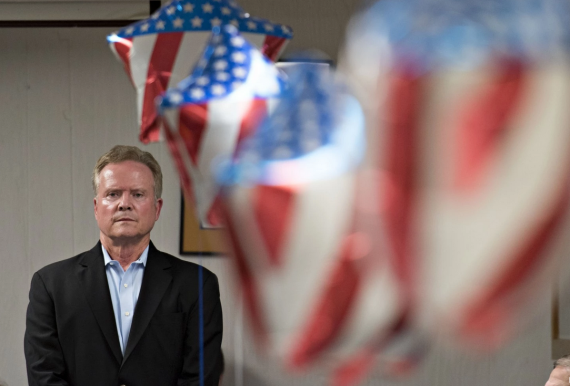 Former Virginia Senator Jim Webb announced today that he would not pursue an independent bid for the Presidency in 2016:
Former Democratic presidential candidate Jim Webb is ruling out an independent bid for president, he said Thursday.

Webb, a former Navy secretary in Ronald Reagan's administration, said both parties have shifted from the major concerns of everyday Americans but emphasized that he didn't have enough resources to sustain an independent run.

"Theoretically it could be done, but it is enormously costly and time sensitive, and I don't see the fundraising trajectory where we could make a realistic run," Webb said in a foreign-policy address at the World Affairs Council in Dallas.

Webb reported raising less than $697,000 in the third quarter of last year, and having less than $317,000 in cash on hand in his October filing statement. In the final quarter of 2015, he reported raising $68,000 with the same amount of cash on hand.

The former Virginia senator announced his initial long-shot run as a Democrat in July, but like Lincoln Chafee and Martin O'Malley, struggled to gain any traction in a race dominated by Hillary Clinton and Bernie Sanders in addition to growing whispers of a run from Vice President Joe Biden.

Webb condemned Clinton's foreign-policy leadership as secretary of state in a December Facebook post, hinting that he could be the one to take her to task as an independent candidate.

"We have not had a clear statement of national security policy since the end of the Cold War, " he said Thursday. "And I see no one running for president today who has a firm understanding of the elements necessary to build a national strategy."

Webb had hired Sam Jones, former national finance director of the Draft Biden movement, to lead his fundraising arm last month, and his campaign had been studying ballot access procedures.

He suspended his campaign in October, telling reporters he wasn't comfortable with many of the policies from the Democratic hierarchy, but left the door open for an independent bid.
Webb, who had served one term as Senator from Virginia before deciding not to run for re-election in 2012, began his seemingly quixotic bid for the Democratic nomination in July of last year after having first formed an exploratory committee back in November 2014. From the beginning, it was unclear just what kind of campaign Webb was running given the fact that he seemed to borrow from the anti-war and economic populism of Bernie Sanders at the same time that he was doing things like defending the "heritage" of the Confederate flag during the controversy that erupted last year in the wake of the shootings in Charleston, South Carolina. Webb, who was notable during his time in Virginia for disdaining things such as retail campaigning and fundraising, then mostly disappeared from the campaign trail until the first Democratic Debate when he turned into an odd performance that included such highlights as pushing back on what is arguably the consensus Democratic position on gun control and reminiscing about the Vietnamese soldier he killed while serving in the Marine Corps. In the wake of the debate, Webb argued that he had been treated unfairly and it wasn't very long afterwards that he announced his withdrawal from the race, leaving open the possibility that he could mount an independent bid for the White House. Speculation about this intentions became news again in December when he began taking steps that appeared to be aimed toward possibly putting together such a campaign.
As I noted at the time Webb dropped out, and then again in December, there was little logic to a Webb independent bid and it was unclear why he was even considering it. Even more than Michael Bloomberg, there is certainly no indication that there's a significant national yearning for a candidate like Webb and the message that would have driven any such independent campaign. More than anything else, the speculation about Webb running seemed to be largely driven by his own frustration with the fact that he never resonated in the Democratic nomination fight and essentially ended up being an also-ran. Such an outcome was largely inevitable, of course, in a year where Hillary Clinton and Bernie Sanders were clearly dominating the race, especially since it was never clear why Webb was running to begin with. To be blunt about it, he brought nothing to the race as a Democrat, and he would have brought nothing to the race as an independent.