John Boehner's Parting Words For His Critics Are Spot-On
John Boehner let loose on the "false prophets" on the right yesterday, and he's absolutely right.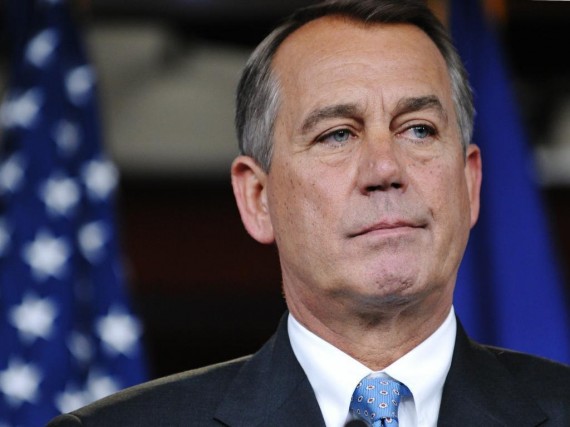 In his first interview yesterday after Friday's surprise retirement announcement, House Speaker John Boehner let lose on the critics and those inside the Republican Party who have hounded him virtually from the day that he took up the Speaker's gavel:
In his first one-on-one interview since his resignation announcement, Speaker John Boehner blasted right-wing lawmakers and groups as "false prophets" who "whip people into a frenzy" to make legislative demands that "are never going to happen."

The Ohio Republican also declared on CBS' Face the Nation Sunday that there won't be a government shutdown this week, though he's "sure" it will take Democratic votes to pass a temporary funding extension.

"The Bible says, beware of false prophets. And there are people out there spreading, you know, noise about how much can get done," Boehner said.

"We got groups here in town, members of the House and Senate here in town, who whip people into a frenzy believing they can accomplish things they know — they know! — are never going to happen," he added.

(…)

Visibly exasperated, Boehner said his top accomplishments as speaker – including the first major entitlement reform in decades, and deficit reduction – "all were voted against by my most conservative members because it wasn't good enough. Really? This is the part I really don't understand.

"Our founders didn't want some parliamentary system where if you won the majority you got to do whatever you wanted," he added. "They wanted this long, slow process. And so change comes slowly. And obviously too slowly for some."

Asked if his critics on the right are unrealistic, Boehner exclaimed, "Absolutely they're unrealistic!"
When the history of Boehner's Speakership is written at some point in the future, the central theme will likely be his efforts to deal with these false prophets on the right who have spent the better part of the last four years trying to undermine him and forcing him into impossible situations that have caused more harm to the Republican Party than anything else. In retrospect, the issues that Boehner has had to deal with seem as though they were the largely inevitable outcome of political forces that the GOP and conservative activists have been exploiting for some time. The Tea Party, for example, can trace its roots to well before the events in the spring and summer of 2009 that led to the rallies against the President's economic stimulus and health care plans that gripped the nation for the better parts of the next year. In some respects, that movement was just the next step in the same movement that had helped stop efforts to pass an immigration reform package in George W. Bush's second term and the protests that sprung up during the fall of 2008 surrounding both the election and Washington's effort to respond to the unfolding economic crisis, which ultimately resulted in the passage of the Troubled Assets Relief Program. One could even find roots of what ultimately became the Tea Party in the conservative backlash against President Bill Clinton that led to the Republican takeover of Congress in 1994 and everything that followed.
Whatever the ultimate source of this movement, though, by the time 2009 and 2010 rolled around it had become a loud, vocal, and popular political movement and Republicans, naturally, sought to take advantage of it in an effort to bounce back from the election losses in 2006 and 2008. In doing so, however, the GOP ended up allowing itself to be co-opted by the movement and in the process ended up making a whole series of political promises that never could have been realistically kept. Throughout the 2010 campaign, Republicans promised that they would repeal the Affordable Care Act and rollback other initiatives that the President had implemented since taking office. While this made for a good campaign slogan to attract these voters, it was never something that could actually be achieved in reality as long as Barack Obama was President. It made for good campaign commercials, though, so Republicans went with it, and many other impossible-to-fulfill promises, and rode it to an historic victory in 2010 and control of the House of Representatives that will likely last until well past 2020.
Republicans weren't the only ones talking to these people, of course. Almost overnight, an entire cottage industry was created online and in the grassroots that aimed its message, and it's fundraising appeals, at the people going to Tea Party rallies, listening to talk radio, and watching Fox News. Groups like Freedomworks, Senate Conservatives Fund, Tea Party Nation, and even the Political Action Committee established by Sarah Palin bombarded these people daily with messages accusing the "establishment" on Capitol Hill of betraying them, and promising that things could be changed if only they donated enough money. During the 2012 and 2014 cycles, many of these groups spent more money attacking incumbent Republicans than campaigning against Democrats, and others barely passed any of the money that they raised on to candidates, spending it instead on "overhead" and other expenses. These groups developed what has been called a "purity for profit" model that ended up convincing people to donate money for political efforts that had no realistic chance of succeeding, and then raising more money to defeat the "establishment" when theose plans inevitably failed.
In 2013, these groups spent the summer campaigning in favor of the impossible-to-achieve goal of "defunding" Obamacare as part of the budget that needed to be passed by the end of September. The result of that effort, of course, was a government shutdown that lasted sixteen days and ended up causing real damage to the GOP, at least in the short term. It was only in the wake of that shutdown and during the 2014 election cycle that the Republican "establishment" began fighting back against these groups and, largely, winning in primary contest after primary contest. Despite those losses, though, the Tea Party influence in the new Congress was just as strong as before, as witnessed by the effort to oust Boehner that in some sense led to his decision to step down.
In the end, I suppose, one could say that John Boehner got what he deserved. He and the rest of the Republican Party hitched their stars to the Tea Party's rising star in 2009, after all, so the fact that this has backfired on them doesn't make them entirely sympathetic. Additionally, the fact that the radicalism and obstructionism that they helped engender has been causing headaches for leadership in the House and Senate ever since may even cause some to be happy. At the same time, though, I would suggest that the fact that Boehner and the rest of the leadership didn't simply bend to the Tea Party's will once they took office demonstrates that they were at least trying to control the phenomenon. To a large degree, though, Boehner lost the ability to control his own caucus thanks in no small part to the reforms that Republicans made to House procedures when they gained power, especially the elimination of earmarking, which made it much harder for leadership to impose party discipline. Because of that, leadership found itself pulled along in directions it clearly didn't want to go, as we saw during the 2013 shutdown crisis.
Boehner's opponents and critics in the Republican Party and the conservative movement, of course, are celebrating his decision to step down. If they had any understanding of political reality, though, ,they would recognize that John Boehner and the rest of the leadership in the House and the Senate got them about as good a deal as should have been reasonably expected, possibly even a better. one. Time after time, whether it was the 2011 shutdown crisis, the showdowns with the President over making the Bush Tax Cuts permanent, the various other budgetary showdowns, or even the deal that ended up resolving the 2013 shutdown. In each case, the deal that Congress walked away from was one that gave them a great deal of what they wanted —- spending cuts and tax cuts especially —- while the Administration actually got very little. Considering that this occurred during a time when a Democrat was in the White House and, for four years, when Democrats controlled the Senate, any reasonable person should have been quite pleased with the job that Boehner, Cantor, McCarthy, McConnell, and the others were doing. They largely weren't, though, because these are people who have no real understanding of how politics works and no desire to learn how it works who are being led by grifters who have turned political activism into money-making business. The fact that it doesn't accomplish anything doesn't really matter to them, as long as they get their hotel rooms in Vegas and craft beer bars and headquarters.
None of this is going to go away with John Boehner, of course. The political realities will still exist, and whomever succeeds Boehner, most likely Majority Leader Kevin McCarthy, will soon find themselves subjected to the same attacks that he was. That doesn't bode well for the ability of Republicans on Capitol Hill to actually accomplish anything, and it doesn't bode well for the country.