Jon Huntsman Pushes Back Against Calls To Resign In Wake Of Trump's Helsinki Disaster
Jon Huntsman, the U.S. Ambassador to Russia, is rejecting calls that he should resign in the wake of what everyone seems to agree was a disastrous summit meeting with Vladimir Putin.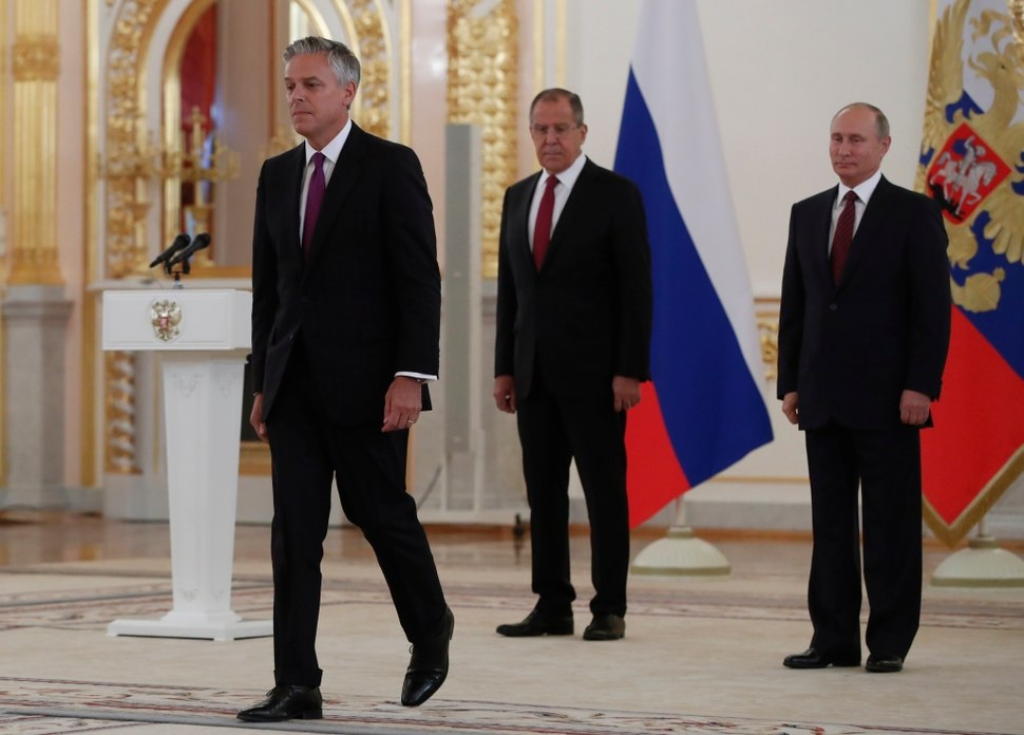 In the wake of President Trump's disastrous summit meeting with Russian President Vladimir Putin, a NATO summit that was equally destructive, and a visit to the United Kingdom that likely has only strained an already strained relationship with one of America's closest allies, there have been many voices here in the United States who have called on certain members of the Trump Administration to either speak out against a President that many see as having gone dangerously rogue or, in an even more extreme example, to resign their office in protest of the statements and actions of the President himself.
One focus of those calls have been Jon Huntsman Jr., the former Utah Governor, Republican candidate for President, and Ambassador to Singapore and China, who has served as Ambassador to Russia for roughly the past year or so. Within hours after the President's press conference with Putin in Finland, John Weaver, who had served as a strategist for Huntsman's ill-fated Presidential campaign, called on his former boss to resign in protest of the President's rhetoric and actions. These calls were repeated by a few other corners, including a columnist for a newspaper owned by Hunstman's own family.
This weekend, Huntsman responded to those calls, and said that he was staying on in his position:
U.S. Ambassador to Russia Jon Huntsman brushed off calls to step down after President Donald Trump's Helsinki summit, writing that "the fragile nature of this moment" compelled him to remain in Moscow.

In an op-ed posted Saturday night in The Salt Lake Tribune, which his brother owns and publishes, the former Utah governor emphasized that his diplomatic staff was too focused on issues like nuclear weapons, Ukraine and Syria "to obsess over politics."

"I have taken an unscientific survey among my colleagues … about whether I should resign," he added. "The laughter told me everything I needed to know."

Huntsman, a onetime Republican presidential contender, was responding directly to a column by the Tribune's Robert Gehrke, who last week had written, "you work for a pawn, not a president. It's time to come home."

Huntsman, along with other Trump administration officials, had faced widespread urging to resign after Trump's world-scrambling summit and press conference with Russian President Vladimir Putin.
From Huntsman's Op-Ed, which is styled as a response to Gehrke's earlier column:
As America's envoy to Russia, I am appointed by the president but confirmed by the Senate. I am charged with representing our country's interests, which in the case of Russia are complex and often little understood. Popular punditry is ill-suited to describing the acts of courage, dedication and patriotism I regularly witness as chief of mission overseeing one of America's most sensitive overseas outposts. Our work has been made more difficult over the past year by the loss of hundreds of colleagues through unprecedented expulsions of diplomats and a staff drawdown imposed by the Russian government.

If you have occasion to visit us in Moscow, I will introduce you to hundreds of colleagues, who are the most highly trained in their field with years of experience working in Russia. Representatives of our foreign service, civil service, military and intelligence services have neither the time nor inclination to obsess over politics, though the issues of the day are felt by all. Their focus is on the work that needs to be done to stabilize the most dangerous relationship in the world, one that encompasses nuclear weapons, fighting terrorism, stopping bloodshed in Ukraine, and seeking a settlement of the seemingly intractable Syrian crisis. Their dedication to service to their country is above politics, and it inspires me to the core. It is my standard.

I have taken an unscientific survey among my colleagues, whom you reference, about whether I should resign. The laughter told me everything I needed to know. It also underscores the fragile nature of this moment. As for my sons, active-duty naval officers whom you also call out, I honor their courageous service each time I salute the Marine guards protecting our large embassy compound. Their words when asked if I should resign are unprintable.
While not specifically addressing the calls on Huntsman to resign, meanwhile, Fred Hiatt of The Washington Post makes an argument for why people like Huntsman and others should not resign:
let me offer a pessimist's view: Things could get worse still. A lot worse. And that argues for the "adults" staying as long as they can manage to do so.
As nauseating as it was to see Trump equate the credibility of Russian President Vladimir Putin with that of America's intelligence chief, Daniel Coats, the summit with Putin could have been more disastrous. As he intimated in the days leading up to the meeting, Trump could have sold out Crimea, Ukraine, NATO, the European Union. As far as we know, he did not do any of those things. If he had not been surrounded by Coats, Secretary of State Mike Pompeo, CIA chief Gina Haspel, Defense Secretary Jim Mattis and national security adviser John Bolton; if he were listening only, say, to Rep. Devin Nunes, R-Calif., Stephen Bannon, Sean Hannity — and to his own instincts — he might have done all of those things.

(…)

It has become a truism that no reputation is enhanced by service in this administration; just ask Rex Tillerson. And every official has to decide for himself or herself what is the breaking point — bowing to dictators, endorsing racist violence in Charlottesville, Virginia, tearing children from their parents at the border.

But if Coats still thinks he can do some good for the country by offering Trump "unvarnished and objective intelligence," I'm not ready to say he's wrong.

I cannot be sure he's right, of course. But I am sure things could be worse.
Hiatt, of course, is specifically addressing Director of National Intelligence Dan Coats who has been critical of the President's comments in the wake of the Helsinki Summit and who was apparently caught by surprise by the announcement that Russian President Putin would be invited to the United States in the fall for a second summit. In the wake of the summit meeting, Coats was the focus of similar calls to resign in protest of the President's comments and actions but he made clear this weekend that he doesn't intend to do any such thing in the foreseeable future. In any case, Hiatt's words to Coats could easily be applied to Huntsman, Defense Secretary James Mattis, or any of the other of the small handful of people on the President's foreign policy team that arguably can be seen as a counterbalance to the hawkishness of people such as National Security Adviser John Bolton and Secretary of State Mike Pompeo.
On balance, I think Hiatt has the better argument here over those calling on people such as Huntsman and Coats to resign in the wake of the President's most recent comment and behavior. Additionally, Hunstman's own arguments in his Op-Ed are well-placed and worthy of consideration, especially to the extent that they speak to what the role of an Ambassador actually is in the modern world. In the modern world,  the proper role for an Ambassador is to represent his country with government officials and others in their host country and, in appropriate circumstances, to lobby the government of the host country as instructed by the State Department. In more recent years, the role has also expanded to include being something of a cheerleader for the United States with the business community and general public of the host country. Beyond that, though, an Ambassador ought to be circumspect about what they say and do in public and should, in all cases, refrain from intervening in the internal politics of either his host country or other nations in the same region. Similarly, while it is appropriate for an Ambassador to advise both the Secretary of State and the President on the proper approach to relations with the nation where they are stationed, it's not part of their job description to speak out against the Administration every time they disagree with something that comes out of Washington.
In any event, while I understand why people might want to see top advisers like Huntsman, Coats, or James Mattis resign in protest of some latest outrage from this President, I tend to think that this is an option that should be seen as a last resort on their part. These people and others who work in the Executive Branch represent the country as much as they do the Administration, perhaps even more so. If they were to leave then the possibility, indeed given this President the probability, exists that they'd be replaced by someone far less competent or whose advice to the President would be far less nuanced. To that extent, it's better that people like this stay in place rather than leaving and potentially being replaced by people who would be far worse. Certainly, there are circumstances where a line may be crossed and decent people should be expected to step aside and speak out, but I don't believe we've reached that point quite yet, or that much of anything can be accomplished if the few competent people left on the Trump foreign policy team just decide to step aside and let chaos reign. Maybe they're not accomplishing anything by staying, that's certainly possible given the fact that the President seems more inclined to go with his "gut" than he was at the beginning of the Administration, but I'm still glad that there are some people left behind who constitute at least somewhat of a coalition of sanity inside an increasingly insane Administration.