Let's Look At Potential Democratic Candidates For 2020!
Just 1,436 days until Election Day 2020!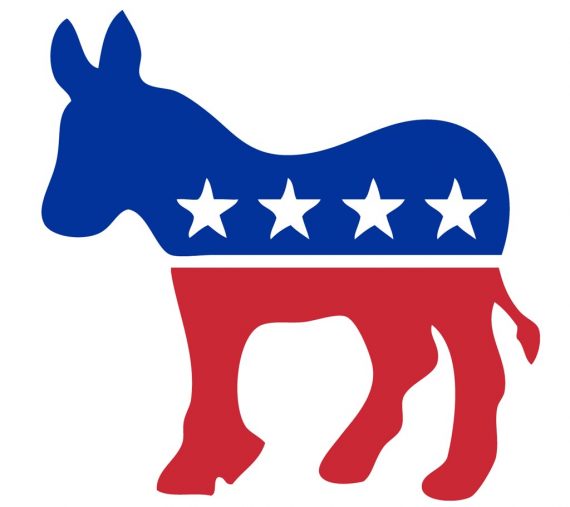 Donald Trump has not taken the oath of office yet, but that hasn't stopped speculation from beginning about Democrats who might challenge him in 2020. While this likely is maddening to most sane people, the reality is that someone seeking to undertake the monumental task of running for President of the United States has to start giving serious thought to that effort long before they actually launch a campaign. This is doubly true when one is seeking to challenge an incumbent President running for re-election given the fact that, since 1900, incumbent Presidents who were a candidate in the candidate for re-election on the General Election ballot only lost four times (1912, 1932, 1976, 1980, and 1992). That's just five elections of the nineteen where an incumbent was on the ballot. In other words, a candidate challenging an incumbent has about a 1 in four chance of defeating them, and to do so, they're going to need a strong, well-prepared, and well-financed campaign that makes few mistakes, as well as a campaign that gives voters a reason to change leaders after just four years.  A good deal of this is due simply to the logistical realities of campaigning for President in the United States and the importance of laying the groundwork for winning your party's nomination early. Because of this, we're likely to start hearing stories starting early next year about Democrats who spend a lot of time in states such as Iowa and New Hampshire, where the whole process begins, as well as those who put together SuperPACs and other political organizations
This time around, for the first time since 2004, it will be Democrats who will be seeking to unseat an incumbent President, and unlike 2008 or 2016, they'll be doing so without any obvious candidates or potential candidates. As a result, the speculators are already trying to posit who might fill the field that we should see developing by sometime in 2018. Among the first pundits to hit the ground running on speculation about 2020 is The Washington Post's Chris Cillizza who writes at the paper's political blog The Fix. In a post yesterday, for example, Cillizza drew up a list of potential candidates that ranges from the plausible to the absurd. That list includes:
New Jersey Senator Cory Booker, who has been mentioned as a potential Presidential or Vice-Presidential pick for years now;
New York Senator Kirsten Gillibrand, who has been close to Hillary Clinton for years and is rumored to already be feeling out many of Clinton's top donors about the viability of a run four years from now;
California Senator-Elect Kamala Harris, who won the election to succeed Barbara Boxer in the Senate three weeks ago and has previously served as Attorney General of California and District Attorney for San Francisco;
Colorado Governor John Hickenlooper, whose popularity in a swing state is likely to appeal to some Democratic donors hoping to win back white working class voters that drifted to the Republicans in this election;
Minnesota Senator Amy Klobuchar, who has a record not very different from Gillibrand's but lacks her access to high-dollar donors; and,
First Lady Michelle Obama
With the exception of Mrs. Obama, these all seem like plausible candidates should they choose to take the plunge. Booker, for example, has often been compared favorably to President Obama in terms of his charisma and his ability to draw large crowds outside of his home base of New Jersey. He also has access to high-dollar donors on Wall Street and elsewhere in the financial industry that are likely to be just as important in 2020 as they have been in the past. He also has the advantage of being perhaps the best known of the candidates on Cillizza's list outside of the First Lady, although it's worth noting that few people outside the inner circles of the Democratic Party knew who Barack Obama was at this point in the 2008 election cycle. Gillebrand, Harris, and Klobuchar are women, which could help win the support of Democrats who may feel that Clinton lost in 2016 because of her gender. Hickenlooper, meanwhile, seems like the Martin O'Malley of this list, a Governor that few people have ever heard of from a state with a relatively small amount of electoral votes who is likely to get lost in the stampede of candidates. Michelle Obama, on the other hand, probably doesn't belong on this list at all. At no point during the eight years that her husband has been President has Mrs. Obama expressed any interest at all in a political career, and it's been widely rumored that she's never really liked living in Washington to begin with. Michelle Obama may indeed find an interesting way to impact politics in the future, but it's unlikely to be as a candidate.
Cillizza expands the list in a second post today to include:
Ohio Senator Sherrod Brown, who is among the Senators with the strongest support among the party's so-called "progressive" wing and is, well, from Ohio;
Montana Governor Steve Bullock, a Democrat who won victory in a state that typically goes Republican in Presidential elections;
HUD Secretary Julian Castro, who was reportedly on the Vice-Presidential short list for 2016;
Virginia Senator Tim Kaine, Hillary Clinton's running mate;
Virginia Governor Terry McAuliffe, a close Clinton confidant;
Missouri Senator Claire McCaskill, who was among the first Democrats to switch their allegiance from Hillary Clinton to Barack Obama during the 2008 campaign;
Connecticut Senator Chris Murphy, who has made a mark in the Senate with his outspokenness on the issue of gun control; and,
California Lt. Governor Gavin Newsom, who has been a leading voice on LGBTQ rights issues; and,
former Massachusetts Governor Deval Patrick, who has been close to President Obama these past eight years.
Most of these seem like plausible candidates should they choose to run, but some will have an easier tme in the earlier stages of a campaign than others. Sherrod Brown, Julian Castro, Tim Kaine and others who have been in politics will have an easier time of establishing the early stages of a campaign if they chose to run, for example, while candidates like Bullock may find that they are somewhat out of step with the Democratic base on many issues. It should also be noted that Tim Kaine has already ruled out a run for office in 2020, saying that he is instead committed to staying in the Senate and running for re-election in 2018. Gavin Newsom, meanwhile, is seen as the heir apparent to California Governor Jerry Brown and would likely find running for President in 2020, just two years after the next election for California Governor, would be too much of a logistical challenge. Similarly, Patrick has been out of office long enough already that he may be considered as finished by many high-level Democrats.
There are, of course, a number of high-level Democratic names that Cilizza has left off his lists. The most prominent would be Hillary Clinton herself, but it seems unlikely that she will be willing to make the emotional and physical investment necessary for a third run for the White House. Another name is Bernie Sanders, who of course did far better in 2016 than anyone deemed possible when he entered the race. Political lightning like that rarely strikes twice, though, and there have been as many complaints among top Democrats about the damage that Sanders allegedly inflicted on Hillary Clinton as there have been those seeking to praise and encourage him. Another potential candidate not included above is New York Governor Andrew Cuomo, but his potential candidacy for President has been tainted by a series of ethcial scandals and corruption convictions among top-level New York Democrats close to Cuomo as well as the suspicion that he was far more involved in these instances of corruption than prosecutors have been able to prove or willing to allege. Finally, of course, there is Massachusetts Senator Elizabeth Warren, who many had hoped would run in 2016. If she did run Warren would no doubt be a top contender but whether or not she'd be the best candidate the Democrats can put forward depends a lot on the direction American politics takes in the next four year. A move away from the leftward tilt she represents would most assuredly be bad news for any future plans she may have. It should also be noted that Warren will be 71 in 2020, and that Clinton and Sanders will be 73 and  79 respectively. While President-Elect Trump, should he choose to run for re-election will be 74 himself, this is nonetheless an important factor in trying to figure out if a potential candidate would be able to withstand the rigors of running for President.
So, let the speculation begin!