Maine Senator Olympia Snowe To Retire, GOP Senate Hopes In Jeopardy
A Northeastern Republican announces retirement. And GOP hopes for control of the Senate in 2013 become more tenuous.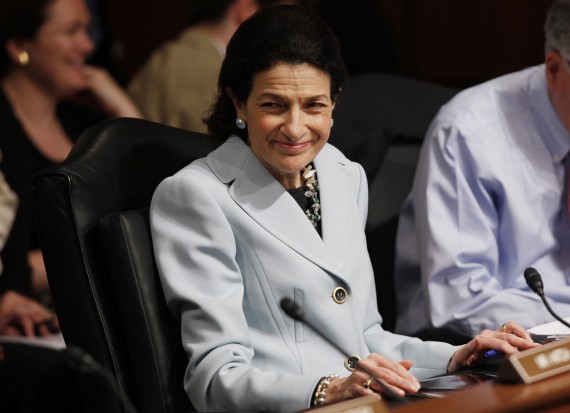 In a rather surprising move that puts Republican hopes of retaking the Senate in doubt, three-term Maine Senator Olympia Snowe announced late today that she is not running for re-election in 2012:
In a surprise to political observers, Maine Sen. Olympia Snowe (R) has announced she will not be seeking re-election this year, giving Democrats a potential pick-up opportunity as they try to hold on to control of the U.S. Senate this election season.

"After an extraordinary amount of reflection and consideration, I am announcing today that I will not be a candidate for re-election to the United States Senate," she said in a statement.

And Snowe cited the increased political "polariziation" as the reason for her retirement.

"As I have long said, what motivates me is producing results for those who have entrusted me to be their voice and their champion, and I am filled with that same sense of responsibility today as I was on my first day in the Maine House of Representatives.  I do find it frustrating, however, that an atmosphere of polarization and 'my way or the highway' ideologies has become pervasive in campaigns and in our governing institutions."

She continued, "With my Spartan ancestry I am a fighter at heart; and I am well prepared for the electoral battle, so that is not the issue. However, what I have had to consider is how productive an additional term would be. Unfortunately, I do not realistically expect the partisanship of recent years in the Senate to change over the short term. So at this stage of my tenure in public service, I have concluded that I am not prepared to commit myself to an additional six years in the Senate, which is what a fourth term would entail."
Snowe's move comes as somewhat of a surprise. While she has faced much criticism from the right over the past three years, Snowe's re-election chances — both in a primary and the General Election — have been looking excellent for the past several months. I'm sure more details will come out, and perhaps the fact that Snowe herself is 65 is reason enough for her to want to retire from public life.
Whatever the reason, though, it strikes me that this is bad news for the Republican Party. Barack Obama won Maine by roughly 120,000 votes in 2008. In the same year,  Susan Collins, another Maine Republican considered to be just as moderate as Snowe, beat her Democratic opponent by nearly 200,000 votes. At this point, there doesn't seem to be anyone in the Maine GOP like Collins or Snowe. Does anyone doubt how the 2012 Senate race will turn out?
I'm not Stu Rothenberg or Charlie Cook, but I'd put this seat into a "Lean Democratic" category right now just because of Snowe's retirement. And that poses a problem for the GOP. Given the current climate, the GOP is likely looking at a 3-4 seat pickup even in the best of all possible worlds. On the other side of the ledger, they are already vulnerable in Massachusetts where Scott Brown faces a challenge from Harvard Professor Elizabeth Warren. If they lose Maine and Massachusetts, then the GOP could find its hopes of regaining control of the upper chamber slipping out of its hands.
Update: Maine native and Republican political strategist Matthew Gagnon takes a look at the impact of Snowe's decision. Suffice it to say that this is a political earthquake of the highest order for Maine politics.