Meet The Tea Party's Next Target
Maine's Olympia Snowe appears to be the next target of the Tea Party movement, but she is also uniquely situated to retain her seat if she chooses to.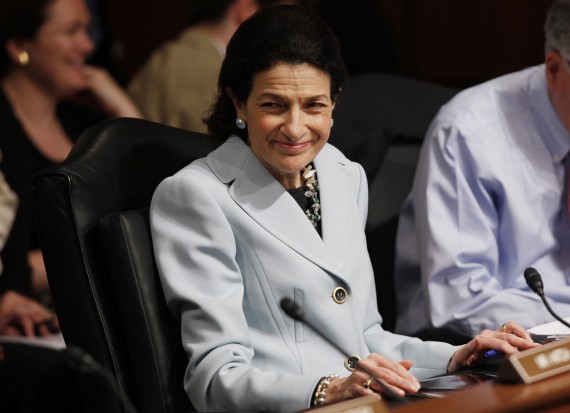 Maine's senior Senator Olympia Snowe has raised the ire of conservatives for several years due to her moderate voting record and her willingness to cross the aisle on important votes. Now, it looks like she's already being targeted for defeat in 2012:
I have direct knowledge of a conservative in Maine who is preparing to challenge Olympia Snowe. He has told me he is running but has asked me to keep things vague so as not to step on his announcement, which he plans to make early next year. He comes out of the tea-party movement and I have every reason to believe he's serious about this.

As for Snowe, she had better be looking over her right shoulder. Last month, Public Policy Polling found that 63 percent of Maine Republicans would support "a more conservative alternative" to Snowe, while only 29 percent were committed to her. PPP added:

Moderate Republicans love Snowe. They give her a 70% approval rating and a strong majority say they'd vote to nominate her for another term. But those folks make up only 30% of the GOP electorate in Maine. It's now dominated by conservatives and they're particularly negative toward her, giving her just a 26% approval rating and saying by a 78-15 margin they'd like to trade her out for someone to the right.
Given what occurred in Republican primaries during this year's election cycle in states like Alaska, Delaware, and New York, Snowe would do well to be concerned that what happened to Lisa Murkowski and Mike Castle could happen to her.
One possible reaction on Snowe's part, of course, would be to run as an Independent or a Democrat, and Slate's Steve Kornacki argues that the Independent route would be the smartest one for her:
For Snowe, the independent route makes far more sense. For one thing, Maine is more hospitable to third-party candidates than just about any other state. The structural and ballot barriers that exist in, say, New York or Pennsylvania just aren't present in Maine, which elected an independent governor in 1994  (Angus King, who was reelected in a 40-point landslide in 1998) and which nearly elected another one last week (Eliot Cutler, who fell one point short against LePage). Moreover, Snowe is broadly popular with Maine's electorate; her only real problem is with the Tea Partiers who hold sway in GOP primaries. In other words, more than anyone else in the Senate, Snowe is well-equipped to wage a successful independent campaign.
This sounds about right. Most importantly, though, 2012 would be a good year for Snowe to try to retain her seat in a three-way race. She won her last bid for re-election a 300,000 vote margin, it's likely the case that she would face a better chance running against a conservative Republican in a General Election than in a primary, much like Lisa Murkowski this year. Moreover, Snowe's bid would likely be helped by the fact that she would be running in a Presidential election year. President Obama won Maine by 126,000 votes in 2008, while Snowe's Republican colleague Susan Collins won her re-election bid that same year by more than 230,000 votes. Snowe would likely benefit from the increased turnout in a Presidential year, and the fact that Maine has not gone Republican in a Presidential election since 1988.
There's no guarantee that an independent bid by Snowe would succeed, of course, but she'd clearly have a better chance or retaining her seat taking that route than if she were to try to fight her way through what would clearly be a hostile GOP primary in a state where the Tea Party movement has become a powerful force in the state party.\