Maureen Dowd Discovers That Barack Obama Is Neither Andrew Shepherd Nor Josiah Bartlett
If you want to understand contemporary politics, the last thing you should do is reference an Andrew Sorkin project.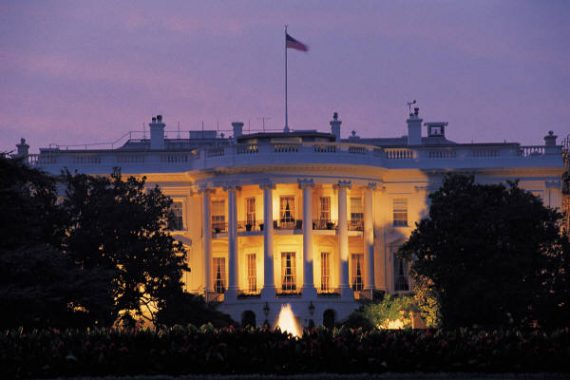 Maureen Dowd isn't happy with the way the President handled, and lost, the gun control debate in the Senate:
The graying man flashing fury in the Rose Garden on behalf of the Newtown families, the grieving man wiping away tears after speaking at the Boston memorial service, is not the same man who glided into office four years ago.

President Obama has watched the blood-dimmed tide drowning the ceremony of innocence, as Yeats wrote, and he has learned how to emotionally connect with Americans in searing moments, as he did from the White House late Friday night after the second bombing suspect was apprehended in Boston.

Unfortunately, he still has not learned how to govern.

How is it that the president won the argument on gun safety with the public and lost the vote in the Senate? It's because he doesn't know how to work the system. And it's clear now that he doesn't want to learn, or to even hire some clever people who can tell him how to do it or do it for him.

It's unbelievable that with 90 percent of Americans on his side, he could get only 54 votes in the Senate. It was a glaring example of his weakness in using leverage to get what he wants. No one on Capitol Hill is scared of him.

Even House Republicans who had no intention of voting for the gun bill marveled privately that the president could not muster 60 votes in a Senate that his party controls.

President Obama thinks he can use emotion to bring pressure on Congress. But that's not how adults with power respond to things. He chooses not to get down in the weeds and pretend he values the stroking and other little things that matter to lawmakers.

After the Newtown massacre, he and his aides hashed it out and decided he would look cold and unsympathetic if he didn't push for some new regulations. To thunderous applause at the State of the Union, the president said, "The families of Newtown deserve a vote." Then, as usual, he took his foot off the gas, lost momentum and confided his pessimism to journalists.

The White House had a defeatist mantra: This is tough. We need to do it. But we're probably going to lose.

When you go into a fight saying you're probably going to lose, you're probably going to lose.

The president once more delegated to the vice president. Couldn't he have come to the Hill himself to lobby with the families and Joe Biden?

The White House should have created a war room full of charts with the names of pols they had to capture, like they had in "The American President." Soaring speeches have their place, but this was about blocking and tackling.

Instead of the pit-bull legislative aides in Aaron Sorkin's movie, Obama has Miguel Rodriguez, an arm-twister so genteel that The Washington Post's Philip Rucker wrote recently that no one in Congress even knows who he is.
Reading this column I find myself wondering if Dowd realizes that "The American President" is a nearly 20 year old movie that was a work of fiction, not a documentary about contemporary politics.  Quite honestly, I'm not entirely sure because her column reminds me of people who have watched the The West Wing and think that they have an in depth understanding of how American politics, along with domestic and foreign policy, actually works in the real world. Perhaps there was a day when Presidents could drag Senators and Congressman into the Oval Office and cajole them into changing their vote. Lyndon Johnson may have been able to do that back in the day, but those days are long, long gone. Not only has the idea of party discipline changed significantly from what it meant 50 years ago,  but the fact that Obama himself is a lame duck means that his actual political power is already beginning to erode. The idea that he some how could have cajoled six Senators, at least one of which would have had to have been a Republican, into changing their vote on the Manchin/Toomey bill represents a naive view of politics that seems to be emblematic of Dowd and others on the Times Op-Ed page these days.
Most fundamentally, Dowd seems to misunderstand what it is that actually motivates politicians in the decisions they make. Yes, principles matter, and there are some politicians, such as Bernie Sanders on the left and Rand Paul on the right, for whom principle is pretty  much the beginning and the end of how they approach most policy issues.  Most politicians, though, are far more pragmatic in their decision making and are unlikely to take a position that alienates them from the people they represent, and whose vote they will be asking for in the next election. That's the reason why Democratic Senators like Mark Pryor and Max Baucus voted against Manchin/Toomey, as I explained in my post after the vote. It also explains why a Senator like Heidi Heitkamp, who doesn't face re-election until 2018, voted against the bill. As she stated in numerous interviews last week, her decision was based on the fact that the overwhelming response her office got from residents of North Dakota about Manchin/Toomey was completely negative. How, exactly, does Dowd propose that Obama was going to be able to persuade Pryor and Baucus to potentially sacrifice their 2014 re-elections, and Heitkamp, to stake her first major vote in the Senate on an issue against what the people who elected her want?
The only explanation I can come up with is that Dowd has become enamored with the idealized New York-Washington corridor vision of politics epitomized by the movie she references in her column, and even more so by Sorkin's classic television series The West Wing. According to this vision, the President is the all powerful leader of government who, with just a little bit of persuasion and a lot of political skill can bend Congress to his will. The problem is that this isn't how American politics works, or at least not how it works in the real world. You can't just solve problems by being a "strong leader" and giving nice speeches. If the political winds are  blowing against you, then you're not going to win. In the case of this gun control vote, the political winds were not blowing in Barack Obama's favor, and that's why he failed. Dowd's dream that he could have been some fictional President that could enact the dream liberal agenda are just that, dreams and fantasies.
Footnote:  On some level, I regret taking the time to critique Dowd's poorly drafted argument.  Quite honestly, I wonder why The New York Times continues to give her column space.