Michelle Obama Hasn't Forgiven Trump For Spreading Racist Birther Lies
Michelle Obama can't forgive Donald Trump for his role in spreading the racist birther conspiracy. I can't say I blame her.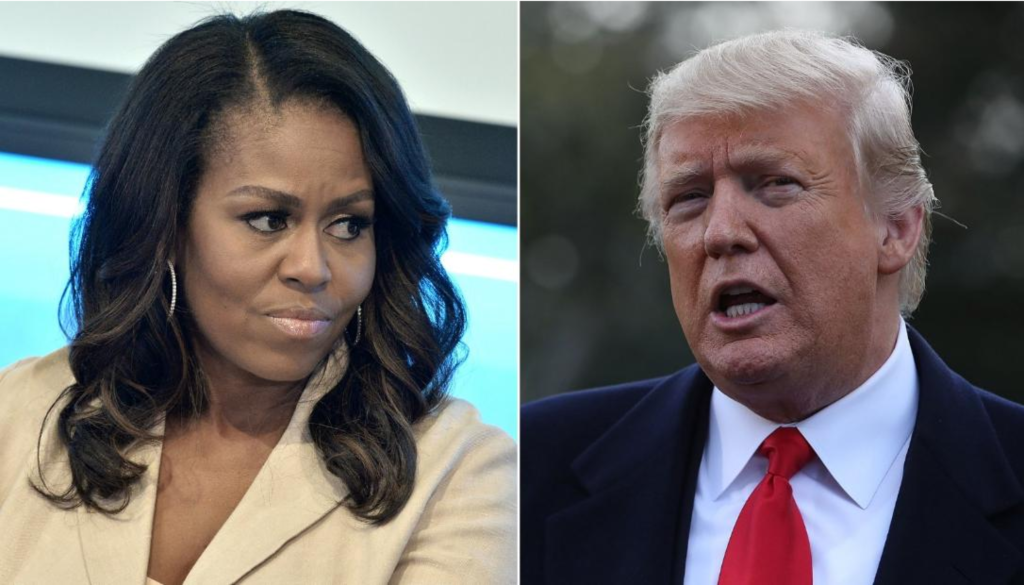 Writing in her new book, former First Lady Michelle Obama says she will never forgive President Trump for his role in spreading the birther lies about her husband:
Former first lady Michelle Obama writes in her forthcoming memoir that President Donald Trump's promotion of the so-called birther movement is something she will "never forgive him for," according to excerpts obtained by The Washington Post and other outlets, detailing the threats she said her family felt as a result of Trump's amplification of the conspiracy theory.

Trump pushed the unfounded theory beginning around 2011 that President Barack Obama was born in Kenya, rather than in Hawaii, and was therefore ineligible to be president. The accusations gained steam among some on the right with the help of Trump's Twitter feed, culminating in repeated calls for Obama to release his birth certificate and his college admissions records. Trump at one point claimed to have seen the president's birth certificate himself, which he said would back up his claims, although he never released the proof he claimed to have.

The issue fizzled out near the end of Trump's run for president in 2016, when he held a press conference to announce that he did, in fact, believe that Obama was born in the U.S., but declined to take responsibility for promoting the conspiracy or apologize to Obama for spreading the false claim, seen by many as racist.

Trump has also spread the false claim that the Obamas are Muslims, a statement that has also been identified by many as a racist dog whistle.

Though then-President Obama poked fun at the conspiracy occasionally, Michelle Obama writes in her book that she worried Trump's claims would incite violence against her husband and her family.

"The whole thing was crazy and mean-spirited, of course, its underlying bigotry and xenophobia hardly concealed. But it was also dangerous, deliberately meant to stir up the wingnuts and kooks," she says in the book.

"What if someone with an unstable mind loaded a gun and drove to Washington? What if that person went looking for our girls? Donald Trump, with his loud and reckless innuendos, was putting my family's safety at risk. And for this I'd never forgive him."

The first lady's comments in her memoir mark a break from her typical rhetoric, which has largely steered away from criticizing the president by name even as she has continued to voice her condemnation for Trump's policies and bombast.
One can hardly blame Mrs. Obama for feeling this way. Trump's months-long dive into the depths of the insane birther conspiracy theory, which didn't end until the White House released a certified copy of the President's birth certificate in April 2011, garnered far more media attention at the time than it probably deserved and, in the end, was obviously part of an effort on Trump's part to both test the political waters for a future run at the Presidency and to garner free publicity for his television show Celebrity Apprentice, which had been falling in the ratings for its past previous seasons, but it was also obviously based in racism, xenophobia, and the idea that had spread among many conservatives from the time that her husband had entered the race for the White House that he was not a "real" American. Among some circles, the conspiracy theory even extended to the allegation that the President, who was known to be someone who smoked cigarettes and enjoyed the occasional adult beverage, was a "secret Muslim," and that his father was actually someone other than Barack Obama, Sr.
President Obama, of course, got his revenge against Trump when he roasted Trump at the 2011 White House Correspondents Association Dinner, an event that was all the more notable given the fact that it was taking place at the same time that SEAL Team Six, on the President's orders, was preparing for a mission that would lead to the death of Osama bin Laden.
For his part, President Trump pushed back at Michelle Obama with a bizarre, fact-free rant against the former President:
President Donald Trump pushed back at former first lady Michelle Obama and former President Barack Obama over a forthcoming memoir in which the former first lady said she would "never forgive" Trump for his role in the "birther" movement.

"She got paid a lot of money to write a book and they always expect a little controversy," Trump said.

"I'll give you a little controversy back, I'll never forgive (President Barack Obama) for what he did to our US military. It was depleted, and I had to fix it," Trump said. "What he did to our military made this country very unsafe for you and you and you."
This is, of course, utter nonsense. While there were some cutbacks in defense spending under President Obama due to the end of the Iraq War, the defense budget increased each year that Barack Obama was President and President Obama, along with the men who served underneath him as Secretary of Defense, including Robert Gates, Leon Panetta, Chuck Hagel, and Ash Carter, did a tremendous job of rebuilding those parts of the military that had become depleted and exhausted due to a period of war that began in October 2001 and which has yet to come to an end. In any case, the fact that Trump did not directly address the birther issue is consistent with the way he has acted since becoming a candidate for President in June 2015. Asked on several occasions since then whether he still believed that President Obama was not born in the United States, Trump refused to directly answer the question and instead said that the issue was in the past. Trump may not want to talk about it, but Michelle Obama obviously does and I'm sure we'll hear more about it from her while she's on her book tour. Additionally, it will be interesting to see what former President Obama has to say about it when his own memoir comes out.