Mitt Romney's Five State Sweep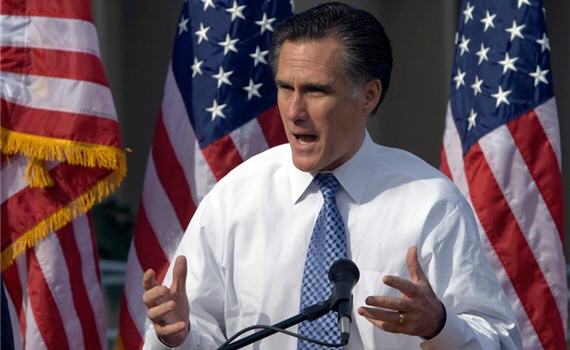 Entirely unsurprisingly, Mitt Romney won all five of last night's primaries quite handily:
Mitt Romney swept all five Republican primary elections Tuesday night, putting an end once and for all to any hopes for a comeback by his beleaguered GOP primary opponents.

The last state to be called was New York, where voting ended at 9 p.m.; Romney was previously projected the winner in Connecticut, Rhode Island, Delaware and Pennsylvania.

There was little suspense in tonight's elections. Only in Delaware, where Newt Gingrich camped out in recent days and collected endorsements from top local officials, was Romney at any risk of losing. Even a Gingrich victory there would have been unlikely to complicate Romney's glide to the Republican convention in Tampa.

But with nearly all of the vote reported, Romney was crushing Gingrich in Delaware by a 30-percentage-point margin. Speaking to supporters in Manchester, N.H., Romney declared a formal end to the primary season and predicted: "Together, we are going to win on Nov. 6."

"After 43 primaries and caucuses, many long days and more than a few long nights, I can say with confidence and gratitude that you have given me a great honor and solemn responsibility," he said, framing the general election as a test of the country's economic resilience.

Said Romney: "The last few years have been the best that Barack Obama can do. But it's not the best America can do."

Romney has not yet secured enough delegates to clinch the GOP nomination officially, but he has already been treated by his party as its presumptive nominee for two weeks, since Rick Santorum ended his White House bid earlier this month.

Now, with an imposing delegate lead over his Republican opponents and virtually every party leader calling for a pivot to the general election, there's no longer any doubt that Romney is in position to claim the Republican nomination.
In reality, the RealClearPolitics Delegate Tracker shows that Romney is just about 300 delegates short of outright clinching the majority that he will need to win the nomination on the first ballot, while Paul and Gingrich are now at the point where they are mathematically eliminated from the race. Of course, that doesn't mean that either one of them are about to leave any time soon. Paul and his supporters seem to be involved in some strategy involving taking advantage of Santorum's exit from the race and picking up delegates in the caucus states, while Newt Gingrich doesn't seem to have any idea what he wants to do:
Following his five-state shutout Tuesday night, Newt Gingrich sent the strongest signal yet that he's nearing the end of his tottering campaign.

"We're going to look realistically at where we're at," Gingrich said at an election-night rally in North Carolina. "We are going to think carefully about how we can be the most helpful to this country."

But the former House speaker — who is deep in debt and recently radically slashed his staff — once again stopped short of actually quitting. In fact, he made a point of saying that he's not hopping off the campaign trail just yet, even once again talking about the summer convention in Tampa.

"I want to be vividly clear, we have 23 events here in North Carolina this week," he said, in advance of that state's May 8 primary. "We're going to be at 23 events in North Carolina this week."

Gingrich's schedule this week includes visits to schools, throwing out the first pitch at a Gardner-Webb University baseball game, a tour of the Penske NASCAR racing facility, the Fayetteville Azalea Festival and a stop on Friday at the North Carolina Zoo in Asheboro.
After the speech, though, Gingrich told reporters who asked about a timelime for getting out of the race that it wouldn't happen before Sunday, which almost suggests that he's begging for an invite on Meet The Press to give a valedictory oration or something.
Rick Santorum meanwhile, it still dancing around the question of when he's going to formally endorse Mitt Romney:
One-time GOP presidential candidate Rick Santorum danced around the idea of endorsing the party's likely nominee, Mitt Romney, with significant and repeated prodding from CNN's Piers Morgan in a Tuesday interview.

In their first joint interview since the former senator from Pennsylvania suspended his candidacy, Santorum and his wife Karen declined to endorse the former Massachusetts governor, but the former candidate said that he hoped to meet with Romney "in the next week or two."

Two senior advisers to Santorum's campaign told CNN that the meeting with Romney is tentatively scheduled for May 4, and the agenda would likely include the possibility of an endorsement, surrogacy activities, and the role of conservative issues on Romney's platform.

In the interview, the Santorums avoided using the word "endorsement," but acknowledged that Romney would be" the person that's going against Barack Obama."

"Unless I'm mishearing things," Morgan pressed, "you just endorsed Mitt Romney."

"You can call it whatever you want," Santorum replied.

Morgan turned his attention towards Santorum's wife.

"Karen, you know your husband: has he just endorsed Mitt Romney?" Morgan asked.

"Not at this point, no," she said. "We're working through it. We're talking about it."

But what, Morgan queried, is the difference between saying "he's the right guy for the job," and making an endorsement?

Santorum replied that Romney "is going to be the Republican nominee. I'm going to be for the Republican nominee. We're going to do what we can to beat Barack Obama."
In the end, it doesn't really matter what Gingrich and Paul do, and Santorum is clearly just angling for some kind of deal with Romney (although it's hard to see what Santorum has to bargain with at this point). Mitt Romney is the Republican nominee, something that has been eminently clear for months now to be honest. And the General Election campaign has begun.