Moving Goalposts of American Conservatism
Rush Limbaugh, who three years ago said Mitt Romney embodied all three legs of the conservative stool today declared that Romney is not a conservative. He was right both times.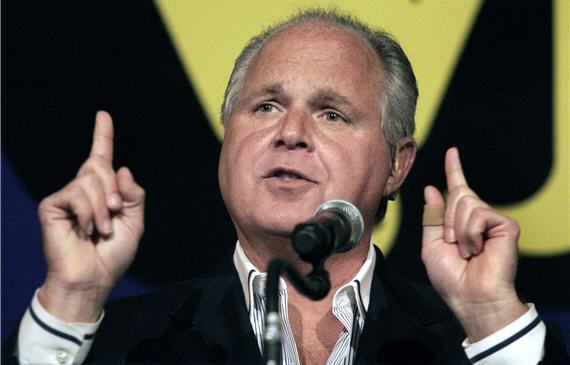 What started off as an early-morning answer to a blog comment turned into my latest for The Atlantic, "The Changing Definition of 'Conservative'."
It's based on two data points.
First, Rush Limbaugh, who today proclaimed "Romney is not a conservative. He's not, folks. You can argue with me all day long on that, but he isn't," was proclaiming Romney the only candidate who "embodies . . . all three legs of the conservative stool" om February 2008–nearly two years after the "RomneyCare" law that Limbaugh cites as his primary evidence and a year after Romney left the governor's mansion.
Second, David Frum — who made his name as a conservative opinion writer at The Wall Street Journal, Forbes, and the The American Spectator and whose  first book, Dead Right (1994), was described by William F. Buckley as "the most refreshing ideological experience in a generation" and who, as speechwriter for George W. Bush coined the phrase "axis of evil"–yesterday resigned from NPR's "Marketplace" on the basis that he couldn't in good conscience represent the conservative viewpoint as a counter to Robert Reich.
My explanation:
Parties losing elections tend to take one of two paths. Either they collectively decide that their platform is out of touch with public sentiment and adjust accordingly, or they decide that their problem was a poor candidate and weak messaging and double down.

[…]

The Republican Party took the second course after its 2008 defeat. Despite respect for his enormous courage during seven long years as a prisoner of war, conservatives never considered John McCain one of their own. He was nominated almost by default when Rudy Giuliani, Fred Thompson, and others more popular with the base imploded before the race really got started. And conservatives had been sold the idea that a relatively moderate candidate who could count on favorable press coverage would do well with the coveted "swing voters."

[…]

This sentiment grew into a force of nature with the tea party movement. Ostensibly a backlash against government bailouts and out-of-control spending, it became something of a purge of Republicans who were deemed too moderate, with tea-party-backed candidates challenging Republican incumbents and establishment favorites — including McCain, who for a time looked likely to lose his Senate re-election race to former congressman J.D. Hayworth, before rallying for a comfortable win.

Longtime Delaware congressman Mike Castle was defeated by upstart Christine O'Donnell for the party's Senate nomination. Longtime Utah senator Bob Bennett lost to Mike Lee. Alaska senator Lisa Murkowski was beaten in the primaries by tea-party favorite Joe Miller. All three of the tea-party candidates lost, although Murkowski narrowly won re-election anyway, as an independent.

To be sure, conservatives had plenty of successes, most notably the populist Scott Brown taking the Massachusetts Senate seat long held by liberal lion Teddy Kennedy. And Marco Rubio, who successfully primaried sitting Republican governor Charlie Christ, went on to easily win the general election and looks to be a rising star in Republican politics.

The result of all this — in addition to retaking the House and coming close to taking back the Senate — is a Republican Party and conservative movement that is largely bereft of the moderates of the past. After years of political leaders spouting conservative mantras without doing much to turn them into policy, the congressional delegations now feature a critical mass of True Believers.

Democratic leaders have charged their Republican counterparts with bad faith and hypocrisy for filibustering and vilifying policy proposals that their own party had proposed in the recent past. In some cases, this is justified. In many, though, it's simply a function of the center of gravity having suddenly shifted. Proposals that came from the pages of National Review or the halls of the Heritage Foundation in 2006 may not be "conservative" by 2011 standards.

As many have noted, while conservative politicians constantly reference Ronald Reagan's legacy as the gold standard, it's arguable whether the Gipper himself would pass tea-party muster. After all, he signed a huge amnesty bill for illegal aliens into law and his signature tax cut left the top marginal rate at 50 percent. As we all know, anything above 35 percent is socialism.
Thus far, the presidential nominating process seems to be the last redoubt of the old conservatism, with Romney looking to be the likely nominee. But it's been a rapid, stunning transition.