No Mr. President, There Isn't Going To Be A "Red Wave" In November
President Trump claims that November will see a "red wave" rather than the "blue wave" that most analysts are expecting. There's no evidence to support his hypothesis.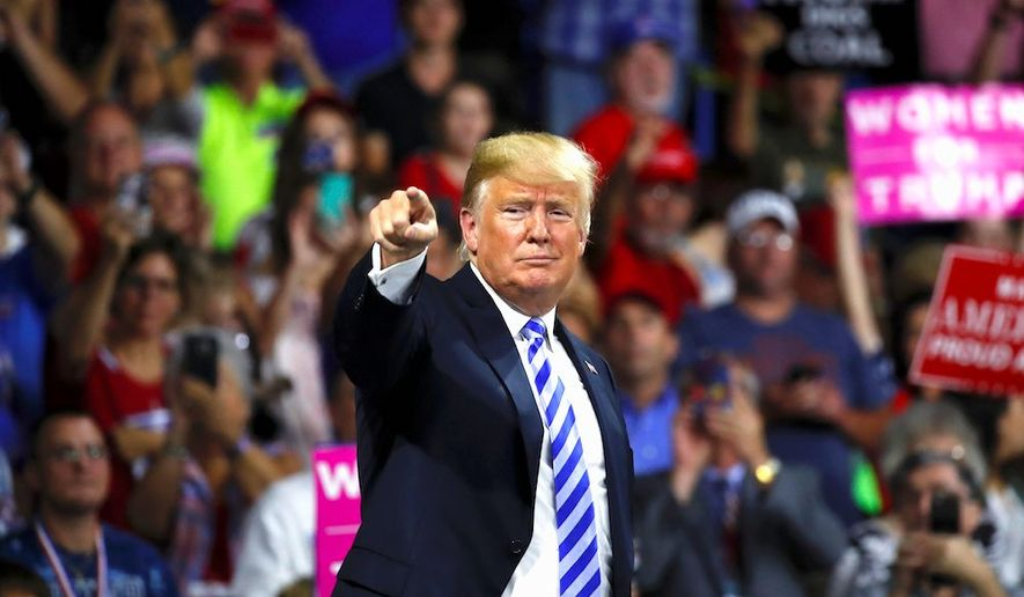 While the poll numbers, including both the Generic Congressional Ballot and the President's Job Approval numbers, and political analysts continue to point toward an emerging Democratic wave that results in Republicans losing control of one of the chambers of Congress, Donald Trump and many of his more obsequious supporters are talking about a so-called "Red Wave" that would result in Republican gains in one or both chambers. For his part, Trump has made this claim in his recent political speeches and, of course, on Twitter:
Great night for Republicans! Congratulations to John Cox on a really big number in California. He can win. Even Fake News CNN said the Trump impact was really big, much bigger than they ever thought possible. So much for the big Blue Wave, it may be a big Red Wave. Working hard!

— Donald J. Trump (@realDonaldTrump) June 6, 2018
RED WAVE!

— Donald J. Trump (@realDonaldTrump) August 8, 2018
A Blue Wave means Crime and Open Borders. A Red Wave means Safety and Strength!

— Donald J. Trump (@realDonaldTrump) August 21, 2018
This claim of a supposed "Red Wave" runs counter to all of the available evidence. As measured by both the President's Job Approval numbers and the Generic Congressional Ballot, we're at a point right now where Republicans need to accept the reality that they are most likely going to lose control of the House of Representatives in November, and that the Senate is at the very least in play in a way that it did not appear it would be earlier in the year. Absent some massive change, Republicans are not going to gain seats in the House, and the best they can hope for in the Senate is that, at the end of the day, they break even and hold on to their slim 51-49 seat majority. The idea that the GOP is going to be a huge increase in Republican support in either chamber is quite simply a fantasy. Were it coming from any other President, I'd say that these predictions of a "Red Wave" are simply an effort to keep enthusiasm as high as possible among the Republican base so as to limit the losses the GOP is likely to suffer. In Trump's case, it appears to be something he actually believes, which leads one to wonder how he'll react when he wakes up on November 7th and finds that the political landscape underneath him has changed completely.
Generally speaking, it has historically been the case that the President's party loses seats in Congress in the first midterm election of the President's term. The only exception to this rule came in 2002 when Republicans gained seats in the House and Senate, but these gains hardly amounted to a wave election and came just 14 months after the September 11th attacks at a time when President Bush was riding high in the polls. That's most certainly not happening this time and, as CNN's Chris Cillizza notes there's basically no historical or contemporary support for the idea of the "Red Wave" the President is talking about:
Let's go through a few of the historical hurdles Trump has to bypass to make the "Red Wave" a thing:

Since the Civil War(!) the party that controls the White House has lost House seats in 35 out of 38 midterm elections.
The three elections in which the president's party won seats in a midterm were 1934 (Great Depression), 1998 (Bill Clinton impeachment) and 2002 (aftermath of Sept. 11 terrorist attacks). Those were all massive societal and cultural happenings.
Since 1946, the average seat loss for a president's party when that president's job approval rating is under 50% is 36 seats. In the latest CNN-SSRS poll, Trump's job approval is at 36%. That's similar to George W. Bush's 38% approval in 2006 when his party lost 30 House seats — and control of the chamber.
Since direct election of senators (in 1913), there have been 26 midterm elections. The president's party has lost Senate seats in 19 of them, per Charlie Cook.

That's a whole lot of history. And it all points in the same direction — toward major seat losses in the House and a less certain outcome in the Senate where the national map (and raw numbers) are heavily tilted in Republicans' favor this year. (There are 26 Democratic Senate seats up in November as compared to just 9 Republican seats; in 10 of those 26 Democratic seats, Trump carried the state in 2016.)

On the Trump side of the equation, there's a lot less history. Let's take a look at what happened in those three anomalous years — 1934, 1998 and 2002 — in which the president's party picked up House seats.

1934: Democrats gain 9 seats
1998: Democrats gain 4 seats
2002: Republicans gain 8 seats

None of those would fit anyone's definition of a wave election. Single-digit gains in a body of 435 seats is marginal — at best. And remember that those single digit gains for the president's party came in election cycles defined by cataclysmic events.

For Trump's "red wave" to materialize, history suggests he needs an election-altering event — like in 1934, 1998 and 2002. Short of that, history is very, very likely to repeat itself. And that means Republicans' House majority is in deep trouble.
We've already discussed what the election-altering event in 2002 was. In 1934, it was obviously the ongoing Great Depression and the popularity of President Franklin Roosevelt and the New Deal. In 1998, it was the scandal that was enveloping President Clinton at the time due to his affair with Monica Lewinsky, and the impeachment efforts of the Republicans which backfired on them in a spectacular fashion. Another factor at play in 1998, of course, was the fact that the economy at the time was very strong and that the Federal Government had managed to actually (somewhat) balance the budget and reach deals on issues such as welfare reform that seemed like they were impossible before they actually happened. In any case, there's next to no evidence of an election-altering event that might occur between now and November 6th that would significantly benefit Republicans. Indeed, if there is any election-altering event that is at play in the 2018 midterms, it is Donald Trump himself and
his historic unpopularity
. As long as that's the case, this idea that there is going to be a "Red Wave" is a complete absurdity.