No, the Framers Didn't Screw Up Impeachment
The problem is with our politics, not our institutions.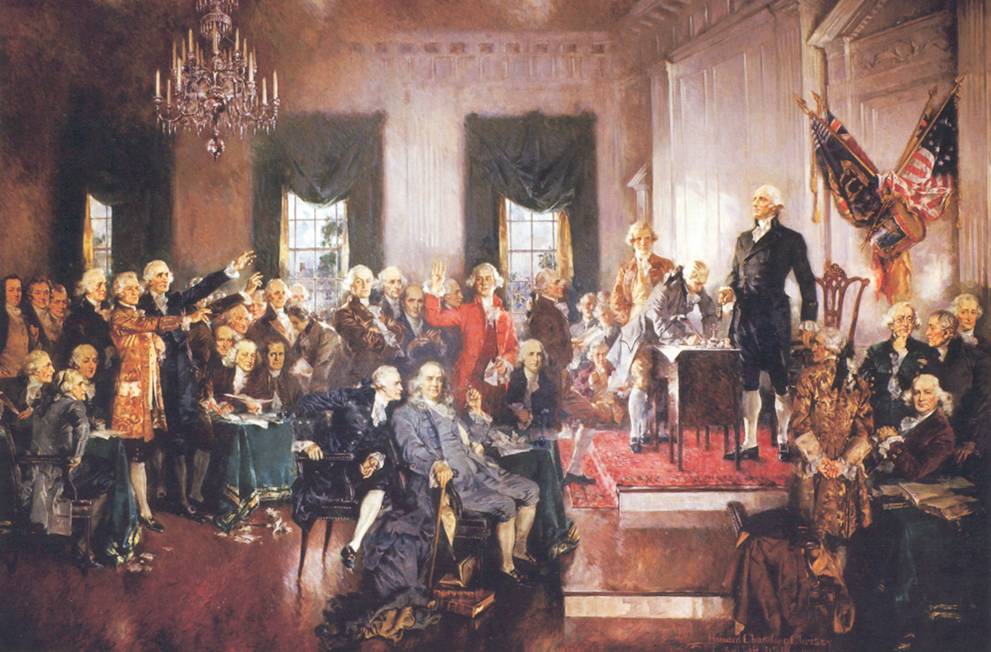 Martin Longman argues "The Founding Fathers Screwed Up the Impeachment Process" because they failed to anticipate the rise of political parties.
It did not take the Founding Fathers very long to discover that they'd made a major screwup in their crafting of the U.S. Constitution. On December 9, 1803, an amendment was introduced to change how we do presidential elections. Specifically, the 12th Amendment was necessary because party-line voting had already developed in the Electoral College. In the 1800 election, this resulted in a tie when every member of the Democratic-Republicans Party voted for both Thomas Jefferson and Aaron Burr for president. It became clear that they would have to abandon the original system whereby each Elector cast two votes for president and the second-place finisher became the vice-president. Instead, there would be a separate vote for vice-president.

In truth, the failure to anticipate factional behavior had already become a problem during the presidency of John Adams. Thomas Jefferson became Adams' vice-president because he finished second in the presidential election. They did not work well together. I don't think Jimmy Carter would have been a very good vice-president to Ronald Reagan either, so it's not hard to see why the first framework needed a quick overhaul.
I'm with him so far. It's rather clear that, despite Madison's famous discussion of the evils of faction in Federalist 10, that the gentlemen who convened in Philadelphia to design a replacement for the Articles of Confederation failed to understand the implications of party politics. But, as Longman rightly notes, they quickly fixed the issue with regard to the Electoral College.
What about impeachment?
Perhaps a similar lack of imagination led them to assign the role of jury in the impeachment process to the U.S. Senate. Just as they didn't anticipate that the second-place finisher in a presidential election would be a natural antagonist of the first-place finisher, and they failed to predict that Electors would vote along party lines, they may have overestimated the senators' willingness to convict and remove a criminal president in cases where the president is the leader of their faction.


Currently, Senator Mitch McConnell of Kentucky is the leader of the most powerful faction in the Senate. He actually controls a majority of the seats. The president belongs to this same faction. If the Founding Fathers had anticipated that a faction could grow so large as to control a majority in the Senate, it's doubtful that they would have seen their model for impeachment as an adequate protection against tyranny. In fact, since they set the conviction threshold for impeachment at two-thirds of all senators voting, it's doubtful that they would have seen it as adequate in a world where a faction can control even one-third of the votes.


Clearly, they made a mistake, but there has been no amendment to the Constitution to rectify the problem.
Maybe because there's no agreement that there's a problem?
Impeachment is an extreme tool reserved for extreme circumstances. Wikipedia claims without citation that "The House of Representatives has actually initiated impeachment proceedings 62 times since 1789. Two cases did not come to trial because the individuals had left office." Of these, "Actual impeachments of 19 federal officers have taken place. Of these, 15 were federal judges: thirteen district court judges, one court of appeals judge (who also sat on the Commerce Court), and one Supreme Court Associate Justice. Of the other four, two were Presidents, one was a Cabinet secretary, and one was a U.S. Senator. Of the 19 impeached officials, eight were convicted."
So, in the course of 229 years, we've only started impeachment proceedings 62 times, impeached someone 19 times, and removed 8 of them. We hardly ever need the Senate to adjudicate the matter.
We've impeached two Presidents. Neither were convicted by the Senate, despite being guilty. Which was probably the right call in both cases.
Andrew Johnson clearly violated the Tenure of Office Act. It was almost certainly unconstitutional. Removing him would have been a travesty.
Bill Clinton did literally everything of which he was accused.
Article I charged that Clinton lied to the grand jury concerning:
– the nature and details of his relationship with Lewinsky
– prior false statements he made in the Jones deposition
– prior false statements he allowed his lawyer to make characterizing Lewinsky's affidavit
– his attempts to tamper with witnesses

Article III charged Clinton with attempting to obstruct justice in the Jones case by:
– encouraging Lewinsky to file a false affidavit
– encouraging Lewinsky to give false testimony if and when she was called to testify
– concealing gifts he had given to Lewinsky that had been subpoenaed
attempting to secure a job for Lewinsky to influence her testimony
– permitting his lawyer to make false statements characterizing Lewinsky's affidavit
– attempting to tamper with the possible testimony of his secretary Betty Curie
– making false and misleading statements to potential grand jury witnesses
At the time, I strongly believed Clinton should have resigned his office in disgrace and that the House was right to impeach him. But I was in a minority of public opinion and, despite Clinton's obvious guilt, five Republican Senators voted to acquit him on both charges.
Richard Nixon would almost certainly have been impeached and removed had he not resigned of his own volition. While Congressional Republicans stood with him during the first months of the Watergate scandal, most eventually abandoned him when the extent of his crimes became undeniable. The public demanded his removal from office.
I believe Donald Trump's conduct in office has been far worse than that of Nixon, much less Clinton. Were I a member of the House, I would vote to impeach. Were I a member of the Senate, I would vote to convict.
It would, however, been seen as illegitimate.
Trump still enjoys overwhelming support from Republicans and 45.1 percent of the public at large still approves of his job performance, according to the RealClearPolitics aggregate. Removing him under those circumstances would be seen as a coup.
The bottom line is that, if a President's crimes are of sufficient magnitude that he needs to be removed from office, he'll lose support from his party. In which case the supposed defect of the impeachment system will no longer be an obstacle.