Obama Administration Lobbied Standard & Poor's Not To Lower Debt Outlook
Standard & Poor's didn't believe the Obama Administration's argument that Washington would be able to fix the deficit. There's no reason they should have.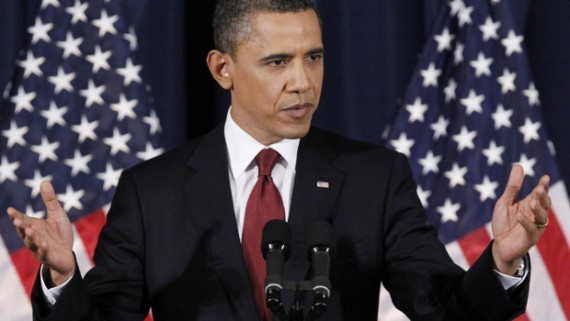 As I noted earlier this week, Standard & Poor's lowered it's outlook for U.S. Government debt to "negative" based largely on the political mess surrounding the budget in Washington and the seeming in ability of either side to be able to come to an agreement on how to fix the deficit problem. Today, The Washington Post reports that the Obama White House tried to convince S&P not to change their outlook:
The Obama administration privately urged Standard & Poor's in recent weeks not to lower its outlook on the United States — a suggestion the ratings agency ignored Monday, two people familiar with the matter said.

Treasury Department officials had been discussing with S&P whether the ratings agency should change its outlook on the United States to "negative" from "stable," an indication that the country could lose its crucial AAA rating in coming years over its soaring debt levels.

Treasury officials told S&P analysts that they were underestimating the ability of politicians in Washington to fashion a compromise to curb deficits, a Treasury official said. They argued a change in ratings was not needed at this time because the debt was manageable and the administration had a viable plan in the works, the official said.

But S&P analysts told Treasury officials on Friday that they were unmoved — and released a report that expressed skepticism that the political parties could come together on how to bring spending in line with revenue.
Obviously, the analysts weren't impressed with the Administration's "plan," the details of which have yet to actually be released, and they had good reason to be skeptical.
Additionally, it's pretty clear that the Administration's argument that politicians in Washington could come together and fashion a compromise was just a lot of hot air:

The White House's proposed deficit talks with Congress appear to be unraveling before they've even begun.

House and Senate Republican leaders announced Tuesday that their sole appointees to the May 5th meeting would be House Majority Leader Eric Cantor (R-Va.) and Senate Minority Whip Jon Kyl (R-Ariz.)–neither of whom are budget leaders and both of whom function largely as political mouthpieces for their party. GOP leaders also each opted to send only one appointee, instead of the requested four, to the meeting.

"I remain skeptical that the administration will take this effort seriously, especially after it all but ignored its previous debt commission and President Obama had to be dragged kicking and screaming to consider minimal spending cuts for the rest of this fiscal year," Cantor said in a statement.

"A serious effort to get our fiscal house in order is sorely needed, however, which is why I believe this commission should commence with a clearly defined target and purpose, under a time frame to produce that result — so that it doesn't end up in the graveyard of previous commissions that failed to improve our nation's finances."

At the same time, some Democratic sources said their own party's picks for the meeting aren't as credible as they could be. Senate Majority Leader Harry Reid (D-Nev.) and House Minority Leader Nancy Pelosi (D-Calif.) only named a total of four appointees instead of eight: Senate Finance Chairman Max Baucus (D-Mont.), Senate Appropriations Chairman Daniel Inouye (D-Hawaii), House Budget ranking member Chris Van Hollen (D-Md.) and Assistant Democratic House Leader James Clyburn (D-S.C.). But it's not the numbers that are the problem.

Pelosi's picks for the talks make the meeting "look silly" because Van Hollen and Clyburn "are just going to do what Pelosi wants, and she's not interested in compromise," said a senior Democratic aide. "The picks for this task force all reflect a lack of seriousness."
This isn't really a surprise at all. Despite all the pronouncements over the past month or so about how Congress was not going to "get serious" about the deficit, the reality of the situation is that it's a virtual impossibility that any kind of real reform is going to happen any time before the 2012 elections. Democrats are not going to agree to entitlement reform, and think they have a winning political issue for 2012 over tax cuts for "the rich." Republicans are not going to agree to tax increases, and still seem to think that the 2010 midterms gave them some kind of mandate for massive budgetary reform even though that clearly isn't the case. What we'll see in Washington over the next year or so is more about maneuvering for 2012 than it is about actually doing anything to fix the mess that we're in. No wonder Standard & Poor's didn't listen to the Administrations exhortations.