Obama And Romney: A Dime's Worth Of Difference On Foreign Policy?
Despite their rhetoric, there would be few differences between a Romney Administration and an Obama Administration when it comes to foreign policy.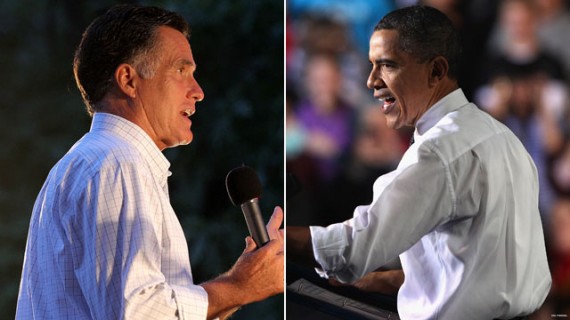 Responding in part to my post from last week wondering whether it really mattered who won in November, Andrew Sullivan says the following:
[F]or me, this is first and foremost a foreign policy election. If Romney is elected, and if no deal with Iran is accomplished before then, we will go to war in a third Muslim country, and possibly escalate again in Afghanistan. The rebooting of the global religious war would be instant. The US will almost certainly become the guarantor of all of Greater Israel, rendering us cut off from the entire Arab and Muslim world, as well as increasingly isolated from Europe. Russia, Romney tells us, is the number one "threat". Torture could well return.

It is the return to global polarization, confrontation and war that concerns me above everything else. The calming of international relations, the slow reintegration of the US with the global community, the slow strategy with Iran, the quiet rebuilding of alliances in the Pacific: all these are now white noise. But if they collapse, war and terror will return as the polarizing norm.
It's an understandable argument, I suppose. By the end of the Bush Administration the position of the United States as a diplomatic actor had been seriously downgraded. However, it's fair to say that this was almost entirely because of worldwide reaction to the Iraq War along with the allegations of torture in connection with the War On Terror. By the time Barack Obama became President, the Iraq War was, if not completely over, at least at a point where the end was in sight. The controversial aspects of the Bush Administration torture regime had ended years before Barack Obama even thought about becoming President.
The real question is whether there has actually been a substantive change in American foreign policy as it was when George W. Bush left office, and now.
I would submit that the answer is no.
James Joyner pointed out the similarities between the Bush and Obama foreign policy agendas just six months into Obama's first term:
Through some combination of political calculation and genuine misunderstanding, Obama campaigned against a caricature of Bush's foreign policy. Early in Bush's second term, he began quietly shifting away from the so-called neoconservatives, and the realists resumed their dominance. Paul Wolfowitz went off to the World Bank in 2005. Doug Feith left that same year. After the November 2006 midterm debacle, Don Rumsfeld was allowed to ride off into the sunset, too. Pragmatic realists Condoleezza Rice and Bob Gates came into ascendency and quietly changed the administration's focus. Obama has surrounded himself with pragmatic realists, too, so it's not all that surprising that he's carrying on the same basic strategy.

More importantly, however, despite the frenzy over personalities that we frequently find ourselves caught up in, the fact of the matter is that, like Bush before him, Obama is the American president. While different occupants of the Oval Office naturally have different instincts and emphases, their country has the same interests regardless of who's filling the big chair. Likewise, we seem to constantly forget, the countries with whom we deal have continuing interests.
The subsequent 33 months have, I would submit, shown that this assessment is largely correct. Yes, President Obama has ended our military presence in Iraq (largely by adhering to a Status of Forces Agreement negotiated by the Bush Administration) but beyond that the actual substantive changes in American foreign policy have been quite minimal indeed. Go back and read James's article from July 2009 and you'll see that the differences between Bush 43's second term and Obama's first aren't nearly as radical as either Republicans or Democrats would like to believe they are. Yes, perhaps there is a stylistic difference, and Secretary of State Clinton has certainly played an important role in the the process, but when it comes to the actual substance of their respective foreign policies, the differences between Barack Obama and George W. Bush can be measured in millimeters, not miles.
So, what does that tell us about the foreign policy debate between Barack Obama and Mitt Romney?
I would submit that it tells us that the most likely outcome of a Romney victory in November would be, for the most part, continuity rather than radical change. Granted, there are concerns to be drawn from the rhetoric that Romney engaged in during the primary campaign regarding foreign policy issues, and which he is likely to continue to push during the General Election campaign. Leaving aside that rhetoric, though, the mainstream of American foreign policy seems to me to be really well set. Unless Mitt Romney does something totally insane like making John Bolton Secretary of State (which I would submit is about as likely as Rick Santorum being selected as the next spokesperson for GLAAD), a Romney Administration's foreign policy is likely to be not all that different from what we've seen over the past three years. Which, to be all that honest, hasn't been all that impressive.
Sullivan's big concern seems to be Iran. It's mine too, and frankly it should be anyone's. If there's any place in the world where a war is likely to erupt within the next several years, it's Iran. I agree that much of the rhetoric from the right regarding Iran, nuclear weapons, has been disturbing if not worse, it strikes me that a dose of reality it needed here too. Leaving aside the ideological points he continues to score with his rhetoric regarding Iran, it's worth noting that Romney is not privy to the intelligence briefings that the President receives, nor the advice of the nation's top military commanders. Assuming he's elected President, one of the first things that will happen will be a full intelligence briefing. When that happened to Barack Obama in November 2008, several commentators noted that he seemed suddenly subdued and that his comments about foreign policy began to take on a new light. That would be called the light of reality. If he's elected President, Mitt Romney will see that light too, and we'll find that things won't change nearly as much as some people fear.