Obama Leads In Three Crucial Swing States
Three new state polls show that Mitt Romney's path to victory continues to narrow.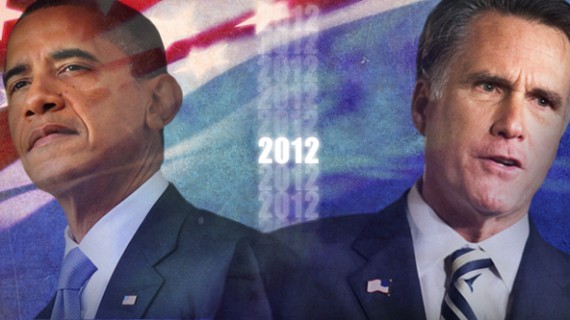 NBC News and The Wall Street Journal are out with a new round of polls showing President Obama leading in what are likely to be the most important swing states in November:
After two political conventions and heading into the post-Labor Day sprint, President Barack Obama leads Republican nominee Mitt Romney in the key battlegrounds of Florida, Ohio and Virginia, according to new NBC News/Wall Street Journal/Marist polls of each of these three states.

In both Florida and Virginia, Obama is ahead of Romney by five points among likely voters (including those leaning toward a particular candidate), 49 percent to 44 percent.

In Ohio, the president's lead is seven points, 50 percent to 43 percent.

These states – all of which Obama carried in 2008 but which George W. Bush won in 2004 – represent three of the most crucial battlegrounds in the 2012 presidential election. And according to NBC's electoral map, Romney likely needs to capture at least two of these states, if not all three, to secure the 270 electoral votes necessary to win the presidency.

By comparison, Obama can reach 270 by winning just one or two of these battlegrounds  – on top of the other states already considered to be in his column.

(Obama also has an additional path to victory without any of these three states if he wins the toss-up contests of Colorado, Iowa, Nevada, New Hampshire, and Wisconsin.)

What's particularly striking about these polls, Miringoff observes, is how most voters in these battleground states have already made up their minds, with just 5 to 6 percent saying they're undecided, and with more than 80 percent signaling that they strongly support their candidate.

"Those who are thinking of voting have pretty much picked sides," he says.
Most strikingly, the internal numbers in all three polls are very positive for the President even on the issue that has long been believed to be Mitt Romney's strong suit, the economy:
In Florida and Virginia, Obama and Romney are essentially tied among likely voters on the question of which candidate would do a better job handling the economy, although Obama has a four-point advantage on this question in Ohio.

But when it comes to handling foreign policy, the incumbent Democratic president enjoys a double-digit lead over his Republican challenger.

Also in the polls, Obama's job-approval ratings – 50 percent in Ohio and 49 percent in Florida and Virginia – exactly match his ballot position against Romney in these states.

And in each of these three battlegrounds, a majority of likely voters say the country is on the wrong track, while more than 40 percent believe that it's headed in the right direction.
It's perhaps helpful to the President that the right track/wrong track numbers are slightly better in these three states than they are in the nation as a whole. Additionally, all of these polls were conducted prior to the flare ups in the Middle East and what some have characterized as Mitt Romney's bungled response to the events of Tuesday night. Given that the general nature of polls is to see at least some kind of "rally around the flag" effect benefiting the sitting President when there's an international crisis, I think we can expect to see at least some kind of bump in the President's job approval ratings, especially on foreign policy, for at least a short period time.
Looking at each of the states, it's fairly clear that the President is in a far better position right now than Mitt Romney is.
Of all three of the results, the one that should perhaps concern the Romney campaign the most is Florida. Of all three states, Florida is generally seen as the most conservative, and it's long been seen as one of the 2008 Obama states that the Republicans were most likely to flip this year. Instead, we've seen President Obama leading in far more of the polls that have come out of the Sunshine State since the General Election campaign started in April than Governor Romney. As of today, the RCP Average gives President Obama a +1.3 advantage, a number that includes not only the NBC/Marist poll, but also a new poll by Rasmussen that has the President leading by a single point.  As the chart indicates, though, the President has opened up a gap over Romney, and seems to have gotten something of a convention bounce in the state where Romney held his convention: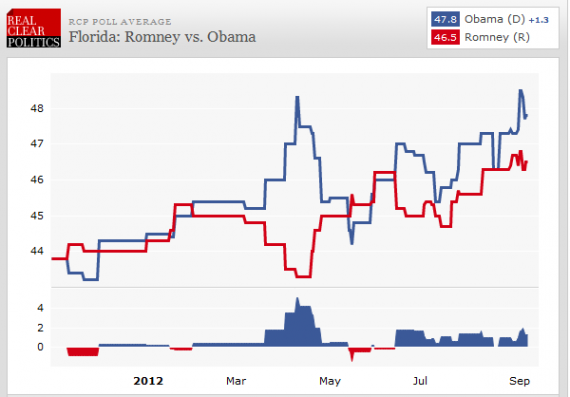 Moving to Virginia, we again find a state where, except for two exceptions that may well be outliers, we have not seen a poll where Mitt Romney is leading for months. Because the state has been so close for months, the fact that the NBC/Marist poll has the President leading by five points is potentially significant, although it's full impact on the poll averages is offset by another poll from a firm called Gravis Marketing that shows Romney up by five points. As a result the RCP Average for Virginia gives a slim +0.4 advantage to the President, and the chart shows the race deadlocked: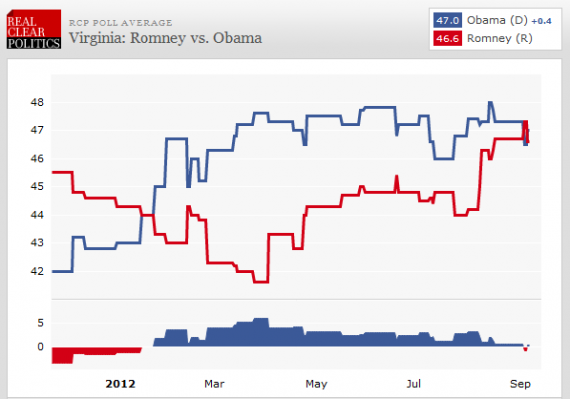 This is likely what we're going to see from Virginia for the next several Presidential election cycles. The state does have a Republican core, as the election results in 2009, 2010, and 2011 revealed, but the influx of new residents in recent decades, combined with the overwhelming numbers that come out of Northern Virginia and the Tidewater region in Presidential election years mean that the Old Dominion is unlikely to be the solidly Republican state it was from 1968 through 2004. This year's outcome is going to be close, but I cannot discount the fact that it was overwhelming numbers from Northern Virginia and Richmond that propelled the President to victory four years ago. I think we'll find the same support this time around, much to Mitt Romney's chagrin.
Finally, we come to Ohio, where NBC/Marist gives Obama his largest lead since a Quinnipiac poll from June that had the President leading by nine points. Once again, it should be noted that there's also a new Rasmussen poll out for the state that shows the President's lead as only a single point. Obviously, the two polls are using different likely voter models and, while Rasmussen's poll may oversample Republicans and thus show the President with a smaller lead, Allahpundit notes that the D/R/I for the Marist poll is actually more pro-Democratic than the actual turnout was in 2008. That scenario seems rather unlikely, to be honest, so what we're likely looking at here is a scenario where the President is actually ahead by a two or three points rather than being outside the margin. In any event, though the RCP Average in the state gives the President a +4.2 advantage in the state right now, and the chart shows that things clearly seem to be moving in the President's direction: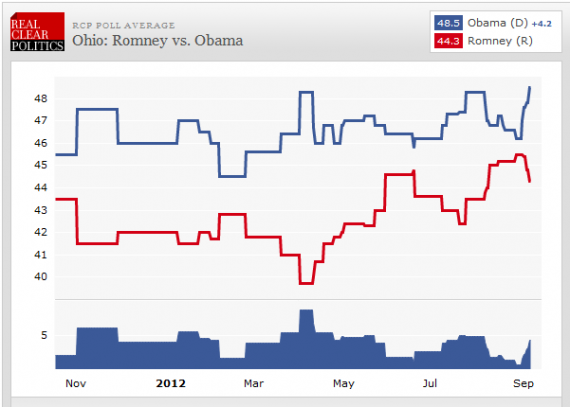 With respect to Ohio, it's worth noting that the state has been relatively close, inside of a five point margin, in every election going back to 2000. The largest margin during that period was the 4.6% that separated the President and John McCain four years ago. This isn't four years ago, though. Turnout in November is not likely to be as high as it was in 2008, and the economy remains a drag on the President. I'd expect Ohio to be as close as it was in 2004 when the dust settles.
These states are still close, and they're going to be heavily fought over for the next 53 days, but it strikes me that there are several red flags for Romney here. For one thing, outside of what appear to be outliers, he has not been shown to be leading any of these states for months now. That may not have been a big deal in June or July, but it becomes an entirely different situation when you're in mid-September some two weeks from the first Presidential Debate. At some point, momentum starts to set in, and people start to make up their minds. Already, it seems quite clear that the number of undecided and persuadable voters in this states and elsewhere is lower than its been in the past. Absent some kind of major game changer, which seems unlikely, the odds of getting a voter to change their mind from one candidate to another are fairly slim. More importantly, we're getting to the point where, in order to win, Romney would have to win the overwhelming majority of the undecided voters. While it's generally true that undecided voters tend to break in favor of the challenger, they don't necessarily break in the numbers that Romney would need.
The other thing that these polls reinforce is the fact that Mitt Romney's path to victory is incredibly narrow, while the President has many paths to 270 in the Electoral College. As noted above, Romney would need to win at least two of these three states in order to win the election. That's true, but it's an argument that depends on what would otherwise be a pretty good Electoral Map for Romney. It would require, for example, that he also win North Carolina, where he still hasn't been able to pull ahead of the President in a state where everyone expects him to win. Take North Carolina's 15 Electoral Votes out of Romney's column, and wouldn't win even if he wins all three of these states. Take Nevada out of Romney's column, and he would need to win all three of these states in order to win. The President, on the other hand, could afford to lose two of out of these three and still win the election and, there's a perfectly plausible scenario under which Obama could lose all three of these states and still win the Electoral College 271-266. The cards are still all in the President's hands, and Mitt Romney is running out of time.