Obama's Bain Attacks Aren't Working
The Obama campaign's focus on Mitt Romney's years at Bain Capital don't seem to be working.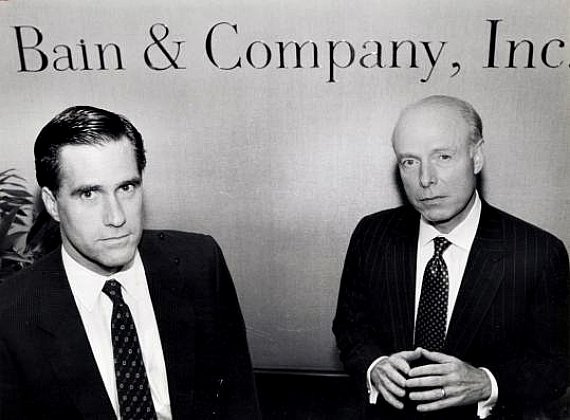 It was inevitable that the Obama campaign would make Mitt Romney's time at Bain Capital an issue in the campaign. After all, it worked fairly well for Newt Gingrich in South Carolina, and the stories of isolated companies in Missouri or Indiana that were bailed out by Bain but failed to survive (mostly for reasons that had nothing to do with what Bain did) are fairly easy to turn into simplistic "rich v. poor" and "robber barron" type rhetoric. It may not be accurate, but this is politics, and accuracy doesn't really matter. Personally, I tend to agree with Steve Rattner, President Obama former "car czar," who argued in The New York Times earlier this week that Bain Capital and other private equity firms perform any essential role in the economy, but that it's important to remember that "job creation" is not their primary goal.
Indeed, that is true of any business. 
When someone goes into business for themselves, whether it's Mitt Romney or Steve Jobs, they aren't dong so for altruistic purposes, they are doing so for the purpose of making a profit. The jobs that may be created as a result of their actions are really just a secondary benefit from their own pursuit of the goal of making money. That's the way it always has been in the business world, and that's the way it always will be. Businessmen start out trying to make a profit. Often they fail, but when they succeed their success has benefits for others, including those they employ. As I pointed out back in January, though, that's just a secondary benefit:
None of this is to say that Romney, or the people are Bain are altruists dedicated to saving struggling companies for the good of America. They went into this business because they believed they could make money, the benefits that others accrue from their actions are, at least to them, purely incidental.  The same is true of Steve Jobs and Steve Wozniak when they started Apple, Bill Gates when he started Microsoft, Sergey Brin and Larry Page when they started Google, and Henry Ford when he started making cars. They were all interested in making a profit and, in doing so, they created things that benefited everyone. One doesn't have to believe that actors in the economy are altruists, though, or ignore the idea that they are primarily concerned with earning a profit to recognize the role that what they do plays in the process of economic progress.

All of this is a difficult political argument to make, of course. It's far easier to empathize with the workers featured in the video embedded above than to wrap ones brain around the idea of creative destruction and accept the fact that progress often means temporary loss.
In the end, Romney was probably mistaken to point to his business record as evidence of his ability to "create jobs," but that's water under the bridge at this point. Romney made the claim, and both his Republican opponents and the Obama campaign took the logical step of trying to undermine it.
Emphasis on the word trying. 
Jan Crawford at CBS News takes note that the Bain-based attacks on Romney don't seem to be working:
In the past two weeks, the Obama campaign has rolled out several attacks on Romney and his time at Bain Capital.

"He's running for president, and if he's going to run the country the way he ran our business, I wouldn't want him there," a steelworker says in one ad.

But so far, it's not working.

Instead of a bump in public opinion for the president, recent polls show Romney's approval ratings on the rise — and sharply so in the key swing state of Florida.

With the attacks failing to resonate, the Obama campaign is hitting even harder.

In California Wednesday night, the president turned up the volume with attacks that sounded almost personal — and placed himself on the side of "regular" Americans.

"I think he's drawn the wrong lessons from these experiences," Mr. Obama said of Romney. "He seems to believe that if CEOs and wealthy investors like him are getting rich, that the rest of us do, too."
It's rhetoric that works well with the rank-and-file, no doubt, but as former Clinton Adviser Lanny Davis points out, it just isn't right:
Private equity firms often invest in distressed companies by putting in cash and cutting expenses in order to save a company that is already close to bankruptcy. Sometimes the investment works and the company and jobs are saved. And sometimes, to save the company, jobs need to be cut or wages and benefits reduced.

Does that sound familiar? It should. It's called the General Motors bailout, widely touted by President Obama and Democrats as a success story, which it was. GM, facing bankruptcy, laid off tens of thousands of workers, reduced wages and benefits among some remaining workers, and the rest is the good news. GM was saved and is now making billions in profits, with most of the "equity" tax dollars having been repaid. Romney opposed that successful "taxpayer" equity investment for reasons that escape me.

The Obama anti-Romney Bain Capital campaign ad focused on a Kansas City steel company, GS Technologies, which was on the verge of bankruptcy when Bain Capital purchased it in 1993 for $80 million. GS went bankrupt in 2001, with several hundred workers losing their jobs. The ad featured several of them blaming Romney and Bain for the lost jobs, but it omitted several facts, such as:

Mitt Romney had left Bain Capital two years before bankruptcy had been declared.

The head of Bain at the time of the GS bankruptcy decision is now a major Obama fundraiser.

Bain invested another $100 million in plant modernization and four years later the company reportedly had reached more than $1 billion in revenues.

After the company went bankrupt in 2001, the president of the plant's union didn't blame Bain but rather, cheap foreign imports. "We can't compete against the steel imports that are being sold under cost," he said.
But, of course, as I said this is politics and facts don't really matter very much in politics. What's interesting is that there seems to be a contrast between what happened to Romney when Newt Gingrich, and to some extent Rick Perry, unleashed these Bain attacks during the South Carolina and now. While Romney was already running from behind in South Carolina, his numbers started to drop precipitously once Gingrich and his SuperPac went on the air with the anti-Bain advertisements. That's not happening now. Instead, as we saw this week in both the national and swing state polling that was released, Romney's numbers have improved and, more interestingly, his favorable/unfavorable numbers have improved as well. Some of this is due, as I noted in my posts on the polls, to the fact that the race for the GOP nomination is finally over so he isn't being subjected to daily attacks from members of his own party (not to mention their surrogates), but there doesn't appear to be any evidence at this point that the attacks on Romney's record at Bain are resonating with the public at all.