Obama's Early Voting Advantage
Once again, the Obama campaign appears to have an advantage among people who have voted already or will be voting before Election Day.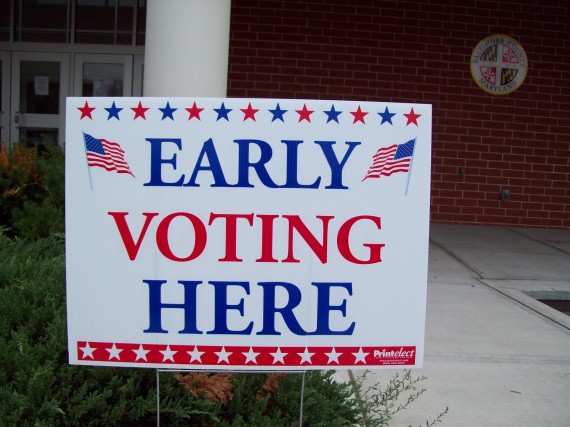 The Obama campaign's secret weapon in what is promising to be a very close election is turning out to be early voting:
(Reuters) – President Barack Obama and Republican challenger Mitt Romney are neck and neck in opinion polls, but there is one area in which the incumbent appears to have a big advantage: those who have already cast their ballots.

Obama leads Romney by 59 percent to 31 percent among early voters, according to Reuters/Ipsos polling data compiled in recent weeks.

The sample size of early voters is relatively small, but the Democrat's margin is still well above the poll's credibility interval – a measurement of polls' accuracy – of 10 percentage points. (full graphic: bit.ly/RmeEen)

With the November 6 election just more than three weeks away, 7 percent of those surveyed said they had already voted either in person or by mail (full graphic: bit.ly/SWm5YR).

The online poll is another sign that early voting is likely to play a bigger role this year than in 2008, when roughly one in three voters cast a ballot before Election Day. Voting is already under way in some form in at least 40 states.

Both the Obama and Romney teams are urging supporters to vote as soon as possible so the campaigns can focus their door-knocking and phone-calling operations on those who are still undecided or need more prodding to get to the polls.
When you drill down to the state level and actually look at numbers, they appear to indicate both that early voting will be higher than it was in previous elections and that this is tending to favor the President:
George Mason University professor Michael McDonald, an expert on early voting, said it was difficult to tell how the results so far could affect the outcome of the race.

In North Carolina and Maine, Democrats seem to be voting in higher numbers than 2008, while Republicans seem to be voting in slightly lower numbers than four years ago, he said.

In Ohio, where voters do not register by party, early voting appears to be higher than normal in both Republican and Democratic areas, McDonald said.

In Iowa, about twice as many registered Democrats as Republicans have voted by now – a potential warning sign for the Romney campaign, he said.
Part of the reason for the Democratic advantage here, of course, is the enormous ground operation that the Obama Campaign has had at its disposal since the 2008 primaries. Much like the Romney campaign did during the Florida primary in January, the Obama team has been able to use the vast database of supporters its collected over the past several years as the catalyst for a Get-Out-The-Vote operation that is among the best we've ever seen in a national campaign. We can see the signs of this in the numbers out of Iowa, North Carolina, and Ohio, where Democrats seem to be very active in early voting as they were four years ago. The other factor that has been used to explain the Democratic early voting advantage is that they tend to attract voters for whom the convenience of being able to vote at any time is appealing while Republicans tend to attract voters who prefer to actually vote on Election Day. I'm not sure if anyone's actually done any research on this point, but it would be one reason for the disparity between the parties that we've seen in early voting statistics over the past two election cycles. It also suggests that relying solely on early voting data as an indication of which way a state may go in the election may not be the way to go because the early voting cohort may not fully represent voters as a whole.
In any case, though, it strikes me that the GOP misses out on an opportunity by not pushing early voting more aggressively among its supporters. After all, if you've got a  voter who knows they're going to vote for you, why not get their vote locked in early and concentrate on the ones who haven't made up their mind yet?