Of Course John McCain Wants To Invade Nigeria Without Their Permission
Hubris.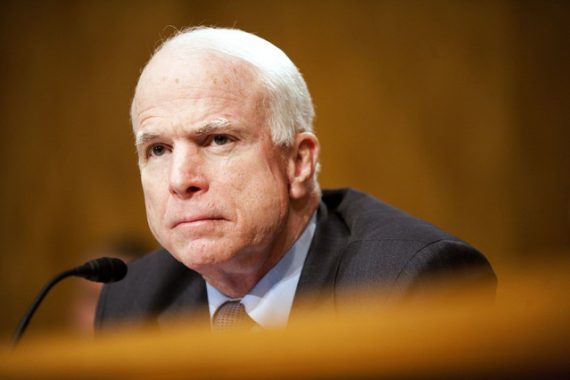 Senator John McCain wants the U.S. military to take over finding and rescuing those kidnapped Nigerian schoolgirls, even if the Nigerians don't want us to:
The United States should send in special forces to rescue the hundreds of girls kidnapped by Boko Haram—whether the Nigerian government gives permission or not, according to Sen. John McCain.

"If they knew where they were, I certainly would send in U.S. troops to rescue them, in a New York minute I would, without permission of the host country," McCain told The Daily Beast on Tuesday. "I wouldn't be waiting for some kind of permission from some guy named Goodluck Jonathan," he added, referring to the president of Nigeria.

Of course, it's not exactly a surprise that McCain holds this view. He's been a longtime advocate for increased U.S. military activity in crises around the globe—from Syria to Ukraine.

McCain said that if he were the American president, he would already be doing several things to respond to the kidnapping of the over 200 girls by the Nigerian terrorist group that the Obama administration has so far declined to do. Those measures include prepositioning U.S. special forces to be ready to enter Nigeria and rescue the girls if the opportunity arose. He said that the United Nations charter authorized military intervention on behalf of the girls because their abduction rose to the level of "crimes against humanity."

"The United Nations Charter recognized crimes against humanity, this fits into the category of crimes against humanity, and that gives any nation the license if they can to stop a crime against humanity, the same reason we should have if we could have freed the people at Dachau or Auschwitz," McCain said.

The U.N. Charter does not explicitly mention crimes against humanity. But the Rome Statute of the International Criminal Court Explanatory Memorandum does, stating that crimes against humanity "are particularly odious offenses in that they constitute a serious attack on human dignity or grave humiliation or a degradation of human beings."

McCain's declaration Tuesday was an amplification of an interview he gave to CNN last week when he said, "As soon as we knew these young girls were kidnapped… we should have utilized every asset that we have, satellite, drones, any capabilities that we had to go after them."
This isn't the least bit surprising, of course. For some time now, John McCain has had this habit of calling for American military action even when it is abundantly clear that he hasn't really thought through the consequences of what he's suggesting. From the beginning, he was a strong and vocal supporter of his former rival for the 2000 GOP Nomination's call for war against Iraq despite the fact that, in retrospect, it was clear that the intelligence being relied upon was questionable at best. During the 2008 Presidential campaign, for example, he criticized both the Bush Administration and then Senator Obama for not more forcefully condemning Russian military actions in the Republic Of Georgia. He was one of the loudest voices for American intervention in the Libyan Civil War, and even criticized  the Obama Administration when it finally did act because he didn't believe that the President had gone far enough in intervening in that war. He spent the better part of the next two years pushing for intervention in the Syrian Civil War including not only providing arms to the rebels, but also establishing a no-fly zone over the country and actively assisting in the removal of the Assad regime. He has, of course, been all over the Ukraine situation advocating American aid to Kiev and more belligerence toward the Russians. Taking all of that into consideration, it's no surprise that he'd be calling for American military intervention in Nigeria even though it's rather obvious that he doesn't really know what's going on there.
I've already discussed many of the potential drawbacks of direct U.S. involvement against Boko Haram in this matter, but as Daniel Larison notes, McCain takes it one step further by essentially saying that we ought to ignore Nigerian sovereignty:
This would be a questionable thing to do even if Nigeria's government requested direct U.S. involvement in a rescue attempt, but to be willing to send U.S. forces into another country without permission from a mostly cooperative government is unduly reckless even by McCain's low standards. It takes a great deal for granted to assume that the mission would be successful with minimal loss of life for the captives and U.S. forces. Obviously nothing would be gained from a botched or failed raid, especially if it resulted in the deaths of many of the innocents held captive. Even a successful raid would carry substantial risks, and those risks would be even greater if this were done without the Nigerian government's cooperation. It will come as news to McCain, but most governments around the world would not be pleased to be shown up by a foreign power on their own soil without their permission. Whether the mission was a success or not, sending U.S. forces where they are not invited would have the potential to create significant resentment.
Ishaan Tharoor comments on McCain's foolish idea as well:
The Nigerian government has requested international assistance, but to assume there would be "nothing but gratitude" is simplistic, if not patronizing. No government, particularly one in a democracy, faced with a noisy opposition, wants to look helpless in the face of foreign powers. Jonathan's government must do more, but McCain's bluster hardly helps.
As Larison notes in another post, McCain's comments here are yet another example of the absolute hubris of Bush-era interventionists, who seem to think that the world will have nothing but thanks for whatever it is that the United States has planned for them. The epitome of this, of course, was the prediction that the American forces that eventually invaded Iraq and toppled Saddam Hussein's regime would be greeted as "liberators." At least initially, in the wake of Saddam's downfall and the celebrations of members of the public that seemed to be true, but the rise of the insurgency quickly made it clear that we were an unwanted presence in the minds of many Iraqis. Additionally, one doubts that civilians in Afghanistan, Pakistan, and Yemen who have been subjected to U.S. drone strikes and their aftermath are feeling all too charitable toward the United States right now. In addition to involving us unnecessarily in a conflict in Africa that we most assuredly do not need to be a part of, the course of action suggested by Senator McCain would clearly backfire with the Nigerian public, and probably in other parts of Africa as well, in that it is likely to revive memories of colonialism that aren't very old in that part of the world.
I suppose the only good thing we can say about this idea is that the Senator is in no position of power to put his ideas in motion, and that the right person lost the 2008 Presidential election.