Ohio Congressman Who Challenged Pelosi Says He's Running For President
Ohio Congressman Tim Ryan, who challenged Nancy Pelosi for a leadership spot in 2016, is telling supporters he's running for President in 2020.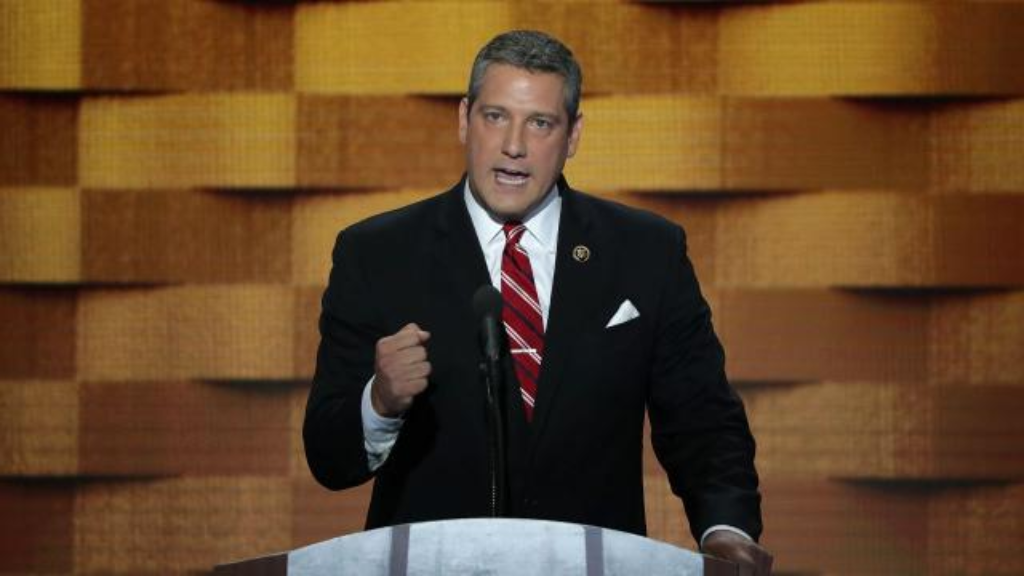 Ohio Congressman Tim Ryan, who most recently made a name for himself by running against Nancy Pelosi for the position of House Minority Leader, is apparently putting together a bid for the Democratic nomination for President:
Tim Ryan has been telling political consultants and operatives that he intends to run for president of the United States in 2020, and is beginning to put together a team, according to multiple sources who've spoken to Ryan.

Ryan, who has served in Congress since 2002 as a representative from the 13th District in Ohio, which covers Youngstown and the surrounding area, has cast himself as an opportunity for the party to try and win back the Midwestern votes it has gradually shed over the last decade. A spokesperson for Ryan declined to comment.

The 13th Congressional District is emblematic of the challenges that Democrats face in the Rust Belt. As a profile in the New Republic noted, between 2001 and 2013, two of the largest counties in Ryan's district, Trumbull and Mahoning, shed nearly 19,000 manufacturing jobs. Perhaps relatedly, the district gradually shifted from strongly Democratic to one where Republicans have gained ground. In 2016, Trumbull went to Donald Trump — the first time the county went Republican since before 1972.

Ryan's district is one of the few poor, majority-white districts that is represented by a Democrat. But he won't be running on a stereotypical working-class persona; instead, he believes his path to the White House runs through the "yoga vote."

Ryan has long been a champion of mindfulness, meditation, and similar pursuits, and has even created a "Quiet Time Caucus" in the House of Representatives. James Gimian, the publisher of Mindful magazine who knows Ryan, said he isn't sure whether Ryan will run for president, but that the yoga vote has gone mainstream in recent years. "The so-called yoga voters are the kind of folks who realize that while they grew up with their mom saying, 'Pay attention,' nobody trained them in how to pay attention and use their mind to focus on what's important," he said. "That's a growing population — it's no longer just Lululemon yoga women." He said that anybody who is negotiating the "emotional land mine of modern day living" could be someone Ryan's message would resonate with.

Ryan, who was elected to Congress at age 29, is the author of the 2012 book "A Mindful Nation: How a Simple Practice Can Help Us Reduce Stress, Improve Performance, and Recapture the American Spirit."

"It gets marginalized by calling it the yoga vote. I think it's much bigger than that," Gimian said. "His aspiration is to bring this kind of conversation to a wider office."

The group Yoga Votes ("One body united for change") puts the total number of people who do yoga in the U.S. at 20 million, and Ryan has done work with the group.

Operatives who have spoken to Ryan about his run say that he genuinely believes he has a chance to win. "I'm gonna win," he told one flatly.

(…)

Aside from his fixation on the yoga vote, Ryan's bid will likely revolve around him being able to prove the the theory of his case: that states like Ohio and Iowa can once again return to the Democratic column with the right candidate who can win back Trump voters. "Our failure as a caucus has been not to focus on economic issues," he told Fox News's Chris Wallace while challenging Pelosi in 2016. "If we don't get the middle of the country, we're never going to be back in the majority," he said, arguing that Democrats have become a coastal rather than national party.

But Ryan will have a hard time laying out that argument with rivals who would likely have a similar path — such as Vermont independent Sen. Bernie Sanders and Massachusetts Democratic Sen. Elizabeth Warren. Both have made economic populism their political brand, and both are politicians that Democrats have heard of, unlike the obscure Ryan, who could probably walk into and out of any Indivisible meeting — or yoga class — across the country without being recognized. Sanders and Warren, meanwhile, can deliver that message unencumbered by influences such as the Clintonian think tank Third Way, which wants economic messages to be shorn of any threat to the donor class.

Moreover, it isn't clear that Ryan would necessarily pivot to populism during a presidential bid. When the Democratic Party's professional anti-progressive wing, represented by Third Way, met recently in Ohio and conferred on how to stop the influence of Sanders-style populism, Ryan, who has a close relationship with Silicon Valley, was one of the speakers. ""You're not going to make me hate somebody just because they're rich. I want to be rich!" he reportedly told attendees, contrasting himself with more populist candidates.
As noted above, Ryan first made a national name for himself some two years ago when he challenged Nancy Pelosi for leadership of the House Democratic Caucus, arguing that the party needed new ideas and younger leadership from an area other than the East and West Coasts if it was going to survive in the age of Donald Trump. As it turned out, of course, Pelosi easily beat back Ryan's challenge, although his name has come up again as Democrats look ahead to the midterms and question whether their current leadership sends the right message ahead of both those elections and, more importantly, the 2020 Presidential Election. With this announcement, Ryan seems to be indicating that he would not be mounting another challenge to Pelosi, but that could possibly change depending on the outcome of the midterms. As things stand right now, though, it seems clear that Ryan does not intend to challenge Pelosi again.
As it stands, Ryan's chances in a race for his party's nomination seem slim at best. Generally speaking, members of the House of Representatives have not been successful at either winning their party's nomination or winning the Presidency. The last time it happened was in 1880 when James Garfield, who also had a national reputation as a hero of the Civil War, was elected President while serving as a Member of Congress from Ohio, although Garfield had also been elected to the Senate by Ohio's legislature prior to winning the Presidential election. Since then, while there have been Members of Congress who have run for President, most notably Richard Gephardt of Missouri, who ran for the Democratic nomination in both 1988 and 2004, none of those individuals has won their party's nomination and none of them has been elected President. In no small part, this is due to the fact that Congressmen do have the same national prominence as Senators, Governors, or former Vice-Presidents. Given the long list of Democrats likely to run in 2020, it seems unlikely that Ryan will have any better luck than those previous candidates.