Ohio: Turnout vs. Suppression
Could Romney win Ohio by ginning up Republican turnout and tamping down Democratic votes?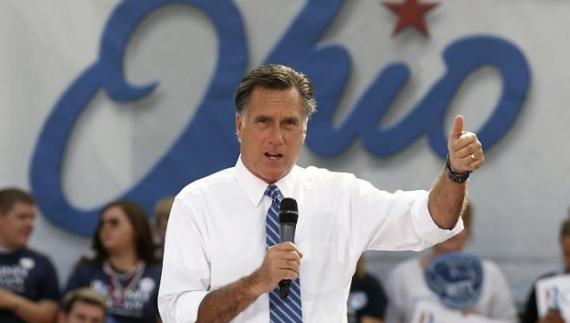 All of the reputable polling shows a slight lead for President Obama in the all-important state of Ohio. Could Romney win by ginning up Republican turnout and tamping down Democratic votes?
The  Columbus Dispatch headlines a story about its new poll "Ohio's a toss-up."
The "Ohio firewall" precariously stands for President Barack Obama, but a strong Republican turnout could enable Mitt Romney to tear it down on Election Day.

The final Dispatch Poll shows Obama leading 50 percent to 48 percent in the Buckeye State. However, that 2-point edge is within the survey's margin of sampling error, plus or minus 2.2 percentage points.

Ohio remains the consensus top battlefield in the 2012 presidential election, and the campaigns are showing it: Both candidates and both running mates are here today, and three of the four are coming back on Monday. That will make 83 visits by presidential candidates to Ohio this year, a record at least in modern history.

Many in the Obama camp have said if the president can build a "firewall" in bellwether Ohio — which has backed a loser only twice since 1900, the nation's best record — Romney's road to the White House will be all but blocked. A Republican has never won the presidency without carrying Ohio, and without the state this year, Romney's electoral challenge becomes steep.

One key to Obama's lead: He is winning by more than 2-to-1 among the 11 percent of Ohio voters who say they didn't cast a ballot in the 2010 governor's race, which Republican John Kasich won by 2points.

In general, the Obama campaign wants to avoid the Democratic underperformance of 2010 that brought sweeping GOP victories and instead return to a 2008 turnout model in Ohio when Obama won by 4.6 points. And the Romney team looks longingly at the high GOP turnout when George W. Bush took a second term by turning back John Kerry in 2004 — when a same-sex marriage issue also was on the Ohio ballot.
None of this is news, of course. No serious analyst expects Democratic enthusiasm of the sort we saw in 2008 or Republican enthusiasm–and Democratic lethargy–of the sort we saw in 2010. Still, if the polling is accurate and turnout is "normal," Obama should win. Literally every poll in the RealClearPolitics index, save Rassmussen, has Obama leading; and even Rasmussen just has a tie.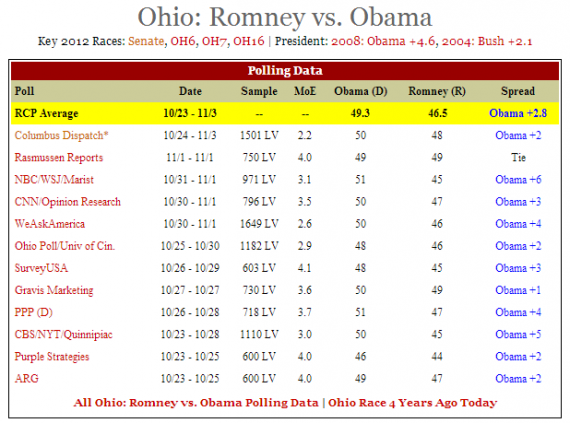 Even with Rasmussen factored in, Obama has a 2.8 point lead. That's going to be hard to beat with mere turnout, given that everyone has known how important Ohio is going to be for months and both campaigns have poured tremendous resources and energy into the get-out-the-vote effort there.
Alas, Ohio Secretary of State Jon Husted has been going above and beyond the call of duty. ThinkProgress' Judd Legum ("Last-Minute Ohio Directive Could Trash Legal Votes And Swing The Election"):
A last-minute directive issued by Ohio Secretary of State Jon Husted (R) could invalidate legal provisional ballots. Ohio is widely viewed as the most critical state for both presidential campaigns and — with some polls showing a close race — the 11th-hour move could swing the entire election.

The directive, issued Friday, lays out the requirements for submitting a provisional ballot. The directive includes a form which puts the burden on the voter to correctly record the form of ID provided to election officials. Husted also instructed election officials that if the form is not filled out correctly by a voter, the ballot should not be counted.

According to a lawsuit filed by voting rights advocates, this is "contrary to a court decision on provisional ballots a week ago and contrary to statements made by attorneys for Husted at an Oct. 24 court hearing."

Indeed, it also appears directly contrary to Ohio law. From the lawsuit:

Ohio Rev. Code § 3505.181(B)(6) provides that, once a voter casting a provisional ballot proffers identification, "the appropriate local election official shall record the type of identification provided, the social security number information, the fact that the affirmation was executed, or the fact that the individual declined to execute such an affirmation and include that information with the transmission of the ballot . . . ." (Emphasis added.)

The law "ensures that any questions regarding a voter's identification are resolved on the spotor, consistent with due process, the voter is informed that he or she needs to provide additional information to the board of elections. This protects the integrity of the voting process, and provides a reasonable opportunity to resolve deficiencies."

The last-minute directive changes this and switches the burden to the voter, greatly increasing the chances that legal provisional ballots will be discarded.
Now, frankly, the form itself is ridiculously simple. It's far less cumbersome than the form I had to fill out Friday for early (technically, in-person absentee) voting in Virginia, which is a series of blanks to fill in on two sides of a sheet of paper, including having to put in the same information multiple times for no apparent reason.
The problem, however, is that Husted has spent months trying to change the rules of the game in a way that favors his party. He's been repeatedly smacked down for this by the courts. And yet he's consistently ignored the clear spirit of these court orders to try again. My strong guess is that, even at this late hour, the courts will step in and issue an injunction blocking this latest move.
CBS legal analyst Andrew Cohen("Ohio's Provisional Ballot Order: The Biggest Legal Story of the Weekend"):
 The contours of the legal dispute aren't narrowing, as some legal disputes do at this stage of an election contest, but instead are growing. They are growing because the secretary of state has just doubled down on his position about incomplete provisional ballots. If he was wrong on Thursday, you could say, he was even more wrong on Friday. And that will likely mean a Monday ruling from Judge Marbley which will then be appealed into Tuesday (and beyond) to the 6th U.S. Circuit Court of Appeals. Folks, the legal fight for Ohio's votes is already here and here to stay.
Whatever your view of the merits of voter ID laws and other attempts at thwarting largely non-existent in-person voting fraud, we should be able to agree that the rules of the game should have been set in stone months ago. That was, after all, the vehement position of Republicans back in 2000 when we were fighting back efforts to change deadlines and procedures that were instituted ahead of the election. It was the rationale the Supreme Court used in an otherwise bizarre and flawed decision in Bush v. Gore. You just don't change the rules once the game has started, particularly when the new rules are bitterly contested on party lines.
Beyond that, political gamesmanship is the kindest interpretation of what Husted is attempting here. A less generous interpretation is intentional vote suppression targeted at poor, elderly, and minority voters. Cohen again:
The motion also is important for what it says these days about Husted and the way he is running the state's elections. Leaving aside the provisional ballot court fight for a moment, Saturday's early voting period was hectic, largely because Husted and his fellow Republicans succeeded this cycle in reducing the number of early-voting weekends from five to one. Indeed, they tried to eliminate all such early voting, which traditionally helps wage earners who can't vote during regular business hours on weekdays, but were rejected in this effort by the federal courts.

What does it mean on the ground and to the exercise of a registered voter's right to vote? From The Washington Post late Saturday: "In Cuyahoga, 36,578 had voted as of Friday; in 2008, that number was 54,340. In 2008, there were nine additional early voting days here, and 9,933 people voted on those days." And Husted? While I was searching for the above copy I found another Associated Press story, also dated Saturday, which noted: "Husted says in a statement that voting has gone smoothly in Ohio and he expects absentee voting this year to surpass 2008."
Now, to be sure, there are other reasons why voting is down from 2008. Most notably, both Democrats and Republicans are simply less enthusiastic than they were four years ago.
The mere fact that of having to fill out a provisional ballot declaration will make some people not bother to turn out to vote. And, while there will presumably be poll workers there to answer questions, the more complicated the form, the less likely that an uneducated voter or one with poor command of English will be to fill it out correctly. Given the consistency of Husted's efforts, it's likely that he considers that a feature rather than a bug.