On Kavanaugh, Democrats Lack A Coherent Message And A Coherent Strategy
At least in these early days, Democrats appear to lack a coherent message, or a coherent strategy, to propel any effort to block Brett Kavanaugh's nomination to the Supreme Court.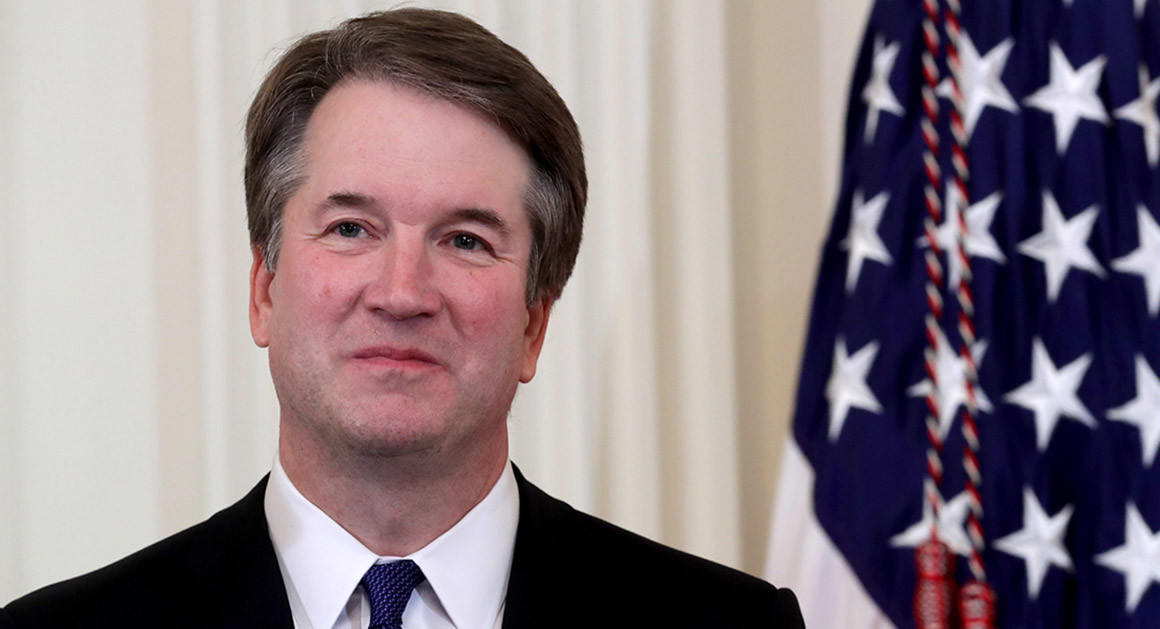 The Associated Press's Lisa Lerer and Steven Peoples note that, at least in the initial days after his nomination was announced, Democrats don't seem to have a coherent message against President Trump's nomination of Judge Brett Kavanaugh to succeed Supreme Court Justice Anthony Kennedy:
WASHINGTON (AP) — Chuck Schumer, the Senate Democratic leader, says it's all about health care. Sen. Richard Blumenthal, D-Conn., worries about the impact on the special counsel investigation. And Sen. Kamala Harris, D-Calif., sees an assault that could set women's rights back decades.

There's so much for Democrats to dislike about Brett Kavanaugh, President Donald Trump's Supreme Court pick. And that may be the problem.

In the hours after the Republican president tapped the conservative jurist, Democrats struggled to unify behind a clear and coherent message to combat the nomination, which could shift the court to the right for decades.

They're energized, outraged and ready to fight. But what, exactly, is their argument to voters?

MoveOn's Washington director Ben Wikler, who was among hundreds of liberal activists protesting outside the Supreme Court, acknowledged Democrats were far from unified behind a simple message to rally voters against Trump's selection.

"The essential message is Roe," Wikler said, citing the potential that a more conservative court would overturn the landmark Roe v. Wade decision that legalized abortion nationwide.

"The secondary message for most folks is ACA and health care," Wikler continued, referring to the Obama-era health care law. "The third messaging plank is, 'choose your own adventure.'"

It's an all-too-familiar political challenge for Democrats, who've left voters confused in the Trump era about what the party stands for beyond simply opposing the president. And in this case, the muddled messaging threatens to dampen a new surge of voter enthusiasm just a few months before midterm elections.

For decades, Supreme Court battles have motivated the GOP's socially conservative base far more than Democrats. But in an era where liberal protests have become nearly weekly events, Democratic strategists and activists say they see a new sense of urgency when it comes to the country's highest court. In part, that's because Kavanaugh's confirmation would give the court a decisive conservative majority for a generation.

"Our phone is ringing off the hook," said Nan Aron, who founded the liberal Alliance for Justice Action Campaign in 1979. "There's much greater engagement because the stakes are so much higher."

Democrats hope to model their opposition on their successful effort fending off a repeal of the Affordable Care Act last year, despite a Republican majority in Congress. But that fight featured a simple, clear argument — save the ACA — and the clear risk that millions of Americans could lose their health care.

(…)

Women's rights groups raised the alarm across several key states that access to abortion was at stake. NARAL Pro-Choice America launched a new advertising campaign warning that Kavanagh is "ready to end Roe v. Wade." The organization, which supports abortion rights, is also planning a national day of protests for the end of next month.

But Kavanaugh's record complicates the Democrats' initial desire to focus solely on abortion rights. While Trump repeatedly promised during the campaign to select a nominee who would overturn Roe v. Wade, Kavanaugh has sometimes taken a more cautious approach.

In his 2006 Senate confirmation hearing to become a federal judge, Kavanaugh appeared to support the legal precedent set by the Roe decisions. "I would follow Roe v. Wade faithfully and fully" because it's "binding precedent" that has been "reaffirmed many times."

The abortion issue is of particular importance this year, when women have emerged as the driving force in the Democratic Party. Women lead most of the major Democratic resistance groups, coordinated the major anti-Trump protests and are running for office in record numbers at all levels of government.
While it's early in the process, and likely that there may be a more coherent message regarding Kavanaugh's message that Democrats can unite around as we get closer to the Judiciary Committee hearings and the floor debate likely to occur in early September, this early disagreement about how to approach the nomination could pose a problem for Democrats going forward. Generally speaking, public opinion over the course of previous Supreme Court appointments has tended to give the nominee the benefit of the doubt and to support their confirmation unless something emerges that proves to be too controversial for the public to handle. This is what happened, of course, in the case of Robert Bork back in 1986 and what nearly happened with Clarence Thomas in 1991.
In Judge Kavanaugh's case, it does not appear at first glance that there's much of anything that would make him more or less controversial than any of the other nominees that President Trump could have named. In some respects in fact, such as the examples of Judge William Pryor or Judge Amy Barrett, Kavanaugh's record on the bench reveals him to be less conservative, and less controversial, than other people that Trump could have selected to replace a Justice who, for much of his three decades on the bench, has been at the center of the Supreme Court's delicate left-right balance. Assuming that there's nothing in his record that we don't know about yet that proves otherwise, this could make it difficult for Democrats to put together a message against his confirmation that actually has a chance of resonating outside of their base, which of course was going to oppose a Trump nomination regardless of who he might have named. Unless something like that emerges, or unless Kavanaugh says something in the course of his confirmation hearings that derail the process, which seems unlikely, the odds of Democrats being able to rally around a message that will accomplish anything other than rallying their own base will be pretty low.
Over and above the fact that they can't agree on a message, of course, is the fact that there really isn't a viable strategy for Democrats to stop Kavanaugh from being confirmed. The elimination of the filibuster for Supreme Court nominees, which of course merely followed in the footsteps of Harry Reid's decision to end the filibuster for Judges below the Supreme Court and Executive Branch employees, means that Republicans will be able to sail the nomination through and get Kavanaugh confirmed even without any Democratic support as long as they stay united.
In that regard, the Democrats only hope lies in the possibility of Republican Senators defecting and voting against Kavanaugh's nomination. The two names that keep coming up in that regard, of course, are Maine Senator Susan Collins and Alaska Senator Lisa Murkowski, both of whom have said that they might be inclined to vote against a nominee who was hostile to the Supreme Court's decision in Roe v. Wade guaranteeing women a right to abortion. At least initially, though, it appears that both Senators are unlikely to stray from the GOP Caucus unless something comes up in the confirmation process that doesn't provide them with the kind of political cover they'd need to support the nomination. In their initial comments regarding the Kavanaugh nomination, for example, Collins and Murkowski sent signals yesterday indicating that they are at least initially comfortable with Judge Kavanaugh, this suggests that it is unlikely that either or both Senators will go against the grain. Another possible roadblock with regard to Kavanaugh is Kentucky Senator Rand Paul, who told reporters prior to Trump's announcement Monday night that he had concerns about Kavanaugh, especially with regard to his past rulings on the Affordable Care Act. In his first comments after Kavanaugh was named, though, Paul said that he would keep an open mind about the Judge, and it seems unlikely that he would want to be the Senator who ended up killing the President's Supreme Court's nomination given that he's up for re-election in just four years.
The Democrat's final issue, of course, is the question of whether they can even keep their own caucus united in opposition to Kavanaugh when the time for a floor vote comes in mid-to-early September. When the Senate voted on Neil Gorsuch's nomination in April of last year, for example, three Democratic Senators — Joe Manchin, Heidi Heitkamp, and Joe Donnelly — all voted with the Republican majority. All three of these nominees, of course, represent states that President Trump won handily in 2016 and all three are up for re-election in November. Given that, the likelihood that they could decide that it's in their interest to vote "Yes" again this time around. This is especially true given the fact that the floor vote will most likely be taking place just 6-8 weeks before the midterms and at a time when early voting will be starting in the states where it's available. In addition to these three, other Democrats who are invulnerable seats this year, such as Claire McCaskill in Missouri, Bill Nelson in Florida, and Jon Tester in Montana, could be candidates for crossing the aisle on a final vote. A final candidate in this regard, of course, is Doug Jones in Alabama. He doesn't face re-election until 2020, of course, but he's already voted in ways that show he realizes that he is going to have to differentiate himself from the national Democratic Party if he's going to have any chance at all of winning in a state where President Trump is likely to win overwhelmingly as he did in 2016. Every Senator that the Democrats lose in the final vote just makes any prospect of stopping Kavanaugh's nomination seem more and more impossible.
Taking all of this into account, for the moment at least it looks if the Administration will get the Kavanaugh nomination finalized in time for Judge Kavanaugh to take the bench when the Supreme Court's new term begins in October.