Our Fate Apparently Lies In The Hands Of McConnell, Reid, Boehner, and Biden
Are these four men our last, best hope for a deal that will end the shutdown and avoid breaching the debt ceiling?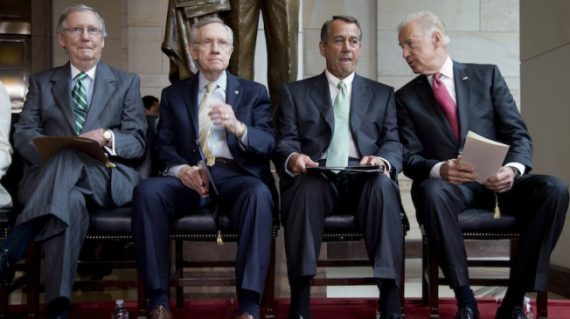 With just under two and a half days until we hit the unknown that lies beyond the Treasury Department's debt ceiling deadline, it looks like Harry Reid and Mitch McConnell are continuing to work on a package that will, for all purposes, be the final legislative package likely to make it to the floor of either chamber before then:
Senate Majority Leader Harry Reid has privately offered Senate Minority Leader Mitch McConnell a deal that would reopen the government until mid-to-late December while extending the U.S. debt ceiling until next year, according to several sources familiar with the talks.

The proposal would set up a framework for larger budget negotiations with the House over the automatic sequestration spending cuts and other major deficit issues, the sources said. Moreover, Senate Democrats are open to delaying Obamacare's medical device tax and a requirement that those receiving Obamacare subsidies be subject to income verification — but they would have to get something from Republicans in return, sources said.

McConnell is still reviewing the offer and is privately huddling with groups of GOP senators Monday who could be key to providing enough votes in the Senate. On Monday morning, McConnell met with Sens. John McCain of Arizona, Susan Collins of Maine, Lisa Murkowski of Alaska, Mike Johanns of Nebraska and Mark Kirk of Illinois.

(…)

Under Reid's proposal, the debt ceiling would be extended for six to nine months, and the government would be funded at $986 billion until some point in December. Doing so would punt the fight over whether to lock in 2014 sequestration levels at $967 billion until December. And by extending the debt ceiling until the middle of next year, it would put the issue in the center of the heated 2014 midterm elections.

While the proposal has similarities to one offered by Collins, it has some very key differences over the length of the stop-gap spending measure and the debt ceiling hike. Collins proposed extending government spending for six months, which Democrats objected to because they argued it would lock in the $967 billion sequestration levels for 2014 required under the 2011 Budget Control Act. She also suggested extending the debt ceiling through the end of January, far too short of a time period for many Democrats.

After a weekend legislative session in the Senate and House, talks appear to be at a standstill at the the beginning of the day. U.S. stocks initially tumbled before recovering — and even posting gains — by the middle of the day as optimism for a deal grew.

On another track, House Republican leadership is readying itself to lift the debt ceiling for six weeks. House GOP aides stress that no decisions have been made, but this legislation is unlikely to be "clean" – meaning it will contain a number of conservative policies attached. Options under consideration include language to cancel health insurance subsidies for members of Congress, their aides and the White House, and an amendment to tighten requirements for health-insurance related subsidies.
After one meeting in McConnell's office today, Reid expressed optimism that a deal will be reached:
Emerging from a closed-door meeting with Senate Minority Leader Mitch McConnell (R-KY), Senate Majority Leader Harry Reid (D-NY) told reporters that the sides were making progress on a deal to end the government shutdown and raise the debt limit and that he hoped to have a plan ready for a Monday afternoon meeting at the White House.
"I hope so," Reid said when asked if a proposal would be ready for a 3 p.m. meeting with himself, McConnell, President Obama, Vice President Joe Biden, House Speaker John Boehner (R-OH) and House Minority Leader Nancy Pelosi (D-CA).

"We're getting closer," he said. Reid and McConnell met for about half an hour Monday in McConnell's office.
In other news, Reid and McConnell will be joining Speaker Boehner and House Minority Leader Pelosi at the White House for a meeting with President Obama and Vice-President Biden. The fact that Biden, who has largely been on the sidelines for the past three weeks of this kabuki theater, is being specifically mentioned as participating in this meeting could be significant. In each of the most recent crises that we've faced over the past three years or so, the Vice-President has ended up being at the center of last minute negotiations that ended up resulting in a deal of some kind. As I've noted before, the fact that he's been kept out of the public eye this time around has been seen by many as an indication that Obama's close advisers that Biden has given away too much in the past. Now that we're coming down to the 11th hour, quite literally, though, bringing in someone who seems to have a better relationship with long-time Senate Republicans than either Reid or Obama would seem to be the smart thing to do.
Assuming that Reid and McConnell manage to put something together that can make it through the Senate, and most importantly past the 60 vote threshold needed to invoke cloture, the real question will be what the fate of this would be in the House, and whether Speaker Boehner would be willing to put it on the floor even with the possibility of it facing serious Republican opposition. To a large extent, I suspect we won't even begin to know the answer to that question until there are more details released. Right now National Review's Robert Costa, who has been the go-to reporter if you want to understand how all of this is playing out among House Republicans, is noting this afternoon that most House Republicans are waiting to see what's in the details, and what Boehner wants to do after the White House meeting today.
So, as far as the House goes, it's anyone's guess right now. However, I think Ed Morrissey may have it right here:
If Reid wins, as seems likely, how does Boehner get this past the House? I've always thought he'd be willing to do one big cave in the name of finally getting this off his plate, but a short(ish)-term deal doesn't do that. It'll disappoint conservatives and then set him up to disappoint them again in December or April or whenever the next round of kabuki brinksmanship begins. In fact, he may not even have a majority of his own caucus to pass Reid's bill, in which case he'd have to break the Hastert Rule just to buy himself and the leadership a reprieve of a few months before they begin this again. Whether they want to or not, they're going to have to no choice but to aggressively pursue some sort of major fiscal deal with O and Reid when this is over just so that, if they can come to terms on anything, they can add on a significant debt-limit hike as a condition that would punt this past next November. The last thing they want is tea partiers clamoring for some debt-ceiling chicken next spring or summer, with turnout in the midterms potentially hanging in the balance. So maybe that's the "way out" here — a cave of three months or so in the next few days and then the rest of autumn spent negotiating deficit reduction with Obama.
Will the Tea Partiers in the House accept this? We'll see I suppose, but this is exactly the kind of kick the can down the road deal we usually get in these situations. Whether we actually get serious fiscal discussions afterwards is another question entirely.
In any case, if there is a deal, then all parties will have to move quickly, both to get something done before Thursday and to send a signal to world and American financial markets that progress is being made prior to their opening on Tuesday.
Update: Just ten minutes after I published this post, it was announced that the 3pm White House meeting mentioned above has been "postponed." No reason has been given so far, and there's no word if it will be rescheduled for later in the day. There is, however, this from CBS's Major Garrett:
POTUS meeting /Reid, McConnell, Boehner & Pelosi postponed so Senate leaders can continue talks on ending shudown, avoiding default

— Major Garrett (@MajorCBS) October 14, 2013
So this postponement may actually a good sign.