Paul Ryan Easily Elected Speaker Of The House
With only a handful of opposition, Paul Ryan was easily elected the 62nd Speaker of the House.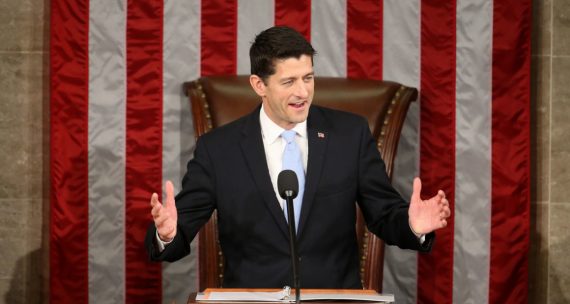 As expected, Paul D. Ryan was elected Speaker of the House today in a vote that went about as smoothly as he could have asked for:
Representative Paul D. Ryan of Wisconsin was elected the 54th speaker of the House on Thursday, taking the gavel that he never sought to wield from John A. Boehner, who relinquished it under fire.

But the personal jubilance and high expectations felt by Mr. Boehner, who was elected in a sweeping Republican takeover of the House in 2011, have been replaced with a grim recognition that Mr. Ryan's ascent stems not from electoral victory but rather the chaos in the ranks of his party's sizable majority.

Mr. Ryan received 236 votes, a comfortable margin that included several of the hardline conservatives who had worked to oust Mr. Boehner. In his address to Congress after the vote, he implored members who have been fighting so bitterly to find a way to work together. "Let's be frank, the House is broken," Mr. Ryan said. "We are not settling scores," he added, "we are wiping the slate clean."

Mr. Boehner, 65, came into the job a seasoned leader who tried to appease the Tea Party members whose elections helped usher Republicans into the majority. Mr. Ryan, 45, the youngest speaker since 1869, comes in warning those members that he expects them to have his back.

Mr. Ryan agreed to run for the job only after a small but powerful group of conservative members drove Mr. Boehner out of it last month, and then prevented his heir apparent, Representative Kevin McCarthy of California, the majority leader, from replacing him.

The test for Mr. Ryan will be whether he can manage, perhaps even blunt, this wing of the House Republican conference, or if he too will fall to its members' intransigence. He had warned members that while he would take their concerns about process seriously, he would not brook dissent that would undermine his ability to lead them.

Mr. Ryan is the first speaker elected to the job in the middle of a congressional term since 1989, when Thomas Foley of Washington was elevated to succeed Jim Wright of Texas, who resigned from the job in disgrace amid an ethics investigation into his business dealings.

A fifth-generation Wisconsinite, Mr. Ryan won his first election to the House at 28 and is now in many respects the titular leader of Republicans in Washington seeking a message and ballast going into the 2016 election.

His problems are less with Democrats, who have deeply opposed his policy ideas for years, than in his own party, which controls 247 seats but is divided over tactics and to some degree ideology, with a sizable number of members often supporting government dysfunction over political compromise.

Although it is an unusual time for his party and the House, Mr. Ryan's situation has a few historical echoes. Put another way: Things could be worse.

In 1856, Nathaniel P. Banks of Massachusetts found himself in the speaker's chair after nearly two months of voting and 133 ballots cast in a fractious House. At that time, there were numerous factions, like the waning Whig Party, an anemic group of Democrats, a small nativist block called the American Party (also called the Know Nothings), and a fledglingRepublican Party. The chaos was a precursor to the Civil War and to the emergence of the modern two-party system.

Insurgents have bedeviled other speakers as well. Joseph G. Cannon of Illinois, who was speaker from 1903 to 1911, and Frederick Gillett of Massachusetts, who struggled through nine ballots to win a third term in the 1920s, faced anger over the sharing of power with rank-and-file members, just as members of the House Freedom Caucus now seek.

But before his young successor readied himself to ascend to his post, Mr. Boehner delivered Mr. Ryan from his most vexing conflicts by negotiating an $80 billion bipartisan budget agreement that would increase spending for the military and some popular domestic programs, lift the debt ceilingand avert premium increases of as much as 50 percent for millions on Medicare right before an election.

That gives Mr. Ryan time to get his leadership legs before his control is tested. But the relief may be short-lived. The budget deal creates room for the House and Senate appropriations committees to draft a huge spending bill for the current fiscal year that can increase spending on defense as well as politically popular programs like medical research, federal law enforcement and wildfire suppression.

The spending bills already drafted are replete with conservative policy prescriptions, from crippling Mr. Obama's signature health care law to blocking his climate change and financial regulations. Mr. Ryan will have to decide how far to push that clash with the president, knowing a government shutdown just before Christmas could be at stake.

Beyond the new year, Mr. Ryan will have to determine how much the election year will be about campaigning versus legislating. The 13-nation Trans-Pacific Partnership — a trade pact Mr. Ryan has backed strongly — will be pending before Congress. Major bills to revise George W. Bush's No Child Left Behind education law, bolster cybersecurity and overhaul criminal justice laws are making their way through Congress.

In the meantime, his right flank is itching to move forward with efforts sure to stoke the party's conservative base but possibly provoke a backlash. Moves are already afoot to impeach the Internal Revenue Service commissioner, John Koskinen, and the Special Select Committee on Benghazi has signaled it is not about to give up its pursuit of former Secretary of State Hillary Rodham Clinton.

And unlike the reputations of many of his predecessors, who made their names by their ability to exercise power, Mr. Ryan's rests on the conservative policies he has formulated and championed. He will have to decide how far he presses to transform Medicare and Medicaid, rewrite the individual and corporate tax codes and overhaul federal poverty programs.
Ryan is the youngest person to sit in the Speaker's chair since the legendary James G. Blaine, who became Speaker in 1869 at the age of 39 and lataer went on to become a Presidential candidate for the Republican Party, Senator, and Secretary of State under Presidents James Garfield, Chester Alan Arthur, and Benjamin Harrison. Of course, Blaine took the office of Speaker in a different era when it was not considered the capstone on a legislator's career that it became in the 20th Century and beyond, so that makes Ryan's ascent at the age of 45 after serving in Congress since 1998. The interesting thing to watch about Ryan, then, will be to see how long he stays in this position and where he goes from there, if he stays in politics. At the very least, he's pretty much guaranteed a Republican majority in the House of Representatives through the 2020 elections barring the kind of wave election we say in 2006 or 2010, which seems unlikely under current circumstances. Beyond that, the odds of Republicans being able to hold on to the House even after redistricting based on the 2020 Census are obviously not possible to predict very well this far in advance, but it's at least possible, meaning that barring leadership challenges or his own decision to move on Ryan could stay in office at least as long as the four and a half years that Boehner was, or longer if he so desires.
Leaving aside what may happen five or six years from now, Ryan's immediate future looks fairly good. As the article above notes, the immediate crises that he would have been forced to deal with — an unfinished budget for the current Fiscal Year and impending need to increase the debt ceiling — have been dealt with in a budget deal that the House passed late yesterday, and which the Senate will pass some time in the coming days. Under that deal, Congress will not have to deal with the debt ceiling until after the next President takes office and will not have to deal with a new budget until September 2017. The various committees responsible for appropriations will still have to pass the underlying spending bills that the budget authorizes, but that is typically a far easier task than getting the budget itself through Congress and, more importantly, its one that doesn't allow groups like the House Freedom Caucus and others to hijack the process for their own purposes.
Beyond these budgetary issues, it's not clear where Ryan intends to try to take Congress in the coming months. When he took over as Chairman of the House Ways & Means Committee, Ryan talked a lot about putting together some form of tax reform to deal with issues such as corporate tax rates that encourage American corporations to keep large amounts of cash parked overseas rather than bringing them home where they can be used to invest in domestic business expansion or research and development. There's also been talk for years on both sides of the political aisle about reforming the personal tax code, something that hasn't really been done in a comprehensive manner since President Reagan sign the 1986 Tax Reform Act. Neither of these things would be easy even with a Republican majority in both the House and Senate, of course, and it would be even harder to get either done in an election year, although it is worth remembering that the 1986 Act was passed on the eve of the mid-term elections that year and signed in to law shortly thereafter. More likely, the first year of Ryan's Speakership will be about what we've come to expect from Congress in election years, small steps that don't really accomplish anything major as both parties manuver toward a November election showdown. Beyond that, with a new President and assuming the GOP holds on to the House as nearly everyone seems to expect, what Ryan does will depend in no small part on what the political realities enable him to do.