University Of Pennsylvania Professor: Arrest The Makers Of That Anti-Muslim Movie
One Professor suggests we sacrifice yet more of our freedom in the wake of the embassy protests in the Middle East.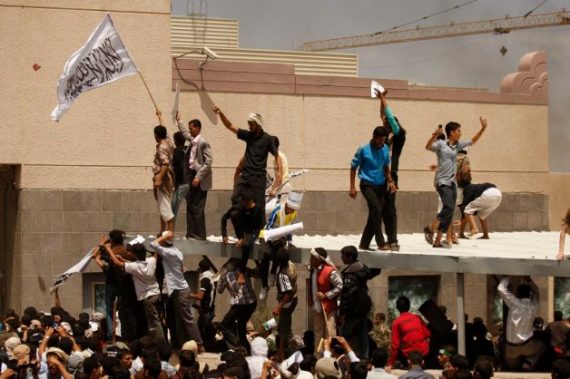 Anthea Butler, an associate professor of religious studies at the University of Pennsylvania, earned some ire earlier this week when she stated this on Twitter yesterday:

"Sam Bacile" is supposedly the man behind the anti-Muslim "film" that sparked the protests in Egypt, Libya, and Yemen, although it appears rather obvious that this is a psyeudonuym because nobody in Hollywood seems to know anyone named "Sam Bacile." Additionally, there's a real question of how much of a "film" this thing any event, not that this really matters given the violence that has been incited by religious rabble rousers in its name. Due in no small doubt to the heat that she took for making this comment, Butler has locked her Twitter account but she took to the pages of USA Today to explain her position:
[W]hy did I tweet that Bacile should be in jail? The "free speech" in Bacile's film is not about expressing a personal opinion about Islam. It denigrates the religion by depicting the faith's founder in several ludicrous and historically inaccurate scenes to incite and inflame viewers. Even the film's actors say they were duped.

Bacile's movie is not the first to denigrate a religious figure, nor will it be the last. The Last Temptation of Christ was protested vigorously. The difference is that Bacile indirectly and inadvertently inflamed people half a world away, resulting in the deaths of U.S. Embassy personnel.

Bacile's movie does not excuse the rioting in Libya and Egypt, or the murder of Americans. That is deplorable. Unfortunately, people like Bacile and Terry Jones, the Florida pastor who provoked international controversy by burning copies of the Quran, have a tremendous impact on religious tolerance and U.S. foreign policy.
The first sentence of that last paragraph strikes me as entirely disingenuous because, in calling for Bacile's arrest, Butler is essentially saying that he is both morally and legally culpable for what people a half a world away, who most assuredly had never seen his movie and were merely acting on what they were told by rabble rousing religious authorities. Butler is saying that Bacile should be held legally responsible for the riots, and presumably the deaths of four Americans, because it was his movie that was the match that light the flame. In reality, of course, the match that lit the flame were the people who riled up the crowds in Cairo and Benghazi, they were the ones who incited these people to riot, and, in Benghazi, they were the ones who apparently brought so much passion out in the crowd that they were willing to desecrate a dead man's body. How is "Sam Bacile," or whoever is behind this video, responsible for any of that?
Denegrating religion may be offensive to some people, but it also happens to be completely legal. We don't have blasphemy laws in this country, we have a First Amendment, and that means that people have a right to practice their religion and that other people have a right to attack their religion, either by calling it a fairy tale full of lies, or by just ridiculing it. That's what things like The Last Temptation Of Christ or The Book of Mormon are allowed to exist in this country. Some people might find such things offensive, but there's nothing in the Constitution that says that you have a right not to be offended. Just as you can go door to door trying to convert people to your faith, someone can come through the neighborhood right behind you passing out literature explaining why what you believe in is just plain nuts. If someone finds out about that and commits an act of violence, that's not your responsibility, that's the responsibility of the person who committed the violent act and, perhaps, whoever may have incited them to do so.
There's nothing wrong with arguing that being deliberately provocative and insulting about a topic as sensitive as religious is boorish and stupid, but when you start taking up Butler's position and start suggesting, even half-heartedly that such people should be put in jail for speaking then you've crossed a pretty dangerous line. If people can be imprisoned for speech that people on the other side of the planet find offensive, then how long will it be before people start calling for people with opposing political, cultural, or social views should also be punished? I wonder how Butler would feel if someone said she should be arrested for something she said in her classroom at the University of Pennsylvania because they found it offensive.
Butler closes her piece with this:
While the First Amendment right to free expression is important, it is also important to remember that other countries and cultures do not have to understand or respect our right.
This is utter nonsense. Yes, it's true that there are few if any places left on the planet that have the same respect for freedom of speech that we do, but that's something we should be seeing as a point of pride, not apologizing for, and certainly not something we should be punishing people for. If the people of the Islamic world cannot accept that we have freedom of speech in this country and that one is free to believe in, not believe in, or mock the existence of any of the Gods that people on this planet worship, then that's their problem. Butler is a coward for even suggesting that we should surrender to the mob.
Andrew Exum, who served as an Army Ranger in both Afghanistan and Iraq, made this point last year when Afghans were rioting over Terry Jones's Koran burning stunt:
If opportunist clerics want to inflame a crowd in Afghanistan because one idiot out of 300+ million Americans does something grotesque and stupid, fine. In the YouTube era, there is nothing the U.S. government can do to prevent such gross provocations aside from denounce them ex post facto, and we are all, as global citizens, adjusting to this new reality where a speech act in the state of Florida can lead to a massacre in Balkh Province. But when the first U.S. soldier in Afghanistan dies because of the actions of Terry Jones, we can take comfort in that fact that he or she will not have died in vain. He or she will have died defending the very document he or she swore to protect in the first place.
This could equally apply to the circumstances we face today. There is absolutely nothing that we can do about a radical cleric in the Middle East who wants to use some obscure YouTube video to stir up blood lust in crowds comprised, especially in nations such as Afghanistan, largely of people who are best only semi-literate. Indeed, there have been numerous examples over the years of these types of clerics making up blatant lies about the United States, the West, and Israel and feeding them to a people who are, sadly, all too willing to believe them. What Butler and others who think like her want us to do is to react to this clerical incitement by restricting the individual liberties of American citizens, as if this is going to placate them anyway. If it weren't this "film," there would have been something else that some cleric somewhere would use to incite a crowd to violence, there always is. We've already sacrificed enough of our freedom in the name of the "War On Terror," we don't need to start sacrificing our most precious liberties as well.