Republicans Starting To Cave On "No Hearings, No Votes" For Merrick Garland?
Comments from one Republican Senator are raising the possibility we could see hearings and a vote on Merrick Garland during the post-election lame duck session of Congress.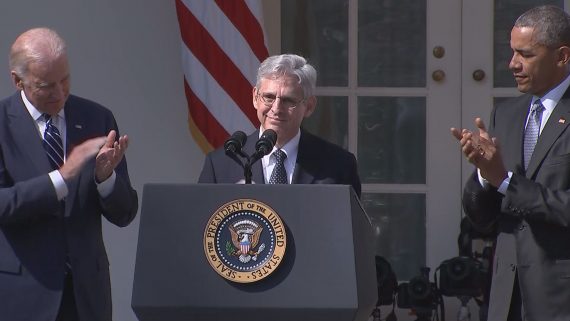 It has been 168 days, nearly half a year, since President Obama nominated U.S. Court of Appeals For the D.C. Circuit Chief Judge Merrick Garland to the Supreme Court to replace Antonin Scalia, who had died suddenly more than a month earlier. At the time of Scalia's death, conservative activists and conservative Senators jumped on the idea that there should be no vote to fill the vacancy until after the next President takes office. This position was quickly adopted by all of the Republican candidates for President, by Mitch McConnell himself, and by Senate Judiciary Committee Chairman Chuck Grassley. Conservative activist groups quickly made "No Hearings, No Votes" a priority issue for them and began warning Republican Senators that deviation from this position could have severe repercussions More importantly, notwithstanding the limited defections we've seen so far the Senate GOP Conference has remained largely united even in the face of polling that has shown that most Americans believe that the Senate should give the President's nominee a hearing and a floor vote. With the primary season ending, though, and the probability of both Hillary Clinton winning the White House and Democrats narrowly retaking the Senate increasing, there seem to be some signs that the GOP may be reconsidering its position. The latest sign comes from Judiciary Committee Chairman Grassley himself:
Senate Republicans could relent on their hard-line stance in opposition to granting Supreme Court nominee Merrick Garland a confirmation hearing this year, Senate Judiciary Chairman Chuck Grassley said Monday.

The Iowa Republican said in February that "it only makes sense" that the upper chamber punt into 2017 holding hearings on a replacement for late Justice Antonin Scalia. Nevertheless, President Barack Obama nominated Garland to the high court in March.

Holding a Q & A at a meeting of the Sioux City Rotary Club, Grassley on Monday said there's a widely accepted "understanding" that no Supreme Court vacancies be filled in the final year of a presidential term.

"It had nothing to do with Garland," Grassley said, according to the Globe Gazette, referring to the Senate's commitment not to give any SCOTUS nominee a confirmation hearing before a new administration takes over in 2017.

While unlikely, he added that Senate Republicans could change their position if enough senators push for a hearing after the November election, leaving the door open for Garland's confirmation before the new Congress takes office should Donald Trump lose to Hillary Clinton.

Senate Majority Leader Mitch McConnell, however, has no intention of holding a hearing before Obama leaves office, his team told POLITICO on Tuesday.

"The leader has been clear, the next president will make this nomination," said Don Stewart, McConnell's deputy chief of staff for communications.
It's admittedly not much, and it's unlikely that the Senate will take any action during the limited amount of time they'll be in session after Labor Day before Congress departs at the end of September for the final weeks of campaigning, but it does appear to be a sign that Republicans may end up reconsidering their position on the Garland nomination prior to the end of the year. So far, the GOP Caucus has remained united on the issue largely because there isn't any evidence in the polls that they are being harmed by taking the position that the next President should be the one who makes the decision when it comes to a Supreme Court appointment that will have a significant impact on the direction of the Supreme Court, and the lower Federal Courts, for many years to come. Even if it is the case that Judge Garland is not as far to the left as other choices that President Obama reportedly considered before nominating him, there's no doubt that Judge Garland's confirmation would have a real impact on the Court going forward, specifically on those issues which have been decided on a 5-4 vote in recent years. Additionally, Garland's presence would likely have an impact on what cases the court would accept for review to begin with. Given that, one could make a reasonable argument that the GOP Caucus does have a point when it argues that the selection of a new Justice should wait until the American people have had a chance to pick a new President. Even if one disagrees with this position, though, it's easy to recognize the fact that, without evidence that they are being harmed by taking their current position, Senate Republicans are unlikely to change their mind. So far at least, there is no sign of any such harm and no sign that reversing position that would have a real impact on the battle for control of the Senate.
Notwithstanding all of that, it's also not surprising that Senator Grassley is broaching the idea of at least holding hearings on the nomination after the election and, of course, if hearings are held there would be little reason not to let the nomination go to the floor for a vote. If Republicans manage to win the White House and maintain control of the Senate, of course, that would be unlikely to happen. In that case, it would be in the GOP's political interest to let the nomination lapse when Congress goes out of session at the end of 2016, as it will as a matter of law, and let President Trump (yes, I know, ugh) nominate someone to replace Scalia. If Hillary Clinton wins the White House, though, Republicans would have an incentive to approve Garland's nomination in order to deny Clinton the opportunity to select her own nominee when she takes office. It's possible, of course, that Clinton would renominate Garland, especially if the GOP retains control of the Senate, but it's also possible that she'll pick someone younger and more politically liberal than he is in his place. If Clinton wins and the Democrats win control of the Senate, then that possibility would seem to become a near certainty. Confirming Garland during the lame duck period would allow the GOP to stop that from happening and, possibly, limit the impact of replacing Scalia to some small degree. That's likely something in the back of Grassley's mind at the moment, and probably the reason that he mentioned this possibility during the interview on Monday. If the election goes against the GOP, look for other Republicans to raise this possibility as well.