Scott Walker Looks To Be Preparing To Run For President
Fresh off his third statewide win in four years, Wisconsin Governor Scott Walker appears to be getting ready to run for President.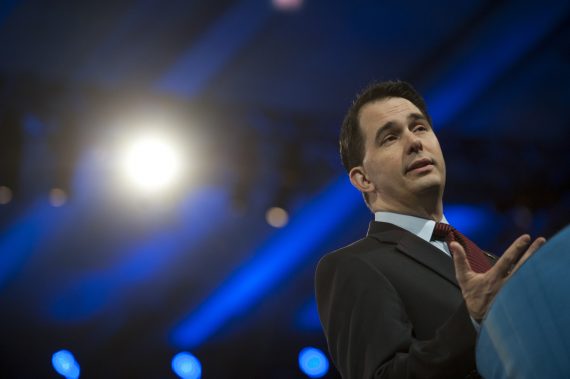 With the 2014 midterms largely over except for a Runoff Election in Louisiana that will have no real impact on the balance of power in the Senate, attention is naturally starting to turn to the race for President. On the Democratic side, we have former Senator Jim Webb forming an exploratory committee while aides close to Hillary Clinton hinting at an announcement in January. On the Republican side meanwhile, talk is turning to a Governor who spent much of his first term embattled and seemingly on the edge of political defeat who has nonetheless emerged victorious and largely unscathed, Wisconsin Governor Scott Walker:
Wisconsin Gov. Scott Walker, pivoting from his bigger-than-expected reelection win this month, is taking active steps toward a presidential campaign that would launch next summer and contrast his record of conservative achievements in a swing state with paralysis in Washington.

In interviews this week, Walker and his top political advisers provided the fullest account yet of his plans for the likely rollout of a national campaign. The 47-year-old Republican intends to use an upcoming legislative session in Wisconsin to push an ambitious agenda that could, in combination with his triumphs over Big Labor, bolster his standing with Republican primary voters: Repealing unpopular Common Core standards, requiring drug tests for welfare beneficiaries and cutting property taxes.

"I think there's going to be a hunger for a leader who can actually can get things done," Walker said by phone Wednesday, even as he cautioned that he hasn't firmly decided to run. "The closer I've gotten to this position, the more I've realized that anyone who really wants to be president has to be a little crazy … The only way you should run is if you feel called to."

But it's clear he and his aides are already discussing details of when a campaign would get underway and what it would look like.

They said it would be headquartered near the state capital of Madison. And Walker has asked a cadre of aides from his reelection campaign to stay on board for a potential 2016 bid, including senior advisers Keith Gilkes, Stephan Thompson and R.J. Johnson.

Walker is crafting a budget that he intends to be a blueprint for conservative governance. He will unveil it in late January, and the final version would go into effect on July 1 – after a spring legislative session.

"Any (presidential decision) that would come officially would have to come after that," Walker said. "That could be midsummer. I want to fulfill those obviously important responsibilities."

(…)

As for his path to the nomination, Walker has many things going for him: He's the son of a Baptist minister who spent part of his childhood in neighboring Iowa, the caucus kickoff state. His staunch opposition to abortion has further boosted his popularity among social conservatives. And his admirers see him as a Harley-riding, Miller-drinking guy who scores high on the "Would you want to have a beer with him?" test.

But Walker lacks the charisma that other likely candidates, such as Christie or Sen. Ted Cruz (R-Texas), possess on the stump. He did not graduate from college, though some blue-collar voters might see this as a positive, and lacks foreign policy experience.

There's also the so-called John Doe investigation by a special prosecutor into coordination between Walker's campaign advisers and conservative outside groups who spent on his behalf during the recall. Walker strongly denies wrongdoing, and a federal judge halted the investigation this spring. Documents related to the appeal of that decision continued to trickle out during this year's race, but it ultimately was a non-factor in the election.

Walker has also cultivated an impressive national fundraising network. He raised more than $25 million for this year's campaign and raised another $30 million for the 2012 recall. Walker hasn't asked for firm commitments from donors for 2016, but he has built relationships during semi-regular trips to New York City the past few years. During the most recent campaign, a little under half his money — $11 million – came from outside the state.

His successful battle against unions has helped him amass a national email list of small donors.
Walker's name has been on a short list of Republican Presidential candidates for some time now, in no small part because of the political battle he engaged in with state employee unions in 2011 that turned into a nationwide campaign that eventually inspired similar, though not as far reaching legislation in states such as Indiana, Ohio, and Michigan. It was in Wisconsin, though, that the battle was joined as, for the better part of the early months of 2011, protesters took over the public areas of the State Capitol in Madison and Democratic members of the State Senate secreted themselves away in an undisclosed location in an effort to deny that body the quorum necessary to proceed forward with any action, which was the only thing they could at the time since the GOP held the majority in the body at the time. Eventually, the legislation passed, but that was only the beginning of the battle. There were court challenges, an election to the Wisconsin Supreme Court that would have decided the fate of the legal challenges to the bill, and then recall elections directed at several State Senators and, later, at Walker and his Lieutenant Governor themselves. In the end, Walker prevailed and has manged, despite the odds and polling before the elections showing each race being far closer than it turned out to be, won three elections in the past four years, in 2010, in a recall election in 2012, and then again in 2014, in a state that has voted for the Democratic candidate for President in every election since 1988. To the extent that Republicans are looking for a candidate with a winning record outside of red states and a record of executive experience, something that Walker himself has already said is important, Walker's name seems to be one that would logically be at the top of their list.
For what it's worth, I've tended to see a lot of positive feedback about a potential Walker campaign among conservative bloggers and opinion makers in the weeks before and since the midterm election. In no small part, of course, that's likely because of the positive coverage he received from that end of the political spectrum during his confrontation with the unions and his string of electoral victories. Additionally, though, there seems to be a strong desire from many activists for a candidate with a real record as an executive rather than just a Senator who is famous for little more than making speeches. In that kind of environment, a candidate like Walker could go far in a Republican primary because he would appeal to both movement conservatives because of the union thing and to more mainstream Republicans because of his experience.
That being said, there are potential downsides to a Walker candidacy. The ongoing "John Doe" investigation, for example, could unearth something damaging, although it seems like anything like that would have come out already if it actually existed. More importantly, though, there's the question of what kind of candidate Walker would be on the national level. My experience in being able to judge him on this basis is admittedly minimal, but I've gotten the impression that Walker tends to come across as somewhat similar to Tim Pawlenty, who ran for President in 2012 and never really got anywhere. Both men are eminently qualified, but neither one of them seems very energetic on the stump, and that's an important part of running for President in this day and age. Perhaps the passion for Walker will be greater because of the attention he's gotten nationally over the past four years, but it's also possibly that he will flame out in the same manner that his former fellow Governor from Minnesota did. That, in the end, is something we'll only know if Walker does run. Right now at least, it looks like we'll probably find out soon enough.