Secrecy and Democracy
How do we know when our government is telling us the truth?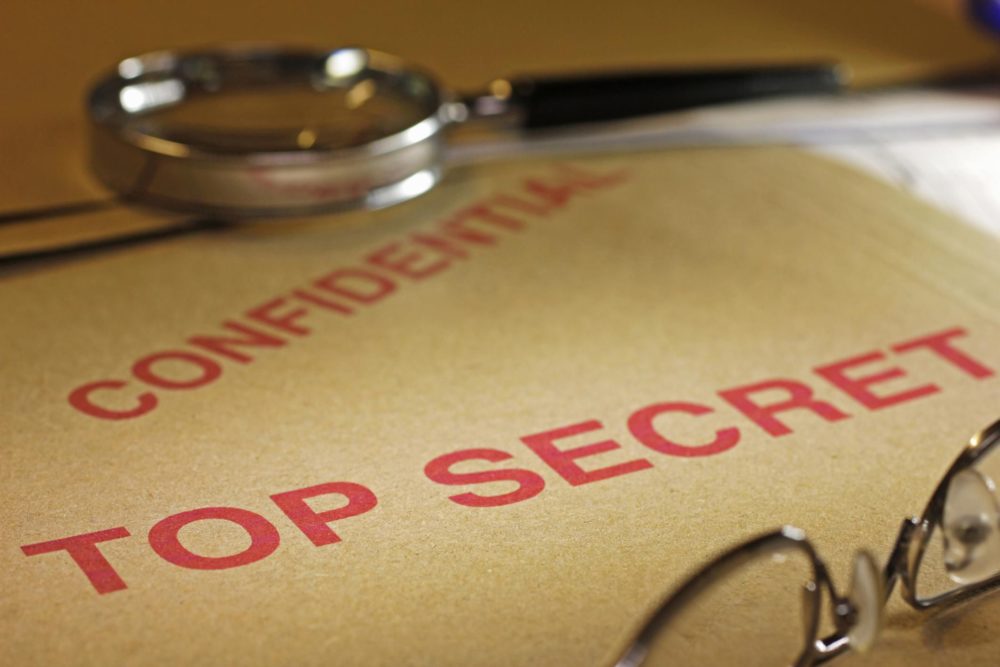 Two related pieces shed light on a longstanding issue in American politics: the tension between the right of the public to know what its government is doing and said government's need to protect sensitive information.
NYT national security reporter Charlie Savage ("Why 'Trust Us' Is Often Reason Enough Not to Trust the Government"):
The dramatic national security stories recounted in two official news briefings on Thursday centered on very different subjects, but they featured the same indignant pushback to questioning reporters: just trust us, unless you are more inclined to believe America's enemies.

Pressed for evidence supporting an official narrative about how children had died during a commando raid in Syria — specifically, that an ISIS leader's bomb, not American forces, had killed them — the White House press secretary, Jen Psaki, seemed to bristle at a suggestion that people might be dubious about the civilian casualties.

"Skeptical of the U.S. military's assessment when they went and took out an ISIS terror — the leader of ISIS?" Ms. Psaki said. "That they are not providing accurate information and ISIS is providing accurate information?"

And pushed for evidence supporting his announcement that intelligence showed that Russia had plans to manufacture a pretext to invade Ukraine — a fake video, with hauled-in corpses and "crisis actors," to frame the Ukrainian military for a genocidal attack on Russian speakers — the State Department spokesman, Ned Price, sharply rejected the idea.

"We declassify information only when we're confident in that information," Mr. Price said. "If you doubt the credibility of the U.S. government, of the British government, of other governments, and want to, you know, find solace in information that the Russians are putting out — that is, that is for you to do."
Unlike the spokesmen for the previous administration, I believe Biden's people are being reasonably honest with the press, albeit within the time-honored tradition of spinning the facts in a light most favorable to their position. But the insinuation that reporters must take their word as gospel or be fellow travelers with our enemies is simply beyond the pale.
That poses a particular dilemma for journalists who cover national security and who are once again in the uncomfortable position of having to rely on top government officials for the first cut of what happened. What the officials say is news to be reported, but it is often impossible to independently verify the details right away.

And history shows that the early official narrative about big national security events is often wrong. Sometimes, the fog of war leads to murkiness that has confused even the government officials, but officials may also be in situations where they have an incentive to put a spin on the facts.
That's too generous. Those "situations" encompass every interaction with the press.
In August, the United States carried out a drone strike in Kabul amid the evacuation from Afghanistan, and the military announced that it had thwarted would-be ISIS-K suicide bombers. Even as reports emerged of civilian casualties, including children, Gen. Mark A. Milley, the Joint Chiefs of Staff chairman, insisted the strike was "righteous." Only later, after a video investigation by The New York Times showed that the person targeted was an innocent aid worker, did the Pentagon acknowledge that the strike had been a tragic mistake and that no ISIS-K fighters had been killed.

In 2011, when the Obama administration announced the commando raid in Pakistan that killed Osama bin Laden, the president's chief counterterrorism adviser, John O. Brennan, said the Qaeda leader had engaged in a firefight and used his wife as a human shield. Days later, the White House walked back its account, saying that bin Laden had been neither armed nor cowering behind a woman.

During the buildup to the 2003 invasion of Iraq, officials in President George W. Bush's administration famously put forth intelligence about purported Iraqi weapons of mass destruction that turned out to be inaccurate. They also stoked baseless fears that Iraq's secular dictator, Saddam Hussein, was collaborating with the religious extremists behind the Sept. 11 attacks, Al Qaeda.

During the wars in Vietnam and, more recently, in Afghanistan, administration officials under both parties often issued a more optimistic picture of progress to the public than the government's internal assessments supported. And President Lyndon B. Johnson justified an escalation of the war in Vietnam based on a supposed North Vietnamese attack on an American vessel in the Gulf of Tonkin that never happened.
Now, rather obviously, all of those situations are not the same. I have no doubt Milley and other top leaders thought the strike "righteous" or else they wouldn't have authorized it; that judgment simply turned out to be wrong. I'm honestly not sure what happened with regard to the OBL human shield story but, considering its obvious propaganda value in portraying the vaunted leader as a coward, I suspect it was one of those "too good to check" reports. While I continue to believe Bush, Cheney, Rumsfeld, Powell, and other top officials in the administration believed Saddam was a legitimate national security threat, there's little doubt at this point that they cherry-picked the information that bolstered that position and made it clear they were not all that interested in evidence to the contrary. And, in both Vietnam and Afghanistan, there was tension between grim facts on the ground and the desire of succeeding administrations to keep public support for a war effort.
I have no interest in rehashing any of these instances here. The point is simply that Presidents and their senior advisors have access to information the public does not, make judgments based on that information, and then both use the "you'll have to trust me" card to forestall questioning. And, quite often, they engage in what can charitably be described as the dispensation of partial truths in support of their policy objectives.
Another NYT report ("Esper Memoir of Trump Tenure to Move Ahead After Legal Battle Ends") shows the process playing out on more mundane level.
A memoir by the former defense secretary, Mark T. Esper, about his tenure in the Trump administration will be published with "minimal redactions" after he sued the agency he once led because it wanted to block information in the manuscript, his lawyer said on Friday.

The announcement brought an end to a battle between Mr. Esper and the Defense Department over what material was considered classified and therefore could not be included in his book, titled "A Sacred Oath," which is set to be published in May.

Mr. Esper, who was fired by former President Donald J. Trump shortly after he lost re-election in the 2020 race, sued the Department of Defense in November, accusing agency officials of improperly blocking parts of his book "under the guise of classification."

Mr. Esper's lawyer, Mark S. Zaid, said in a statement on Friday that they had dropped the lawsuit after the Pentagon reversed its decisions about an "overwhelming majority" of the portions of the book that it had earlier said were classified.

Mr. Zaid said Mr. Esper thought that the remaining redactions to the book were also improper but that they were not central to the book.

"Frankly, Secretary Esper has no interest in publishing properly classified information, which he has sworn to and protected for decades," Mr. Zaid said in the statement.

The Defense Department did respond directly to a request for comment about the end of the lawsuit.

"There are no changes to the Department's prepublication security and policy review," it said on Saturday. "The purpose of Department of Defense prepublication security and policy review is to ensure information damaging to the national security is not inadvertently disclosed."

In the department's prepublication review of Mr. Esper's manuscript, it redacted more than 50 pages of the book "that absolutely gutted substantive content and important story lines," Mr. Zaid said. This included accounts of some of Mr. Esper's interactions with Mr. Trump and his views on actions taken by other countries, according to the lawsuit.

The prepublication review system is meant to stop current and former employees of the executive branch from sharing information that is classified and could damage national security if released, but Mr. Esper was not the first Trump administration official to encounter trouble during the process.

[…]

Mr. Zaid said that review process was broken because of the time and money required to challenge the decisions in court and because ultimately the department reversed its position "on an overwhelming majority of classification decisions it earlier asserted were so vital to the national security interests of the United States, when the fact is they never were."

[…]

Mr. Esper said that some of the redactions "asked me to not quote former President Trump and others in meetings, to not describe conversations between the former president and me, and to not use certain verbs or nouns when describing historical events."

"I was also asked to delete my views on the actions of other countries, on conversations I held with foreign officials, and regarding international events that have been widely reported," Mr. Esper continued. "Many items were already in the public domain; some were even published by D.O.D."
Let's stipulate that we only have Esper's side of the story and that DOD is not in a position to defend its decisions here, ironically because of the very nature of classification. But I believe Esper to be an honorable man and he's dealt with classified information for decades. I seriously doubt he would intentionally put people into harm's way to sell a few books; if he unintentionally included genuinely-sensitive information in the manuscript and had it pointed out to him, he would have happily redacted it.
The problem here is that the first instinct of the national security bureaucracy is to classify anything that could possibly be sensitive and, just to be sure, to wildly over-classify it. And, once categorized, the bureaucracy is loath to declassify because they often don't know why it was classified to begin with.
Indeed, we now have the absurd category of Sensitive but Unclassified (SBU) information "that is not classified for national security reasons, but that warrants/requires administrative control and protection from public or other unauthorized disclosure for other reasons." This includes, "inter or intra-agency communications, including emails, that form part of the internal deliberative processes of the U.S. Government, the disclosure of which could harm such processes." Which is to say, potentially everything. (And, indeed, may be part of the hangup with Esper's manuscript: his conversations with senior officials are almost certainly SBU.)
Compounding the problem is the issue Esper notes of information that is simultaneously classified and in the public domain. The most commonly-cited example is the trove of documents released by traitors to the Russian front Wikileaks and subsequently published by major newspapers. Those of us with government security clearances can face serious punishment for accessing those documents, even though they've been in the public domain for more than a decade. It's simply absurd.
I honestly don't know what to do about any of this. There is legitimate need to keep secrets from the American public, lest they fall into the hands of our enemies. In some cases, lives are literally at stake. But too often, information is classified "just to be on the safe side" and then remains classified for far too long. And, frankly, the system is too often abused to protect information that is embarrassing to decisionmakers rather than for national security reasons.