Shutdown Likely To Drag On For Extended Period
There's no sign that the government shutdown will end any time soon.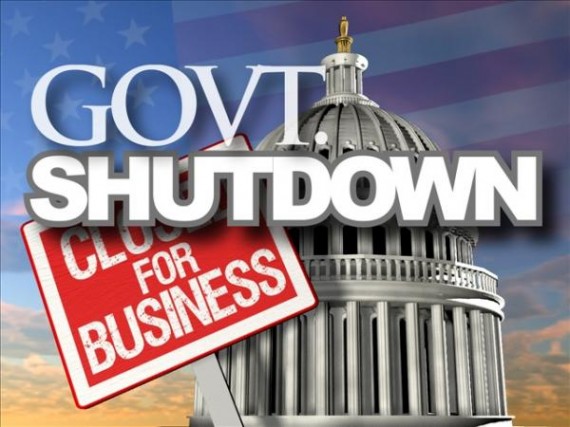 In this morning's Washington Post, Chris Cillizza and Sean Sullivan explain why the shutdown isn't likely to wrap up anytime soon:
Entrenchment in established positions is the name of the game at the moment. And, you don't dig in deeper when you are looking for ways to move on.

The reality is that both sides are leaning heavily on principle when it comes to defending their current stance on the shutdown. For Boehner, this is about standing up for the people who don't like Obamacare and want it gone. For Obama/Reid, it's about not re-litigating a law that the Supreme Court upheld and, they believe, the 2012 election affirmed.

And, you don't cave on principle in 24 or 48 hours. The only way you do move off of a principled stand in politics is for a damn good reason — as in a deal that you can sell to your side as going far enough to make it worth compromising.

The two sides are nowhere close to that at the moment. And it's hard to see them getting to such a "principled" compromise any time all that soon.
Senior House Republicans are increasingly persuaded the government shutdown could last weeks and will only be resolved in a major bipartisan accord involving a funding bill and debt-ceiling increase.
On the first day of the shutdown, President Obama and Senate majority leader Harry Reid only hardened their unwillingness to negotiate with the GOP. For example, Obama threatening to veto rifle-shot funding bills, to keep specific branches of government funded, backed by dozens of Democrats on the House floor.

In the meantime, despite a small bloc of moderates indicating they would happily vote for a "clean" continuing resolution to fund the government without any preconditions, the House GOP conference is remaining steadfast.

At a closed-door conference meeting earlier today, Speaker John Boehner gave a pep-rally-style speech signaling he isn't about to fold his hand.

"We're in this fight. This is the moment. We all talk about doing something for our kids and our grandkids. If you want to do something for them, now is the time. We have to work together and win this fight," Boehner told members, according to a Republican in the room.

"I can't imagine we're going to resolve" the shutdown before the upcoming fight on raising the debt ceiling, Representative John Campbell of California says.

"Think about it — if they decided they were ready to talk by next week, you're not going to negotiate the thing overnight. It's going to take a little time," he adds.

"The real problem is, we may have gotten ourselves into a position where we can't budge on a clean CR and they can't budge on Obamacare. Then what do you do?" says Representative Mike Simpson of Idaho, a top Boehner ally. When I ask how long he expected the shutdown to last, Simpson says "I don't know. I honestly don't know. I don't know."
At this point, Republicans probably think that they've got nothing left to lose by dragging things out until mid-October when the nation will have to face the hard reality of either raising the debt ceiling or leaving it to the President and the Treasury Secretary to figure out which of the nation's obligations should be paid, and which of them should go unpaid. President Obama has said repeatedly that he was not going to negotiate over the debt ceiling, but the closer that we get to that deadline, currently believed to be October 17th, the harder it's going to be to hold that line, or at least that's what Republicans seem to be counting on.
The risk for the GOP, of course, is that they could end up being wrong in calling what they believe to be Obama's bluff and that he really isn't going to blink on negotiations. This would seem to be especially likely if post-shutdown polling starts going negatively for the GOP, which seems to be the direction that its heading. In that kind of situation, we'll be looking at a standoff up and down Pennsylvania Avenue, with Congress on one end and the President on the other. Meanwhile, the various sides in Congress don't seem to be talking among themselves, which makes one wonder just how anyone is going to be able to come to an agreement if they're not talking to each other.
As things stand right now, it seems rather unlikely that we'll see any kind of real resolution to this crisis this week. The GOP appears to be engaging now in a strategy of passig piecemeal funding bills for discrete parts of the national government such as national parks, the Dept. of Veterans Affairs, and funding for the District of Columbia. Obviously, many of these are directed toward the funding of some of the most visible aspects of the shutdown such as the national parks, monuments, and museums in an effort to both put pressure on Democrats in the House and Senate and to reduce some of the negative perception that things such as a closed and barricaded Lincoln Memorial creates when broadcast constantly on national television. The Senate seems dedicated to rejecting this approach and continuing to insist that the House pass the clean Continuing Resolution that was passed over the weekend. As long as they think they have the public on their side, they're likely to continue to take that position. So, basically, we're just looking at both sides making moves that they think will enhance their political positions while not actually accomplishing anything that will resolve either of the two crises that the government is facing this month.
And pundits wonder why the American people have such disdain for politics in general and Congress in particular. We're seeing Exhibit A playing itself out right now.