Slowly Re-Opening America
Things are going to get better. And far worse.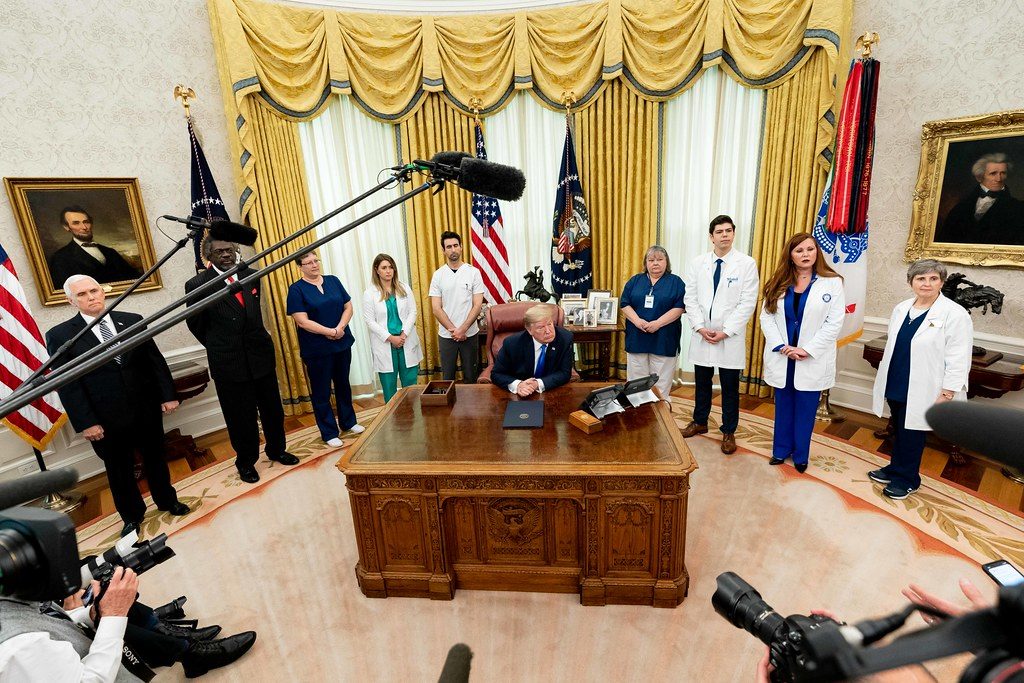 There may be no flipping of the switch but even sane governors are starting to give in to pressure to reopen. Some of the choices being made seem rather odd.
Naturally, leadership from the top continues to be less than ideal. The WaPo headline says it all: "As deaths mount, Trump tries to convince Americans it's safe to inch back to normal."
In a week when the novel coronavirus ravaged new communities across the country and the number of dead soared past 78,000, President Trump and his advisers shifted from hour-by-hour crisis management to what they characterize as a long-term strategy aimed at reviving the decimated economy and preparing for additional outbreaks this fall.

But in doing so, the administration is effectively bowing to — and asking Americans to accept — a devastating proposition: that a steady, daily accumulation of lonely deaths is the grim cost of reopening the nation.

Inside the West Wing, some officials talk about the federal government's mitigation mission as largely accomplished because they believe the nation's hospitals are now equipped to meet anticipated demand — even as health officials warn the number of coronavirus cases could increase considerably in May and June as more states and localities loosen restrictions, and some mitigation efforts are still recommended as states begin to reopen.
Alas, while we may have flattened the curve with the lockdowns, we got too little for weeks of sheltering-in-place:
The administration is struggling to expand the scale of testing to what experts say is necessary to reopen businesses safely, and officials have not announced any national plan for contact tracing. Trump and some of his advisers are prioritizing the psychology of the pandemic as much as, if not more than, plans to combat the virus, some aides and outside advisers said — striving to instill confidence that people can comfortably return to daily life despite the rising death toll.

On Friday, as the unemployment rate reached a historically high 14.7 percent, Trump urged Americans to think of this period as a "transition to greatness," adding during a meeting with Republican members of Congress: "We're going to do something very fast, and we're going to have a phenomenal year next year." The president predicted the virus eventually would disappear even without a vaccine — a prediction at odds with his own science officials.
It was well understood that we wasted six weeks on the front end of this crisis, failing to have testing and personal protective equipment ready for when the inevitable happened. But even the fiercest Trump critics wouldn't have predicted that we'd be essentially no more ready by mid-May.
But here we are.
In the DC metroplex, the spread of the virus hasn't slowed much, nor has the death rate. But that's not stopping officials from trying to get back to a normal that doesn't exist.
Here in Virginia, where Governor Ralph Northam emerged from the blackface scandal that looked for a while like it would force him from office into a progressive reformer, we closed the schools and issued stay-at-home orders two months ago. But we're now slowly re-opening, perhaps as soon as next week.
Northam made clear that he won't abruptly remove all restrictions. He outlined a "Phase 1" reopening that would continue to place extreme limits on businesses, with movie theaters and indoor gyms still closed and restaurants allowed to reopen only if they offer outdoor seating.

"When the time is right, we will turn a dimmer switch up just a notch," he said, adding that some communities — such as Northern Virginia — might choose to keep heavier restrictions in place.

The state's limit on general gatherings of more than 10 people would stay in effect until June 10, but the ban would be waived to allow nonessential retailers to reopen at half of their lowest licensed capacity, Northam said.

Retail customers would have to be kept at least six feet apart while shopping or standing in line; fitting rooms or other enclosed spaces would remain closed; and masks would be required for employees and strongly encouraged for customers.

Churches could resume indoor services, but at 50 percent capacity.

Restaurants, currently allowed to offer only takeout or delivery, would be able to offer seated dining outside if they were already licensed for outdoor service. And that would be restricted to half of capacity, with single-use, disposable menus.

While indoor fitness and recreation facilities would remain closed, they could offer limited outdoor classes with equipment disinfected and participants at least 10 feet apart.

Outdoor basketball and racquetball courts would still be closed. Outdoor pools may reopen only for lap swimming, with one person per lane.

Beaches would remain closed for everything except exercise and fishing.

Hair and nail salons could operate by appointment only, with one customer per service provider, at least six feet between stations and at half the facility's licensed capacity. Employees and customers alike would be required to wear masks, so no beard trimming or lip waxing.

Some limits, such as the ban on gatherings of more than 10 people and the use of beaches, are punishable as Class 1 misdemeanors. Businesses that violate the operating limits could be shut down by the health department.

Northam said this phase of reopening — which the state explains in detail online — would last at least two weeks before moving to a slightly more permissive Phase 2.
While the social distancing procedures outlined make sense, many of the exclusions seem to be based more on political pressure than science.
There's no obvious reason to close beaches, which are by definition outdoors, to swimming and other recreational activities. (Although I'm not sure who wants to go swimming when it's this cold.) What makes them more dangerous than jogging or fishing?
And what possible justification is there for opening churches in Phase 1? It's hard to conceive of a less essential activity. We could run worship services via Zoom indefinitely.
But if we're going to open churches with social distancing, why not gyms? Just require employees to sanitize equipment between patrons.
And how hard is it to trim and paint one's nails at home?
I get the allure of re-opening barbershops and salons and can see how those activities could be performed safely. But the reason they were closed to begin with is that it's literally impossible to cut someone's hair and be six feet away from them. If masks were the only hold-up, why did we force those businesses to close for two months to begin with?
Aside from health concerns, one wonders how feasible these schemes are. In addition to the issue that Steven Taylor and I have both raised about whether there's sufficient public trust to patronize these businesses at sustainable levels, many of them operate on thin margins requiring them to utilize their whole capacity. Allowing restaurants to serve a handful of customers outdoors in addition to the current takeout policy would be better than nothing—but not much.