Supreme Court Confirmations and Political Polarization
The days of unanimous votes are long behind us.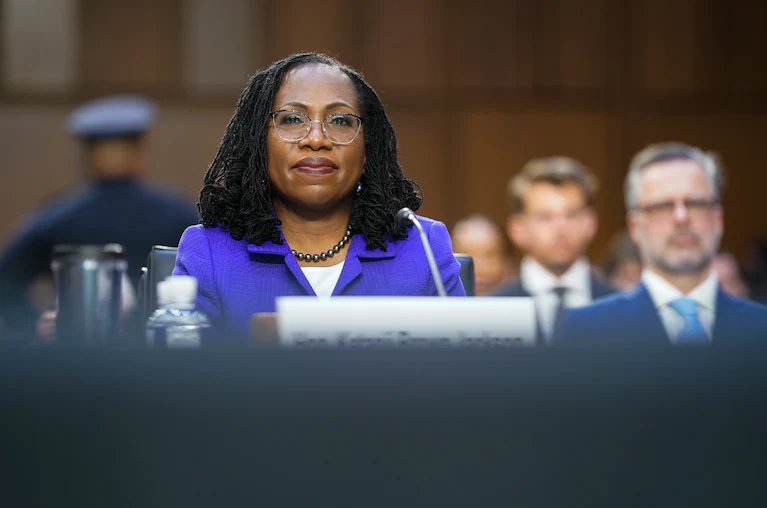 WaPo's Philip Bump does some interesting modeling that purports to show "The collapse of Supreme Court consensus." In reality, it simply demonstrates, once again, the degree to which the parties are sorted and polarized. And, indeed, he acknowledges this:
Once upon a time, a Supreme Court nomination was largely noncontentious. The general approach of the Senate's advise-and-consent mandate was that the primary determination of who should earn a seat on the bench was determined by voters in the most recent presidential election. Nominees were often simply confirmed on a voice vote, sent by the Senate to lifetime appointments across the street with little debate.

As you probably noticed, that is no longer the case. Not only are voice votes extinct, so are broadly bipartisan confirmation votes. The last Supreme Court nominee to have received more than 70 votes was Chief Justice John G. Roberts Jr., nearly 20 years ago. The six justices confirmed since have averaged less than 60 — and the last three were confirmed thanks to the 2017 decision to make Supreme Court nominations exempt from the filibuster.

What's happened is what's happened to American politics broadly: Bipartisanship has declined as partisanship has increased.
Regardless, the visualization of this phenomenon is stark. His setup:
We can visualize this. I took the 14 contested confirmations since the beginning of Ronald Reagan's presidency and contrasted each senator's vote on the nomination with his or her ideology score as measured by Voteview. Since we now expect members of the president's own party to support his nominees and for members of the opposition to, well, oppose those nominees, I've highlighted those votes that went the other way: members of the president's party who voted no and members of the opposition who voted yes.
The graphic:

There's a whole lot more, including some deep dives into the ideological breakdown of the Senators over time. But what's really interesting to me is the degree to which the trend isn't a trend.
O'Connor sailed through in 1981. No surprise there. Not only were Senators reluctant to vote against the First Woman Justice but the parties were not at all sorted. Indeed, Reagan Democrats still dominated the Southern delegation and Northeastern "Rockefeller Republicans" were still very much a thing.
But Rehnquist, elevated to Chief, was pretty controversial in 1986. He was well-qualified and respected as a jurist but had a pretty clear voting record as an Associate Justice.
Then Scalia and Kennedy, not shown on the graphic, were confirmed via unanimous consent in 1986 and 1988, respectively. They were the last of that breed.
Bork was, well, Borked. But replaced easily by Kennedy after an intermediate appointee withdrew because he smoked pot as a professor.
Souter sailed through easily in 1990, well after Republicans started taking over the Southern delegation.
Thomas had to weather the Anita Hill scandal, so perhaps no surprise that Democratic support fell off.
But Ginsburg, Bryer, and Roberts all sailed through with broad opposition party support in 1993, 1994, and 2005.
Alito garnered very little Democrat support in 2006.
But Sotomayor and Kagan sailed through in 2009 and 2010. To be sure, not with the seem ease as they would have fifteen years earlier but, still, a tremendous amount of cross-party support despite much more sorted parties.
That the three Trump appointees got next to no Democratic support is hardly surprising. Not only was he polarizing but the seat that went to Gorsuch was held open by parliamentary hardball; Democrats, not unreasonably, believed that the seat was stolen from them. Kavanaugh had multiple sexual assault accusations. And Barrett was rammed through at the 11th hour to replace the most beloved Justice on the Court.
Honestly, the pattern here is not obvious. In at least three cases (Bork, Thomas, and Kavanaugh) the nominee was embroiled in scandal. The other two Trump appointees were tainted by controversies not of their own making.