Supreme Executive Power Derives from a Mandate from the Masses
Strange women lying in ponds distributing swords is no basis for a system of government!
FiveThirtyEight's Nate Silver is "Here To Remind You That Trump Can Still Win" because, while Joe Biden has had a fairly commanding lead in the polls for more than a year, there are all manner of marginal uncertainties.
Really, though, it boils down to this graphic: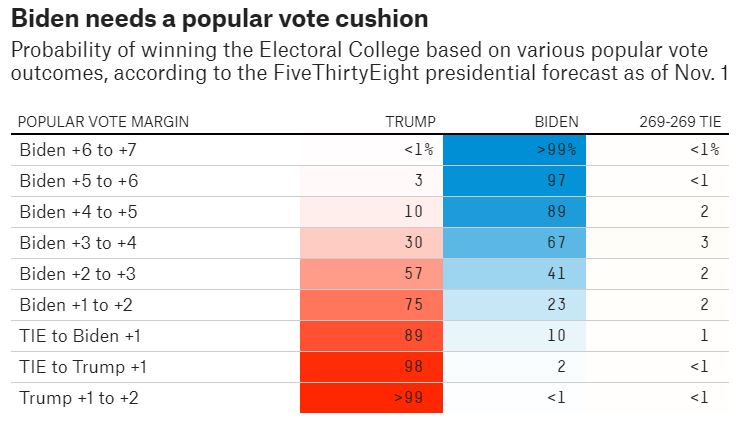 That's right: because so many states are lead-pipe cinches for one party or another, Trump would actually be more likely to win than not if the polls showed Biden with a 2-3 point lead! Conversely, a 6-7 point lead gives him about the same odds of winning as a 1-2 point lead would give Trump. That's just madness.
Broken down more specifically,
If Biden wins the popular vote by 2 to 3 percentage points, the Electoral College is roughly a toss-up. But if Biden wins the popular vote by less than 2 points, Trump is a fairly heavy favorite to win the election. Even popular vote margins of up to 6 points are not entirely safe for Biden if his votes are distributed in exactly the wrong way. So you can see why an 8- or 9-point lead in the popular vote shouldn't make Biden feel that secure; despite being a landslide margin, it's also only a few points removed from the inflection point where the Electoral College starts to become competitive.

Biden's position would simply be a whole lot safer if one of two things were true: If either the polling in Pennsylvania were like that in Wisconsin and Michigan, where he has a larger lead … or if another state such as Florida were also polling more like Pennsylvania to give Biden a clear Plan B. But neither of those things are true. The gap between Pennsylvania and Wisconsin and Michigan has actually grown in the waning days of the election. And no state has emerged out of the pack of Arizona, North Carolina, Florida and Georgia to be Biden's clear Plan B (Biden is forecasted to win each state by between 1 and 3 points). Arizona is probably Biden's best bet in this group, but winning it would also require him to win either Nebraska's 2nd Congressional District or Maine's 2nd Congressional District to break a 269-269 Electoral College tie; he's favored in both districts but they aren't sure things.
As noted yesterday, I think the polls are over-correcting for 2016 in their likely voter screens and that Biden will sweep the close states. But the notion that the whims of undecided or reluctant voters in three midwestern states should decide who governs for the next four years—even if millions more Americans vote for the other guy—is plain nuts.