The Emerging Democratic Majority at 20
How well has the famous thesis fared?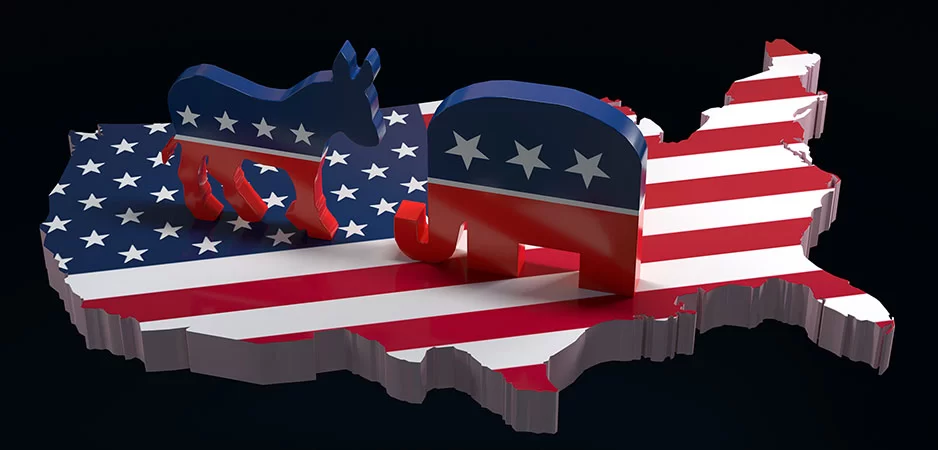 NYT chief political analyst Nate Cohn reflects on what he terms "The Lost Hope of a Lasting Majority."
Today we wish a belated and maybe not-so-Happy 20th Birthday to "The Emerging Democratic Majority," the book that famously argued Democrats would gain an enduring advantage in a multiracial, postindustrial America.

There are countless explanations for the rise of Donald Trump and the growing dysfunction of American political life. This book does not necessarily rank at the top of that list. But when historians look back on this era, the book's effect on American politics might be worth a mention.

The thesis that Democrats were on the cusp of a lasting advantage in national politics helped shape the hopes, fears and, ultimately, the conduct of the two major parties — especially once the Obama presidency appeared to confirm the book's prophecy.

It transformed modest Democratic wins into harbingers of perpetual liberal rule. It fueled conservative anxiety about America's growing racial diversity, even as it encouraged the Republican establishment to reach out to Hispanic voters and pursue immigration reform. The increasingly popular notion that "demographics are destiny" made it easier for the progressive base to argue against moderation and in favor of mobilizing a new coalition of young and nonwhite voters. All of this helped set the stage for the rise of Mr. Trump.
The book's thesis already looked shaky by 2004, when George W. Bush, who had lost the popular vote in 2000, won re-election. Still, even though he won the popular vote by a mere 2.5%, the contest again hinged on a single state—this time Ohio rather than Florida, which he won by only 2.1%. Since then, Democrats have won the popular vote in every single presidential contest. Indeed, 2004 is the only Republican popular vote win since 1988. Surely, that seems like a Democratic majority has emerged.
I do think Cohn is right, though, that Democratic and Republican elites took different messages from the thesis. The former took the bumper sticker version of the message, completely ignoring the nuance, and saw a license to abandon the Clintonian triangulation strategy and run on an increasingly progressive platform. The latter saw a need to double down on stoking fear among the declining white plurality—and, frankly, cheat by suppressing the votes of minorities likely to be in the opposition column.
Regardless, he admits that the book's thesis has been straw-manned:
This is a lot to attribute to a single book, especially since the book does not really resemble the Obama-era caricature advanced by its supporters. The book does not put forward what became a commonly held view that racial demographic shifts would allow Democrats to win through mobilization, a more leftist politics or without the support of white working-class voters.

Instead, the book argued — not persuasively, as we'll see — that Democrats could build a majority with a (still ill-defined) "centrist" politics of the Clinton-Gore variety, so long as they got "close to an even split" of white working-class voters.

"We were clearly overly optimistic about that prospect, to say the least," said John Judis, one of the authors of the book, of the prospect of such high levels of Democratic support.
But, again, the party didn't follow their prescription. The era of big government, it turned out, was not at all over.
Regardless, Cohn contrasts the map projected by Judis and Texeira with what has actually transpired: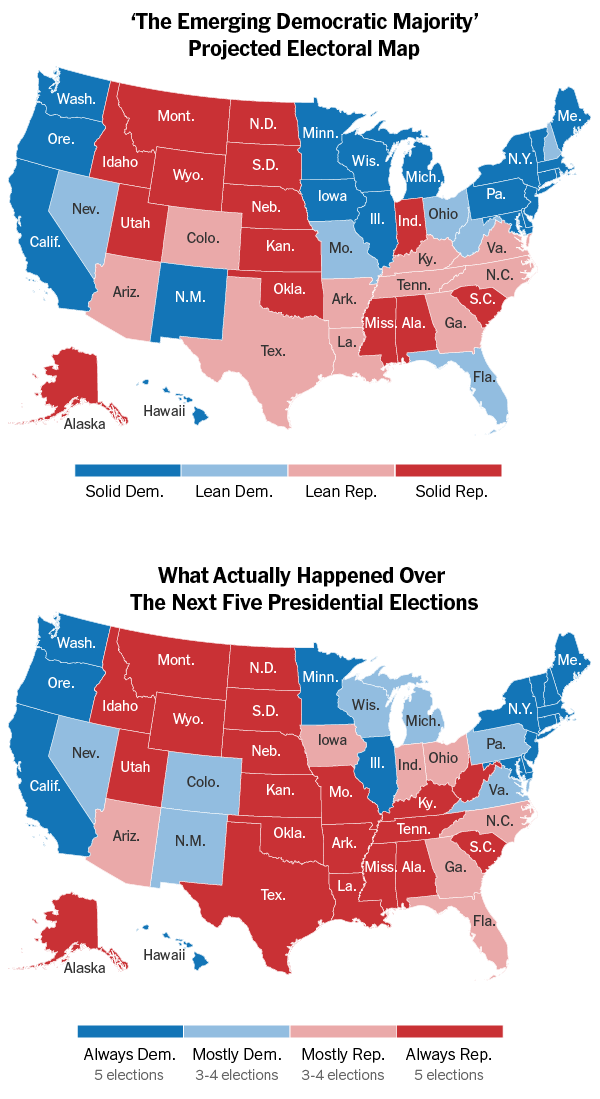 What should you notice about the map of the projections?
First, the book is very cautious about predicting any Democratic gains attributable to racial demographic shifts. There's no blue Georgia, no blue Texas, no blue North Carolina and no blue Arizona. There's not even a blue Colorado or blue Virginia, which really did come to pass just six years after the book's publication. Only Nevada and Florida — already highly competitive battlegrounds in 2000 — could be characterized as flipping to the Democrats because of the growing diversity of the population.

Second, the map illustrates that the authors supposed extraordinary levels of Democratic support among white voters without a college degree. Not only are white working-class battlegrounds like Iowa, Wisconsin and Pennsylvania characterized as "solid Democratic," but Republican-leaning states like Ohio, Missouri and even West Virginia are characterized as "leaning Democratic."
So, again, the authors made Democrats holding roughly half of blue-collar whites a baseline condition for their thesis to be true. That didn't happen.
Cohn argues that they should have seen it coming:
The characterization of West Virginia as "leaning Democratic" — despite George W. Bush's victory before the book's publication — is a telling indication of the problems underlying the book's thesis.

While the book correctly anticipated Democratic strength in postindustrial metropolitan areas, it failed to appreciate the challenge of holding on to blue-collar white voters at the same time.

The authors said the "key" for Democrats would be in "discovering a strategy that retains support among the white working class, but also builds support among college-educated professionals and others." But the book did not contain a road map to pulling it off. It said, "They can do both." The optimism was rooted in the assumption that Clinton-Gore had already solved the problem.

The authors dismiss the Bush victory in 2000, arguing that Al Gore failed "largely because of factors that had nothing to do with the appeal of his politics."

While the book acknowledged that Mr. Bush was assisted by Mr. Gore's stances on the environment, coal, abortion and gun control in white working-class areas, it didn't appear to take these cultural issues as a serious problem for Democrats. At the very least, they weren't considered serious enough to move West Virginia out of the Democratic column.

Instead, the authors advanced the argument that the strong economy in 2000 was actually part of Mr. Gore's problem, by allowing working-class whites to vote on cultural issues rather than their economic interest. The Clinton sex scandals were also considered a necessary condition for Republican strength; without Bill Clinton dragging them down, Democrats would rebound. Whatever the merits of these arguments, it isn't especially credible to argue that the 2000 election — held at a time of peace and prosperity — was anything like a worst-case scenario for Democrats.
Even as one who voted for Bush, I agree with their analysis of that election. Further, it bears repeating: the Democrat won a plurality of votes in that contest despite these obstacles.
In retrospect, gun control and environmental issues were harbingers of one of the major themes of postindustrial politics: White working-class voters were slowly repelled by the policy demands of the secular, diverse, postindustrial voters who were supposed to power a new Democratic majority.

The book is all but silent on the issues that fit into this category, like same-sex marriage, immigration, climate change, inequality or racial justice. In fairness, the book was written before many of these issues rose to prominence. It was written near the "end of history." The 2000 election campaign was a relatively dull affair, with low turnout and few stark differences between the candidates. No one could have foreseen the next 20 years of wars, economic crisis, cultural change and social unrest.
Well, no. Clinton directly appealed to these voters on many of those issues. Working with Newt Gingrich and the Republicans, he "ended welfare as we know it" and signed the Defense of Marriage Act. The courts and the party's increasingly urban, educated base pushed the leadership left on these issues.
Yet despite all the intervening events of the last two decades, the book did get something very important right: America was entering a new era of postindustrial politics.

As Mr. Judis noted in an email, professionals have "grown, if anything, more Democratic" than the book foresaw. Maybe the book didn't predict a blue Virginia or a blue Colorado — but in some sense, those shifts proved that the thesis of the book was more powerful than its authors imagined. The industrial era of political conflict really was coming to a close.

While the authors argued Democrats would follow in the footsteps of Progressive Era Republicans, who won overwhelming electoral victories, the next 20 years proved more reminiscent of the Gilded Age — the decades of political division, resurgent populism, political reaction and growing inequality that ultimately set the stage for the rise of the progressives.

Perhaps this is the book's greatest shortcoming. It assumed that the transition to a new postindustrial, multiracial society would come without anything like the conflict, unrest and reaction that accompanied industrialization. Indeed, the book failed to imagine the basic contours of political conflict in the postindustrial era — let alone why the Democrats would be well positioned to guide the nation through those challenges. Instead, it assumed a peaceful, prosperous and content nation, one where centrist Democrats offering small solutions to small problems might fend off stolid Reagan-era Republicans in perpetuity.
That's fair. But it also missed something more fundamental that Steven Taylor and I have been harping on for a long time now: we're not a majoritarian political system.
Even though Democrats have won the popular vote in seven of the last eight elections (and arguably would have won eight straight had Bush not been the minority-winner incumbent in the first post-9/11 election), Republicans have won the White House three times during that span. Further, because the party is vastly over-represented in the Senate, given that each state gets two Senators regardless of population, they have managed to pack the Supreme Court with Federalist Society Justices, thus thwarting the agenda of Democratic Presidents.
So, even though a Democratic majority has "emerged," it doesn't necessarily translate into Democratic governance.
Cohn continues:
The theory that demographics are destiny is a tempting one. In a certain sense, the last 20 years have vindicated it. If you want to guess how a state or county has shifted over the last two decades, demographics can tell you just about everything you need to know. If you want to build an election needle or weight a political poll, demographic data is awfully useful, too.

Yet demographic change rarely offers a path to political dominance, at least nowadays. Demographic shifts are transforming the United States — but at a glacial pace. Over a four-year period, Democrats might gain a mere half percentage point because of the increased nonwhite share of the electorate — assuming everything else is held constant. A half-point is something, but it's easily swamped by other factors, like a shift in the economy, a different slate of candidates, a midterm, or just a few too many years in power.
Sure. Further, my longstanding critique of the thesis is the assumption that Hispanics, or even Blacks, will always vote the same way. While Republicans have seemingly gone out of their way to alienate both groups (so much so that they turned once-rock solid Red California into a reliable Blue state) we've seen a slight shift of both groups, particularly men, to the GOP.
In the real world, things aren't held constant. Demographic change can provoke backlash. And, even if it doesn't, a party courting new voters might still find itself losing ground among its old supporters, who were brought to the party by a different set of messages, issues and candidates. And even if a party does everything right, and manages to squeeze a point or two out of demographic shifts in a given election — the way President Obama probably did in 2012 — it might just tempt a party to cash in its electoral chips on an agenda that costs support from a key group. It might even convince a party that demographics are destiny — and that the hard work of persuading voters and building a broad and sometimes fractious coalition just isn't necessary.
Political parties evolve over time and their coalitions evolve, too. The Republicans like to brand themselves the Party of Lincoln, their first winning Presidential candidate, but they're obviously not that party anymore—1860 was a long time ago, after all, and the issues have changed. Democrats still see themselves as successors to FDR and, in many ways, they still are. But they've slowly hemorrhaged their once near-automatic support from the South over civil rights and other cultural issues.
Further, I don't see any "demographics is destiny" thinking at the level of national campaigns. If anything, we've shifted away from a politics of persuasion and moved to a politics of turnout.