The End of Consensus
A conservative columnist argues the legitimacy of our system is in question.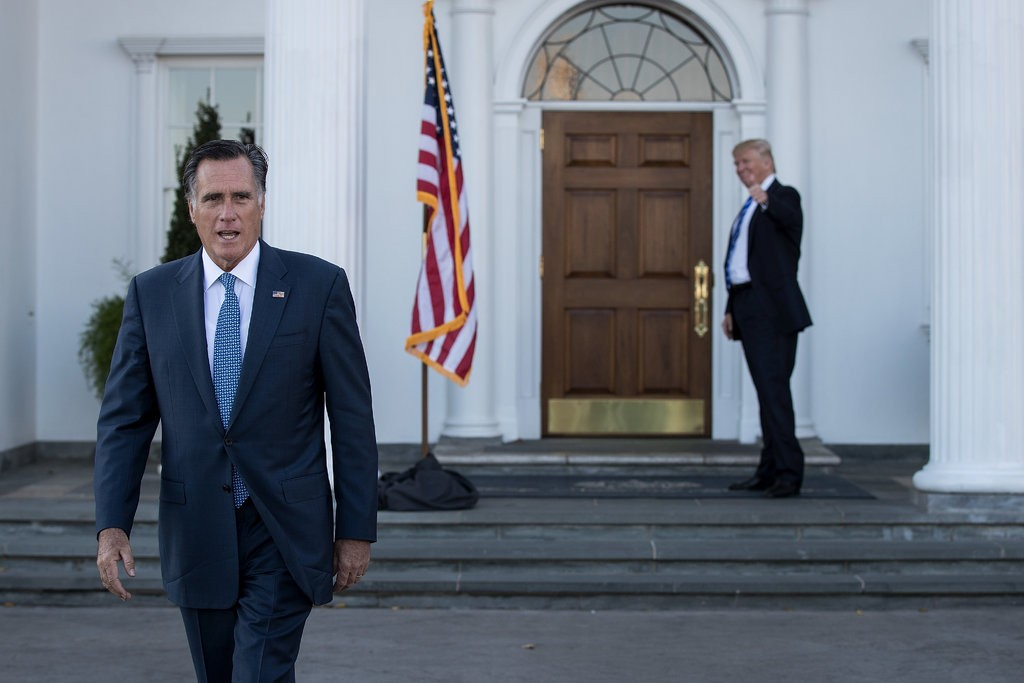 Daniel McCarthy argues, rather persuasively, that there is no hope for bringing back anything like the pre-Trump Republican Party. At least, not as a vehicle capable of winning the presidency. His reasoning goes to the very fabric of our society.
His latest column for the US edition of The Spectator is titled "Romney Republicanism could never win."
Two maps tell the tale. The first is the obvious one, the map of states whose electoral votes Trump won, a map that includes states like Pennsylvania and Wisconsin that no other Republican presidential aspirant had won since the 1980s. But the second map is even more important — it shows not why Trump won but why the Republican party was doomed to lose without Trump and Trumpism. It's the map of George W. Bush's re-election victory in 2004, the narrowest re-election, in terms of presidential votes, in recent US history. Bush prevailed by just 16 electoral votes, which meant that had either Florida or Ohio gone to John Kerry, the Democrats would have won. And Bush won Virginia, a state with 13 electoral votes that has since moved firmly into the 'blue' column.
McCarthy argues that this is a function of an elite ideology that no longer appeals to blue-collar voters who aren't persuadable by the GOP's social agenda.
There is no market on the right or the identity-politics left for what anti-populist Republicans are advertising. The center ground that the Republican establishment of 15 years ago was built upon has disappeared, in large part because of the establishment's own policies. The Rust Belt wasn't going to vote Republican to get another war in the Middle East, but it might vote Republican if it meant keeping more jobs in the United States — and it did vote for Trump in that hope, among other reasons.
But, of course, Trump lost nationally by three million votes. His Electoral College win was essentially a fluke: an incredibly narrow margin in three states unlikely to be replicated. Still, McCarthy's larger point may well be right: since George H.W. Bush's landslide in 1988, there have been seven presidential elections. Republicans have won the popular vote only in that 2004 election and the Electoral College only in 2000 (with an asterisk), 2004, and 2016 (also, arguably, with an asterisk). Clearly, Americans aren't buying what they're selling.
But to fully understand where McCarthy is coming from, one needs to read his earlier column, "Impeachment is regime suicide." For our purposes here, his view on the Trump impeachment is less interesting than his assessment of the zeitgeist.
What [comparisons with Nixon's resignation over Watergate] overlooks is the reason why no one wins landslides such as Nixon's in '72 anymore: back then, even amid the Vietnam War and rising violence at home, there was still enough sense of unity in the country to produce a national consensus. That consensus was not just an agreement among voters of different regions, parties, and ideologies that they could all accept Nixon — by voting for him or simply by wishing well once he won — it was also an expression of confidence in the regime. There was an American body of opinion over and above the country's obvious divisions, and that body of opinion exhibited faith not only in Nixon and the idea of the president as a leader for all Americans, but in the system of which Nixon and the presidency were a party.

[…]

In 1980, 1984, and 1988, Republican presidential nominees won big every time: 44 states went to Reagan in '80, 49 in 1984, and 40 for George H.W. Bush in '88. A national consensus was still possible, and Republicans were able to harness it until the end of the Cold War.

Democrats, meanwhile, controlled Congress the whole of this period, which was itself a sign of stability and consensus. The regular swings in congressional control that we've seen since the 1990s are a new phenomenon, a sign that the old consensus has dissolved.
McCarthy is viewing the past through rose-colored lenses. The divisions during the height of the Civil Rights era and Vietnam protests were pretty damned divisive—arguably moreso than the current period. Indeed, a major factor in the Watergate break-in and other malfeasance during the 1972 election cycle was that guys in Nixon's orbit like Pat Buchanan and Gordon Liddy thought the United States was in the midst of a veritable civil war and that preventing the left from taking over the country justified any means necessary.
But I nonetheless think McCarthy is right that there was a national consensus that the system was legitimate and that Americans should rally around the elected President. Certainly, that was true in the early period of my own serious recollection of American politics: the Carter, Reagan, and Bush Sr. Presidencies. While the campaigns were always divisive, each of those men enjoyed a "honeymoon" afterward in which it was simply expected that Congress would work with the newly-elected President to enact parts of the agendas on which they campaigned.
That ceased being true with Bill Clinton's election in 1992, which many if not most Republicans considered illegitimate even though he won fairly. And, with the short-lived exceptions of the rallies around Bush 41 during the Gulf War and Bush 43 after the 9/11 attacks, we've never regained it.
While I've long attributed this to a changed media environment that gave rise to what I've called the Permanent Campaign, McCarthy sees something else:
Why did it dissolve? In 1992, many of the issues that animated Trump's victorious campaign in 2016 were already highly salient: there was a sense of disappointment and economic distress at a time — right after the Cold War — when Americans expected to enjoy a peace dividend and celebrate their success. Crime was on voters' minds. Trade and immigration were pressure points in Pat Buchanan's GOP primary challenge to George H.W. Bush and Ross Perot's independent bid for the White House. Bill Clinton campaigned as a tough-on-crime governor sympathetic to blue-collar voters.

Already in 1992, the consensus that had seen America through the Cold War was under stress, and the American public gave evidence of having lost faith in the country's political leadership. Bush was in a tough primary fight despite his sky-high approval ratings after the 1991 Gulf War. Perot was an eccentric businessman who pronounced a pox on both parties' houses. Clinton won the White House with just 32 states and 43 percent of the popular vote. And two years later, the public's discontent with the regime manifested in the legislative branch, as Republicans won a House majority for the first time in 40 years.
But those same Republicans misread their victory:
The Republican Congress's impeachment of Bill Clinton in 1998 took for granted the possibility of a renewed national consensus — either one that could motivate a Senate supermajority to convict and remove Clinton (a tall order) or one that at least might lead public opinion to condemn Clinton after he survived impeachment. As it turned out, the GOP got it all wrong: not only was Clinton acquitted in the Senate, neither of the articles of impeachment received even simple-majority support in that Republican-controlled chamber. And Clinton's popularity remained high.

To the extent that there was still a skeletal national consensus, it favored Clinton. Impeachment was a circus, but it wasn't a national trauma. It cast no shadow over the next presidential election two years later. It was a dud that reaffirmed the stability of the American regime.
But, in McCarthy's telling, trying to draw a lesson from the Clinton impeachment for today is even worse than doing so from Nixon's resignation.
With Trump, everything is different. The 2016 election was a referendum on the regime itself. Trump resurrected the populist attacks on the country's political and economic establishment that Buchanan and Perot had battle-tested in the 1990s.

Trump was no mere conventional Republican who happened to beat Hillary Clinton. He was a completely unconventional Republican who first beat the party's own ideological standard-bearers during the primaries, in the course of which he often said things that no Republican had said for a generation or more. Trump's message in the primaries and general election boiled down to: they screwed you. 'They' being the Bushes, the Clintons, the establishment in both parties, the warmongers, the trade-deal architects, the communist Chinese, free-riding allies, and more.

Trump is no ideologue or political theorist, but he launched a comprehensive attack on the domestic and international liberal order. He campaigned against the system as it has existed since the Cold War ended.​

Trump's enemies are not just the left, they are the ancien regime. Anyone who supports the political and economic dispensation of the post-Cold War era is apt to feel threatened by Trump and even more menaced by what stands behind him — a growing anti-consensus, a force that declares every center of power in this country illegitimate and antithetical to the well-being of the people.
Now, while that seems absurdly overblown, it was the message that many on the left—from Michael Moore to Bernie Sanders—was spreading before Trump's victory. But McCarthy thinks most old-line Republicans have failed to understand it.
That's why this impeachment attempt is radically different from the Nixon or Clinton episodes. There is no consensus to save this time; there is only an anti-consensus waiting to be radicalized.

Trump's enemies have been in denial about this since the day he first declared for the White House — they have wrongly assumed that a healthy, old-fashioned, pro-establishment consensus must emerge out of sheer revulsion at Trump. Hence all the appeals on the part of anti-Trump pundits to Republican decency and conscience. They assume that, deep down, for all that Republicans are racists and deplorables, they still love the regime, and they will support it over Trump.

In fact, for most Republicans, certainly at the grassroots, the voice of conscience and their sense of decency command them to support Trump, in spite of his sins, against an absolutely illegitimate and malevolent regime.
Of course, for those of us who voted for Romney but couldn't vote for Trump, it's his Presidency that's malevolent and illegitimate. He came to power at least partly through double-dealing with the enemies of the country and continues to play that hand now that he's in office.
And we're obviously in the majority. Trump's approval seems to have a ceiling of 40 percent and a floor of 30 percent.
McCarthy argues that, given that such a large number feels so strongly that the system itself is corrupt, it would add fuel to the fire to remove Trump through the undemocratic means of impeachment. That the only righteous path is to beat him at the ballot box.
But, if McCarthy's view is right, that chunk of the country will never view a "normal" Presidency as legitimate. If a Joe Biden or Elizabeth Warren beats him fair and square in thirteen months—even by a landslide—they'll still think it's corrupt. And Trump will surely do his best to fuel that impression.