The Myth Of The Republican Savior
There is no Republican savior out there.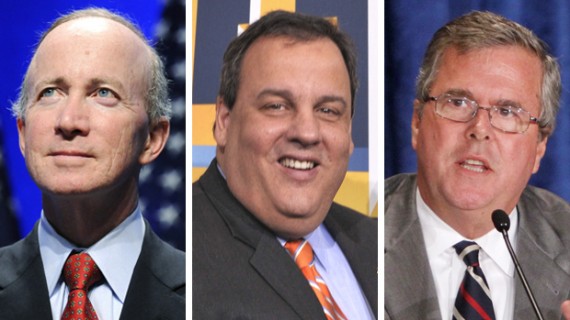 Virtually since beginning of the race for the Republican nomination there has been an odd fascination among Republicans and conservatives for candidates who were not running. Sometimes, it involved the ridiculously absurd, such as the undue attention that was given to Donald Trump's manipulation of the media last spring or the similarly pathetic media attention given to every move made by Sarah Palin as she traveled the country on a bus tour to nowhere. More often, though, it's involved more establishment figures such as Indiana Governor Mitch Daniels, who seemed to be on track to announce his candidacy only to pull the plug last spring over concerns about his family's privacy, New Jersey Governor Chris Christie, who said no repeatedly throughout the year only to be courted again last October, and former Florida Governor Jeb Bush, who has remained on the sidelines throughout this race. Even now, there are still people speculating on scenarios under which one or all three of these men, despite their consistent denials, could sneak into the race at the last minute and take away the nomination from the four men who have been campaigning for it for more than a year now.
Leaving aside the denials and the absurdity of all the brokered convention scenarios, Frank Bruni notes at The New York Times today that these three men have as many flaws as the candidates in the race right now, and there's no guarantee that any of them would fare better either in a primary fight or in a General Election:
Let's start with Mitch Daniels, the Indiana governor. Daniels is thoughtful, level-headed, experienced, erudite. But as he demonstrated when he gave the official Republican response to President Obama's recent State of the Union address, he's no orator. He's not telegenic. He lacks presence and wants for charisma. And while those are superficial judgments and measures in one regard, they're indeed crucial characteristics when it comes to succeeding on the campaign trail and even when it comes to governance. The ability to inspire, arouse and rally the public helps determine the course and success of any legislative agenda.
My reaction to Daniels' response to the State of the Union was similar to Bruni's, although it's worth noting that anyone who gives a SOTU response is playing from a position of weakness to begin with. Nonetheless, the speech brought to mind for me the reason why the assertion by many of his most ardent supporters that had he run he would be leading the GOP field right now might not be true:
If this cycle has shown us one thing, it is that "sober conservatism" is not what the Republican base is looking for. If they were, then Jon Huntsman would have been far more successful than he turned out to be. Instead, as the rise of every "not Romney" from Michele Bachmann to Rick Perry to Herman Cain to Newt Gingrich has shown us, they are looking for bombast and bomb throwing, for the candidate who will "fight" with Obama, not the candidate who will present conservative policy alternatives in a rational manner, take the President to task for his bad decision making without demonizing him, and realize that winning in politics means doing more than throwing red meat into the debate audience. Just like Hunstman and Tim Pawlenty failed to catch fire with this base because they didn't play that game, I now think that Daniels would have run into the same problem. Moreover, last night's speech revealed that, to put it bluntly, Daniels is not necessarily the kind of fiery speaker that riles up a crowd, another skill which seems to be more important to voters this year than actual substance.
Even if Daniels had made it past the primary battles and gone on to win the election, his General Election prospects weren't necessarily either. For starters, there's that lack of passion I noted after the State of the Union response. For another, the one part of Daniels' record that many Republicans seem to (willingly?) forget is the time he spent as the Director of the Office of Management and Budget under George W. Bush from 2001-2003. It was during this time that the Bush tax cuts were pushed through, and during which the Administration gave what were, in retrospect, incredibly optimistic and inaccurate estimates of the costs of the war in Afghanistan and Iraq. No doubt, Daniels' ties to this aspect of the Bush record would have become an issue in a General Election campaign.
I happen to like Daniels a lot. He's had what is by all accounts a successful two terms in the Indiana Governor's Mansion, and his appeal in 2010 for a truce on social issues inside the Republican Party was something that made eminent sense to me. Had he run, I would've been inclined to at least be sympathetic to his campaign. However, I'm no longer nearly as certain as I used to be that he would have been a strong candidate had he entered the race, or that he would have been any stronger against Barack Obama in the fall than any of the candidates already in the race. He would've been an interesting addition to the race, but I now doubt that he would've done any better than Tim Pawlenty or Jon Huntsman.
Bruni raises similar points about Christie:
His pugnacious style plays one way on the state level, especially when the state is New Jersey. But nationwide, with more sustained exposure? And in the context of what we regard as presidential behavior and what we don't? I direct you to a public appearance of his in New Hampshire, just before that state's primary in January, when he cut down a female heckler of sorts at a Romney rally with an inelegant comment that many people interpreted as crudely sexual. And this wasn't a "hot mike" moment, when he was under the impression he wasn't being heard. This was a very public exchange during a formal event at which television cameras were visible and rolling.

If he ended up as a vice presidential candidate this year—I'm betting he doesn't—or as a presidential candidate four years from now, he faces the following potential problem: there are personalities that come across as refreshingly unadulterated, invigorating and commanding in the short run but can come to seem overbearing over time. Personalities that can overstay their welcome. Does Christie's, with all its ire and brashness, qualify?
Once again, Bruni has a point. Christie's brashness works well in New Jersey, and considering that his approval ratings are north of 55% these days they seem to be working quite well for him, but it's unclear how that would come across on the stump nationally. But Christie's substance may have ended up being a bigger problem for him than his style. As I noted in September when his name was once again being thrown around as a possible late entrant into the race, there are other issues that would have made a Christie run in 2012 difficult. Perhaps the biggest one is the fact that Christie himself had been saying for more than a year than he didn't believe he as ready to be President, which clearly comes across as a personal assessment that he didn't think he had enough political experience yet for the post important job in the world. It was an unusual position for a politician to take, which is why I think many people didn't really believe him when he said it, but it's also a hard one to walk back if Christie has suddenly changed his mind. Second, despite the positive press Christie gets on the right his actual record shows that he deviates for orthodox conservatism on several issues ranging from the environment to immigration to gay rights to treatment of Muslim-Americans. Christie would've faced the same criticism that Mitt Romney has in the primaries, and it's hard to see him doing well in states like South Carolina.
If he wins re-election in 2013 and the GOP does not win the White House this year, Christie is going to be on the short list for the GOP in 2016. He'll be more experienced by then, and perhaps the GOP will be ready for a Northeastern Republican at that point. In 2012, though, I don't think Christie would've done nearly as well as some people expected.
Finally, there's the ultimate GOP dream candidate Jeb Bush:
Jeb Bush may in fact be the best of the Republicans' "if only" candidates, in terms of record, resume, style, intellect. But with two Bush presidents already, the most recent of whom left office with low approval ratings, the dynastic aspect may be too much for voters, and seems no better suited to some of the class tensions of the moment than Mitt Romney's extraordinary wealth is.
That last name is probably Bush's biggest liability, especially this close in time to what most Americans remember as the rather regrettable Presidency of his brother. Perhaps things will be different in 2016, when Bush will be only 63 years old, but even then the idea of a third Presidency from the same family is something that is likely to make Americans uncomfortable. We've only had a father-son Presidential team twice in American history, and they were separated by nearly two centuries of time. The idea of a father-and-sons Presidential team may be more than Americans are willing to bear. Even without the name, though, Bush would have faced some of the same problems in 2012 that Daniels and Christie would. Like Daniels, Bush doesn't appeal to the firebrand conservatives that seem to be driving the boat in this election. Like Christie, he has taken positions on issues such as immigration that would, to say the least, displease those same conservatives. No doubt, Bush would have been a formidable candidate had he chosen to run simply because of the money he would have brought to the table but, as Rick Perry showed us, you need more than money to be a successful candidate for President.
To some extent, it seems to me that many Republicans are suffering from a form of "the grass is always greener…" nostalgia. Seeing a group of candidates that aren't perfect and a race that seems to be destined to drag on all the way until June, they're looking wistfully over the fence at the guys who didn't join the party and wondering about what might have been. What they're seeing, though, have very little to do with reality.