The Question Mitt Romney Didn't Answer Last Night
Mitt Romney left one crucial piece out of his speech last night.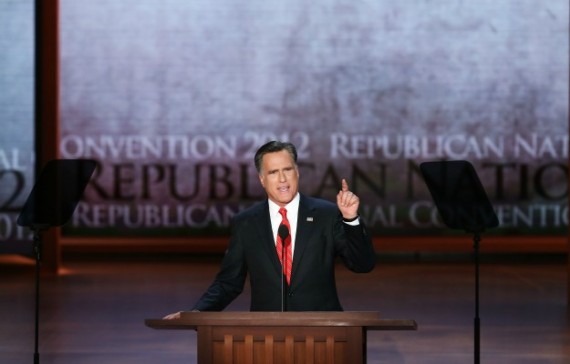 In his review of the Republican Convention over at CNN, Republican political strategist Alex Castallanos points out that there's one question that Mitt Romney did not answer in his Acceptance Speech, and it's one he'll have to face up to sooner rather than later:
At some point in a debate, Obama is going to turn and challenge Romney, saying, "Mitt, you have nothing new to offer. In fact, on social issues, foreign policy, taxes, spending, Medicare and everything else, you have nothing different to offer than taking us back to what George Bush proposed. That's what got us into this mess." Romney has yet to answer that question. He has until the first presidential debate October 3, in Denver, to find a response.
Castellanos's comment is well-timed given that we're only a few days away from the Democratic National Convention in Charlotte  and it's becoming quite clear that this "return to the past" charge is going to be a central part of the attack on Romney that takes place next week:
The Obama campaign just held a conference call with reporters to discuss the GOP convention and contrast it with plans for their own gathering next week. The most notable tidbit: David Axelrod's suggestion that Bush's policies and legacy — but not Bush himself — will be key to the Obama campaign's effort to draw a sharp contrast between where Romney and Obama would take the economy.

Axelrod joked that Bush the man would get about as much of a mention at the DNC as he did at the RNC — which is to say, almost none at all — but said Bush economics would be very much on the agenda.

"We are going to take issue with the policies that were in place in the last decade, because this is where they want to go back to," Axelrod said. "These are the policies that they want to embrace once again."

(…)

Dems think Romney erred badly at his convention by focusing too hard on softening his image (which appeared to be a success) without drawing a clearer picture of his plans for the economy. They think that's created an opening to draw a much more specific road map of their own.

"We try and look at this through the eyes of people who are still considering their choices," Axelrod said. "They tuned in hoping to hear some practical solutions to the challenges we face." Instead, Axelrod said, they heard "buzz words for the base."
Given Axelrod's comments on the conference call, Castellanos's observation is well-played. While Republicans such as Jeb Bush have begin to push back on the Obama campaigns continual efforts to blame their inability to impact the economy in a more positive manner on the economic conditions handed to him by his predecessor, it's also true that George W. Bush remains exceeding unpopular with American voters. So, it's only natural that the Democrats would seek to tie Romney to Bush era policies that they contend led to the economic collapse (in large regard, that's a dubious argument, but that's an argument for another day.) Romney only tends to reinforce that when he speaks in broad generalities rather than getting specific about policies. While I tend to disagree with Steven Taylor that Romney erred in not providing more policy in his speech Thursday night, I do think that the campaign is making a serious error by not responding to the efforts by the Obama camp to tie their candidate to the last Republican President. By not doing so, the Romney campaign makes it very easy for them to do that by not trying to differentiate themselves from a President that even most Republicans seem to realize, albeit not publicly acknowledge, was largely a disaster when it comes to fiscal matters.
Quite frankly, when Romney selected Paul Ryan as his running mate I thought that this is exactly what Romney was trying to do. Say what you will about Ryan's budget proposals, but they are a sharp break from what was being done during the Bush Administration and they are, at the very least, substantive ideas regardless of what one thinks of them. Instead, as soon as Romney joined the ticket, his plan got swept under the rug and he jumped on board with Romney's proposals, which meant abandoning several of the central premises of the Path To Prosperity. So, now, they campaign is going to be hammered all next week as being a return to the Bush Era, just as Democrats for decades attacked Republicans as being a return to Hoover, and Republicans attacked Democrats as being a return to Carter. Unless Romney comes up with a way to answer the question that Castellanos brings attention to, he's going to find a big millstone around his neck with the name "George W. Bush" stamped on it.