The Race For The Republican Nomination Is Still The Donald Trump Show
Even as the focus of the Presidential race shifts to national security, Donald Trump continues to lead the race.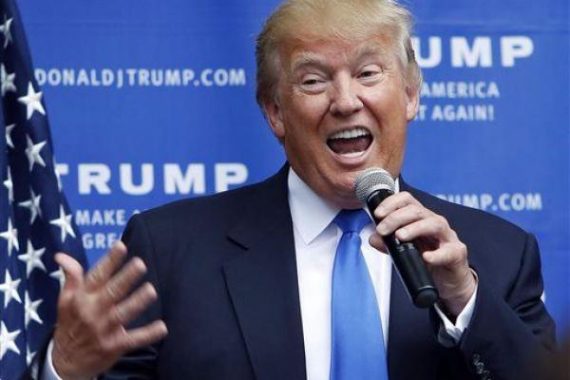 Two new polls show Donald Trump continues to strongly lead the Republican field.Neither one of them will count toward determining eligibility for the next debate. However, they do continue to confirm the overall narrative of the race and indicate that the Paris attacks and the controversy over the admission of Syrian refugees has had seemed dominate the political conversation for the past week.
First up, the new Reuters/Ipsos poll has Trump garnering 37% of respondents, with Ben Carson far behind in second place at 14%. Marco Rubio is in third place and the only other candidate in double digits, followed by Ted Cruz and Jeb Bush tied for fourth at 8%, and then Rand Paul at 5%, which is better than he's done in many recent national polls. From there, the numbers drop precipitously, with Carly Fiorina, Mike Huckabee, and Chris Christie all at 3%, Lindsey Graham at 1% along with the now-withdrawn Bobby Jindal, and all remaining candidates garnering 0%. This poll, which was taken entirely in the aftermath of the Paris attacks last Friday, also shows Trump and former Secretary of State Hillary Clinton as the two candidates that voters believed to be best able to handle terrorism.
Another new poll from NBC News and SurveyMonkey also show a Trump lead even in the wake of Paris, but by a smaller margin:
Donald Trump's grip on the Republican presidential race grew tighter on Friday as the standing of Ben Carson fell in the latest NBC News/Survey Monkey online poll of Republican and Republican-leaning voters nationwide. Texas Sen. Ted Cruz, meanwhile, is moving closer to the top.

The Manhattan business mogul picked up 28 percent, followed by Carson and Cruz, who are tied at 18 percent. In the previous survey, released in October, Trump and Carson had been locked in a virtual tie at 26 percent each, followed by 10 percent for Cruz.

In the latest survey, Florida Sen. Marco Rubio trails the top three with 11 percent, followed by former Florida Gov. Jeb Bush at 4 percent and New Jersey Gov. Chris Christie and former Hewlett-Packard CEO Carly Fiorina tied at 3 percent. All other candidates earned less than 3 percent support.

Carson is the top candidate of 25 percent of white evangelicals, though his advantage in that group has declined 8 percentage points since last month. Meanwhile, Trump, with 23 percent, and Cruz, at 22 percent, have gained on the retired neurosurgeon among that religious community.

Carson's drop comes after weeks of media stories and reporting over his past biographical details, as well as renewed skepticism over his foreign policy acumen. In an interview with" Fox News Sunday," Carson could not name one country he would invite to participate in a coalition to fight the Islamic State after last Friday's attacks in France. And on Tuesday, The New York Times quoted Duane Clarridge, an adviser to Carson on national security and terrorism, who told the paper that the candidate has struggled to "get one iota of intelligent information about the Middle East." In response, the Carson campaign bashed the Times for taking "advantage of an elderly gentleman."
Both the Reuters/Ipsos and NBC/Survey Monkey polls are, it is worth nothing, online polls. That doesn't mean that they are polls that anyone can vote in, or ones that respondents should be able to vote in multiple times, thus skewing the results beyond anything resembling statistical integrity. Instead, they are polls conducted online and made up of panels that are, in theory at least, randomly selected from pre-registered groups of people who have already provided demographic information and other information that is supposed to aid the polling organizations in coming up with something resembling a representative panel. Part of this process assumes, of course, that the online participants are being truthful in their responses, but then that is largely true of all polling. Additionally, while these online polls have been largely consistent with the more traditional polls released around the same time, they have tended to show Trump and Carson doing better than the more traditional polling. In any case, with those caveats in mind, while they are untested these polls are seemingly becoming more common and thus worthy of at least being paid attention to. Whether they end up being of value in the future will depend on whether or not they end up being consistent with election results further down the line.
As I said, these polls are not going to have any impact on debate eligibility since they aren't among the polls that CNN said they would consider and aren't likely to be considered by other debate sponsors during this election cycle due to their relative novelty. RealClearPolitics, for one, does not currently include any of these polls in its averages right now. Pollster does, however, and with those polls included, Trump is presently at 30.4%, giving him nearly a twenty-three point lead over Ben Carson and a nearly twenty-nine point lead over Marco Rubio, and a nearly thirty point lead over Ted Cruz. By way of comparison, RealClearPolitics gives Trump a roughly three point lead over Carson, twelve points over Rubio, and thirteen points over Cruz. Both of these new polls, and the poll average, also show a slight up-tick in Trump's support since the Paris attacks, although it's worth noting that so little time has elapsed since that event that it's difficult to say what the long-term impact of what looks to be a shift in emphasis in the race toward national security issues will actually be between now and the first primaries in February.
Update: A new series of state-level polls from CBS News further cements Trump's status at the top of the field. In Iowa, Trump is back at the top of the field at 30% after several weeks in which Ben Carson had taken a small lead. Carson, meanwhile, has fallen to third place in the Hawkeye State at 19% and Texas Senator Ted Cruz has surpassed him to take second place behind Trump at 21%.  Marco Rubio comes in fourth in that poll as the only other candidate in double digits. This gives Trump a 4.7 point lead in the poll average in Iowa. In New Hampshire, Trump is at 32% in the new CBS poll followed by Marco Rubio at 13% and Ted Cruz and Ben Carson tied at 10%, while a new Boston Globe poll in the Granite State gives Trump 22%, followed by Rubio at 11%, Carson at 10%, and Cruz at 9%. Oddly, the Boston Globe also ran a question with Mitt Romney in the mix that showed the 2012 Republican nominee leading all the Republican candidates, including Trump, with the 31% of the vote. Since Romney obviously isn't running, this is kind of a meaningless statistic. These two polls leave Trump with a 16.6 point average lead according to RealClearPolitics, with Rubio, Cruz, and Carson, in that order behind him. Finally, in South Carolina, Trump is at 35% in the new CBS poll, with Carson at 19%, Rubio at 16%, and Cruz at 13%. This gives Trump a 5.7 point lead in the Palmetto State, with Carson the only other candidate averaging above 20% but clearly fading.