The Smoothest Transition in Decades
We're witnessing something not seen since 1989.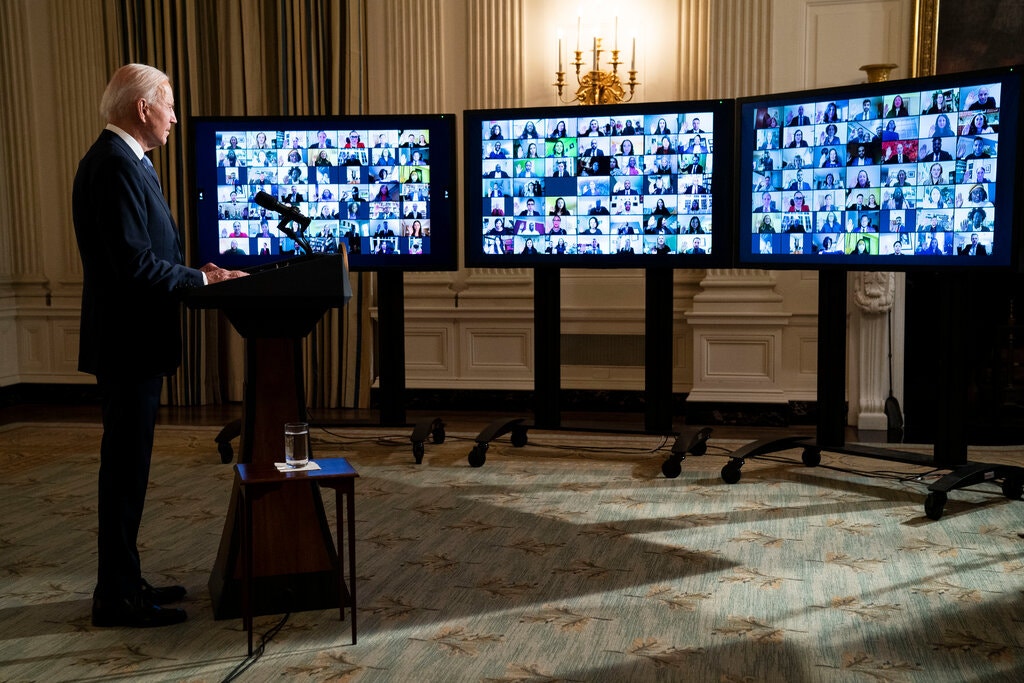 New York Times national security correspondent David Sanger's report with the cryptic headline "Biden Team Rushes to Take Over Government, and Oust Trump Loyalists" has the sinister subhed "President Biden named nearly all of his cabinet secretaries and their immediate deputies before he took office, but his real grasp on the levers of power has come several layers down." It is, uncharacteristically for Sanger, a somewhat confusing piece, conflating signs of professional management with rather unorthodox, arguably illegal, practices.
When President Biden swore in a batch of recruits for his new administration in a teleconferenced ceremony late last week, it looked like the country's biggest Zoom call. In fact, Mr. Biden was installing roughly 1,000 high-level officials in about a quarter of all of the available political appointee jobs in the federal government.

At the same time, a far less visible transition was taking place: the quiet dismissal of holdovers from the Trump administration, who have been asked to clean out their offices immediately, whatever the eventual legal consequences.

If there has been a single defining feature of the first week of the Biden administration, it has been the blistering pace at which the new president has put his mark on what President Donald J. Trump dismissed as the hostile "Deep State" and tried so hard to dismantle.

From the Pentagon, where 20 senior officials were ready to move in days before the Senate confirmed Lloyd J. Austin III as defense secretary, to the Voice of America, where the Trump-appointed leadership was replaced hours after the inauguration, the Biden team arrived in Washington not only with plans for each department and agency, but the spreadsheets detailing who would carry them out.

A replacement was even in the works for the president's doctor: Dr. Sean P. Conley, who admitted to providing a rosy, no-big-deal description of Mr. Trump's Covid-19 symptoms last year, was told to pack his medical kit. While all presidents eventually bring in their own doctor, Mr. Biden wasted no time bringing back a retired Army colonel, Dr. Kevin O'Connor, who was his doctor when he was vice president.

Mr. Biden had named nearly all of his cabinet secretaries and their immediate deputies before he took office last Wednesday, most of them familiar faces from the Obama administration. But the president's real grasp on the levers of power has come several layers down.
As Sanger notes, this is well ahead of Trump's pace. That's not at all surprising. As I've noted before, Biden has been working on his transition since at least April whereas Trump clearly never expected to govern, having barely started a transition process before Election Day and then scuttling everything and starting over a few days after.
But it's also true that this is, in many ways, the third term of the Obama-Biden administration. Whereas Trump took over eight years removed from the last Republican Presidency—and had run against the Establishment, so essentially had no bench from which to draw—Biden is merely four years out of office. Almost everyone he's picking was in his administration; many of them are just moving one notch up the ladder.
There's also something else going on here: the use of the term "holdover." In the Trump administration, that term—to the frustration of many of us—was applied to career professionals who had been seconded to the Obama White House to work at the National Security Council or in appointed posts. These people are expected to be nonpartisan civil servants but Trump and his team saw them as inherently disloyal. Sanger seems to be using the term differently but it's not clear until well into the report what he means.
The tone was set before Mr. Biden was sworn in. On the Saturday evening before the inauguration, Michael Ellis, a Trump loyalist, was installed as general counsel of the National Security Agency on the orders of Mr. Trump's acting defense secretary. It was a classic case of "burrowing" a political appointee into the bureaucracy in a new, nonpolitical job classification that would make it hard to fire him.

But after Mr. Biden became president, Mr. Ellis was immediately placed on administrative leave while the National Security Agency's inspector general examined the circumstances of how he was chosen. Now it is unclear if Mr. Ellis will ever serve in the job.

The Trump administration made a similar attempt to burrow officials into the United States Agency for Global Media, which broadcasts around the world, with similar results.

Some officials were fired outright. The Biden team told Victoria Coates, a former Trump national security official who was made the head of the government's Middle East Broadcasting Networks in the last days of the administration, that it did not care that her contract called for her to serve at least two years and that she could not be removed unless she was convicted of a felony. Her email was cut off at the end of last week in what she called "a shocking repudiation of President Biden's call for unity and reconciliation."
On balance, I think this is the right call. These aren't career professionals but rather hacks and vandals sent to destroy the institutions from within. Still, this will set the precedent that new Presidents can fire people in tenured posts. There are all manner of positions created by Congress that, while appointed by the President, are for a fixed time period. If Biden can simply ignore the law, then he and future Presidents can simply install their cronies.
That paragraph, though, is followed by this:
In every department, there is already a Biden team on the ground, including those like the hollowed-out Housing and Urban Development, which was run for the past four years by a disengaged secretary, Ben Carson, and a group of ideologically oriented appointees.

The first and most critical pick by the Biden team for the department was Jenn Jones, a top policy adviser to Julián Castro, Mr. Obama's last HUD secretary.

Ms. Jones was placed in the role of chief of staff — in many ways acting as the de facto head of the agency pending the confirmation of Mr. Biden's nominee, for secretary, Marcia L. Fudge. The policy team has already hired Richard Cho, an executive with a New England coalition that tackles homelessness, and Peggy Bailey, the head of housing for the progressive Center on Budget and Policy Priorities.

At the Department of Health and Human Services, largely ignored by Mr. Trump, at least 18 new political appointees have taken up position, still a fraction of a department that is typically run by over 100.

But one or two well-placed allies can mean a decisive change of direction. One key appointment is Dr. Benjamin Sommers, a Harvard health economist and an alumnus of the department. He took a top role in the agency's research office, which had been hijacked under Mr. Trump by political appointees who warped reports, web pages and planning documents, rooting out flattering references to the Affordable Care Act and inserting anti-abortion language.
Unlike the ouster of protected personnel, this is not the least bit problematic. It is, however, unusual, in that most new administrations don't have their act together at this juncture and are still scrambling to fill posts. While Trump was an extreme outlier, Obama was a novice when he took office in 2009, having only his campaign and Senate staffers. Certainly, a lot of people from the Bill Clinton administration ultimately joined but, given the contentious primary fight with Hillary Clinton, there were natural tensions.
But, again, this is really a restoration of the previous administration. We haven't seen anything like this since 1989, when George H.W. Bush acceded to the presidency after eight years as Ronald Reagan's deputy.
I don't love the way the next bit is framed:
Then there is the Department of Homeland Security, where the nomination of Mr. Biden's pick to lead the agency, Alejandro N. Mayorkas, has been stalled by political fallout from the president's attempts to roll back Mr. Trump's immigration restrictions.

The Biden administration has swiftly moved political appointees deep into the department's bureaucracy. In an example of Mr. Biden's pivot from Mr. Trump's aggressive immigration measures, Timothy Perry, a former official with the California Governor's Office of Emergency Services, will replace Kathy Nuebel Kovarik, a former staff member for Senator Charles E. Grassley, as chief of staff of Immigration and Customs Enforcement.

Ashley Tabaddor, a constant critic of the Trump administration as the former head of the union that represents immigration judges, will take over as chief counsel at U.S. Citizenship and Immigration Services, the federal legal immigration agency.

At the Justice Department — where morale was largely decimated and Biden administration officials are eager to begin reversing Trump policies on civil rights, immigration and police oversight — all of the department's top incoming acting department heads are alumni, some of whom worked under multiple administrations.

Until Judge Merrick B. Garland is confirmed as attorney general, Monty Wilkinson, a longtime career employee who worked closely with Eric H. Holder Jr. when he was attorney general, is serving in an acting capacity.

The acting deputy attorney general is John P. Carlin, who ran the national security division of the Justice Department during the Obama administration. He is holding the office only until Lisa Monaco, who has worked closely with Mr. Carlin over the years, can be confirmed as deputy attorney general. She served as homeland security adviser under Mr. Obama and, during the Trump years, she and Mr. Carlin ran a group studying the hardest issues in cyberpolicy.

Much as the politicization of the Justice Department angered Mr. Trump's critics, the neutering of the Environmental Protection Agency prompted outrage from progressives, and it is probably no surprise that the agency is already in the throes of transformation.

About a month before Inauguration Day, a Trump official who ran the water office, Charlotte Bertrand, suddenly emerged as the woman who would take over as acting administrator if the head of the agency resigned. When that moment came, she never had a chance to settle into the chair.
While, again, having people ready this fast hasn't happened in decades, there's nothing sinister about it. There are simply a huge number of appointed policy positions in government with relatively few of them requiring Senate confirmation. Biden just already has a ton of them in place.
Typically—and, again, this was true for Obama—career officials will be all that's left standing when there's a party transition. It often takes months to get appointees into place. But, even with Obama, I saw several people from the think tank world—including from the Atlantic Council, where I was working at the time—go in at the Deputy Assistant Secretary level and equivalent right away. These people will then serve as Actings while the higher-level appointees wind through the Senate confirmation process.
But, crucially, none of this constitutes moving "political appointees deep into the department's bureaucracy." While chiefs of staff and deputy assistant secretaries and even (Senate-confirmed) assistant secretaries can be drawn from the ranks of career professionals, they're appointed by and serve at the pleasure of the President.
That Biden is good at his job is not a bad thing. It means he's hitting the ground running:
Just hours into his presidency, Mr. Biden named Jane Nishida, the agency's principal deputy assistant head of the Office of International and Tribal Affairs, to lead the agency until his nominee, Michael S. Regan, North Carolina's top environmental regulator, is confirmed.

But long before Mr. Regan gets to the building, a cadre of young staff members — a roster that reads like a who's who of climate change policy wonks, many of them culled from the Obama administration — will be at work.

Tiernan Sittenfeld, the senior vice president for government affairs at the League of Conservation Voters, said the team of seasoned staff members was chosen specifically to make quick work of reversing Mr. Trump's policies.

"It was clear that we were coming off of the most anti-environmental, anti-climate action administration we've ever had," Ms. Sittenfeld said. She added: "The need to act immediately was going to be so vitally important. There was a very intentional, very thoughtful, ambitious effort to get highly skilled experts in place right away."
This is what it looks like to have a professional Washington insider in a job that usually goes to an amateur.