The Tea Party Takes a Hit
The Tea Party guys had a bad year.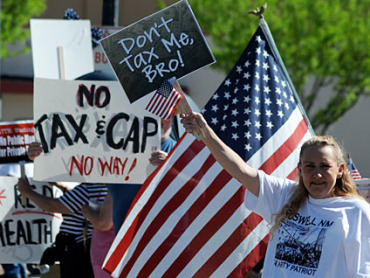 To state what I hope is obvious, I've never liked the Tea Party folks (see here and especially here). They have retrograde views on women, false views on economics and they are dangerously stupid (see Fiasco, Debt Ceiling).
So, I find a certain amount of pleasure in seeing them lose so much during 2012. Over the last two election cycles they have essentially cost the Republicans five Senate seats and control of the Senate, which I suppose I should thank them for. Even though they had a bad year, though, they still remain a force in the House as the vote on "Plan B" demonstrated.
Chris Cillizza has a good article in the WaPo that details their failures for the year:
Fueled by the grass-roots energy and, in some places, anger of tea party members, Republicans gained more than five dozen House seats in 2010, a sweep that put Boehner — an institutionalist's institutionalist — at the top of a GOP he didn't really recognize anymore.

For the first two years, Boehner was a SINO (Speaker in Name Only) as he regularly saw his legislative and political goals upended by the purists in his party who regarded compromise as capitulation. The debt-ceiling fight of 2011 was a sign of things to come for Boehner. The speaker engaged in long and serious talks with President Obama aimed at not simply raising the country's debt limit but also addressing our long-term budget problems. But as it became clear that Boehner was going to have to give to get, the tea party crowd in the House, who saw the debt ceiling vote as a chance to tie the government's purse strings, made clear that they wouldn't be going along to get along.

Then came the 2012 elections, a rebuke of the tea party's ideas and leaders. Sensing an opportunity to wrest control of his party, or at least the House GOP, back from the fringe, Boehner went on offense. He kicked Reps. Tim Huelskamp (Kan.), Justin Amash (Mich.) and Dave Schweikert (Ariz.)off plum committees after the election, insisting that they had been insufficiently loyal to the party leadership on key votes — the most notable of which was on the budget proposal put forward by Rep. Paul Ryan (Wis.), the vice-presidential nominee.

Stories of Boehner's reemergence were crafted, citing his renewed power over his Republican colleagues and using the tea party committee purge as example No. 1. Emboldened by his newfound strength, Boehner set out to show some force in his negotiations with Obama over the "fiscal cliff." He introduced "Plan B," a bill that would preserve the George W. Bush-era tax cuts on everyone except those making $1 million or more a year, and he held a 51-second news conference pledging that it would pass the House and daring the president to ignore it.

Twenty-four hours later, Boehner released a statement admitting defeat. Plan B never made it to the House floor. The speaker and Majority Leader Eric Cantor couldn't come close to securing the votes required.

The defeat was spurred by the tea party, which saw Boehner's plan not as a way to put political pressure on the president but as an unnecessary sacrifice of a core principle. That principle? It's never okay to raise taxes on anyone. As Boehner's strategy sunk, and with it, his power as speaker, it was the lawmakers he had punished who celebrated most heartily.

"Republican leadership thought they could silence conservatives when they kicked us off our Committees," Huelskamp said in a statement after Plan B's demise. "I'm glad that enough of my colleagues refused to back down from the threats and intimidation, thus preventing the Conference from abandoning our principles."

Huelskamp's victory, of course, was Pyrrhic. With Boehner marginalized, Obama and Senate Majority Leader Harry Reid have been left to sort out a fiscal cliff deal — one that almost certainly will be worse for Republicans than what Boehner proposed.

[…]

Mourdock summed up his view of government succinctly the day after he beat Lugar. "I don't think there's going to be a lot of successful compromise," he said on CNN. "I hope to build a conservative majority in the U.S. Senate so bipartisanship becomes Democrats joining Republicans to roll back the size of government."

He never got a chance to see that vision realized, because of a bit of political hara-kiri he committed in a late-October debate with Democratic Rep. Joe Donnelly. Asked about abortion, Mourdock paused, then said that "even when life begins in that horrible situation of rape, that is something that God intended to happen."

And, scene. As Mitt Romney carried the Hoosier State by 10 points, Mourdock lost to Donnelly by six points — a defeat that establishment Republicans immediately used to argue that the tea party's political compass was either badly miscalibrated or nonexistent.
As I said, I take some modest pleasure in this as I despise the Tea Party and everything it stands for. Of course, things were even stranger when Dick Armey got involved:
Beset by challenges on all sides, the tea party needed a leader. Instead, in early September, it got an attempted armed coup — a truth-is-stranger-than-fiction scenario in which former Texas congressman Richard K. Armey tried to seize control of FreedomWorks, a pillar of the movement. (Armey brought an aide with a handgun holstered at his hip to the FreedomWorks headquarters as he attempted to take over. And no, that is not a joke.)
These quotes don't even mention the horror that is Todd "legitimate rape" Akin. I'm not completely joyful, since the Tea Party still has influence, but I'll take what I can get.