The Tea Party's Candidate Selection Problem
From the beginning, the Tea Party has shown itself to be just plain bad at picking candidates. This year, they finally seem to be on the verge of paying for it in the GOP primaries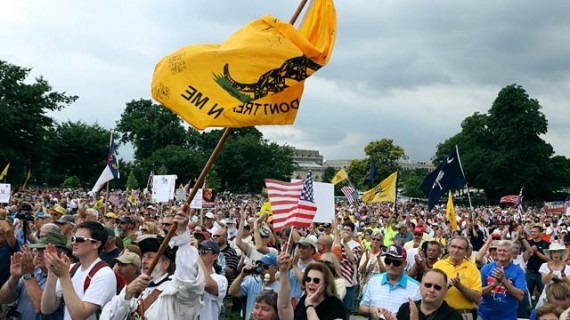 The Wall Street Journal's Kimberly Strassel hits the nail on the head in her diagnosis of why Tea Party candidates such as Matt Bevin seem to be bombing in Republican primaries:
The Senate Conservatives Fund, FreedomWorks, the Madison Project, the Club for Growth and some tea party groups roared into this primary season determined to claim more GOP scalps. The roar has faded to a whimper. In every race involving a Senate Republican incumbent, the outsider candidate is lagging—if not holding a 20-point deficit.

The challengers aren't bombing because of a lack of money or the "establishment," but mainly because of some mind-boggling embarrassments. Dr. Milton Wolf, challenging Pat Roberts in Kansas, was discovered to have a penchant for posting gruesome X-ray images of dead people on Facebook.  (Whoops.) Kentucky's Matt Bevin, challenging Mitch McConnell, has been forced to explain his changed positions on the 2008 government bank bailout, and more recently his presence at a cockfighting rally. (Uh-oh.)

Chris McDaniel, a lawyer and state legislator challenging Mississippi's Thad Cochran, spent April dealing with past comments as a radio host, including derogatory references to Mexico and "Mamacita." He's also fielding awkward questions about his past plaintiffs' work, including his request that a judge blow up Mississippi's tort reform. (Ummm.)

These episodes have turned off the very people these outside groups claim to represent: the grass roots. Many Republican voters—even those desperate for a party shake-up—simply aren't comfortable supporting a doctor who publicly mocks gunshot victims. They expect (and deserve) something more serious. That's to their credit, and it's tempting to therefore write off all this as proof the system works. Bad candidates lose. No harm done.

Only that ignores the harm done. Consider the waste, at a time when the conservative movement can ill afford to squander resources. There is no disgrace in backing a sound and serious candidate who can't quite carry it over the finish line. That's honest primary competition. By contrast, it is political malpractice to throw tens of thousands of donors' dollars at a candidate whose Facebook posts or past radio shows no one bothered to check. It's called V-E-T-T-I-N-G.

The best insurgent candidates are those who demonstrate an ability to raise money and attract voters (think Ron Johnson, Marco Rubio, Pat Toomey, Deb Fischer ) even before the endorsements of outside groups. One of the Club for Growth's best Senate prospects this year is Arkansas's Tom Cotton (challenging Sen. Mark Pryor ), who has spent two years in the House. By contrast, most of the current incumbent-challengers were "created" by outside groups. They'd ordinarily never have had a showing—and for good reason.

There's also the damage to the movement. The press is churning out stories about how the tea party is fading fast. That's terrifically unfair to the grass-roots, which hasn't been given candidates worth rallying around. Primaries matter and conservatives have legitimate grievances with some incumbents. They've been cheated this time, because too many of the D.C. insiders running these groups have been more interested in settling grudges against Mr. McConnell than in doing their homework.
McDaniel, of course, is only one of the Tea Party candidates that are having problems. The efforts of several candidates backed by different Tea Party groups to defeat Texas Senator John Cornyn of Texas ended in a bitter, crushing defeat. Matt Bevin looks like he's on the way to a crushing loss to Minority Leader Mitch McConnell in Kentucky. Lamar Alexander looks to be safe against the primary challenges facing him, and the Tea Party campaign against him has largely died. North Carolina House Speaker Thom Tillis seems likely to win that state's Senate Primary next Tuesday despite the fact that one of his opponents, Greg Brannon, has been endorsed by Senator Rand Paul. The various candidates challenging Lindsey Graham in South Carolina don't seem to be getting anywhere, which in and of itself may end up being the hardest defeat for Tea Party activists to face this year. As for McDaniel in Mississippi, I'm not seeing any evidence that McDaniel is making any inroads against Thad Cochran. All around, the Tea Party seems to be heading for disappointment in 2014, and a large part of that can be blamed on the candidates that they have chosen to back.
Picking candidates that have serious problems isn't something new for the Tea Party, of course. Four years ago, they were the main force behind losing candidates like Christine O'Donnell, Sharron Angle, and Joe Miller in 2010 and Richard Mourdock in 2012. Moreover, many of the Tea Party candidates that won have proven themselves to be, to put it mildly, less than desirable. Allen West and Joe Walsh, for example, competed with people like Michele Bachmann and Louie Gohmert for the title of "Craziest Republican Member of Congress" during the time that they were in office. Beyond the crazy, though, the Tea Party Caucus in the House, and Tea Party Senators such as Ted Cruz, don't really have much in the way of accomplishments to show for all the time they've been in office. Gridlock, showdowns, and shutdowns, that's about all that it amounts to. That may resonate with the base that they are appealing to, but it doesn't seem to me to be the kind of governing strategy designed to win over middle of the road voters in states like Ohio, Virginia, Florida, or anywhere else in the country.
This isn't to say that every candidate that Tea Party groups support is inferior. As Strassel notes, Senators Johnson, Rubio, Toomey, Fischer, and others have been quite effective in reaching out not only to the right wing of their party, but to voters across all demographic groups. Rand Paul has also been an effective legislator in his own way, especially when it comes to bringing issues such as NSA surveillance and the wisdom of American foreign policy to the public's attention. In the House, legislators such as Justin Amash and Thomas Massie have also done a good job of pushing their ideas without coming across as flakes like the Bachmann's and Gohmert's of the world. For the most part, though, the Tea Party has suffered from the beginning from a horrible candidate selection problem. This year, it finally seems to be coming around to bite them in the primaries. The question, of course, is whether they'll learn a lesson from these experiences.