The Tragedy of John Allen
Do we ask too much of our leaders?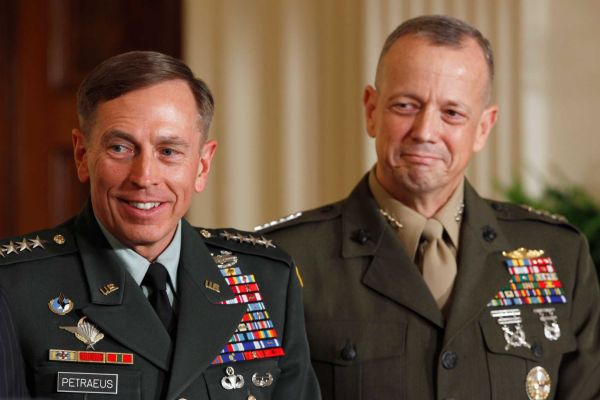 Daniel Klaidman explores "The Tragedy of John Allen & the Petraeus Scandal."
Sometime this winter, sitting in his hooch in Afghanistan, Marine Gen. John Allen was reduced to calculating the simple, inescapable math of wartime separation. He'd been away from his wife and two daughters for more than 50 of the previous 72 months, most of it in war zones. According to an Allen aide, he hadn't taken a vacation with his wife since their two daughters, now grown, were children. In the previous 19 months, as the U.S. commander of the war in Afghanistan, the only home leave he'd taken was to return to Washington for strategy meetings. Instead of relaxing with his family, he spent the evenings cramming for congressional hearings.

Through it all, Kathy Allen, his bride of 35 years, had been the ever-dutiful military wife. But what most could not see from the outside was a more private and painful dimension of her sacrifice. The Allens lost all three of their surviving parents between 2010 and 2012. Both of Kathy's parents died in 2010. She bore the weight of losing her mother and father while her husband was away. When Allen's mother was dying last year, the aide said, she shouldered the burden for her husband, shielding him from the full details of her condition so he could lead the war effort in Afghanistan unencumbered by personal preoccupations. Finally, last August she called her husband in Afghanistan to tell him that his mother had died.Meanwhile, Kathy was suffering from a series of chronic illnesses, including an auto-immune disorder. In recent years, Allen had offered to retire from the military—to "drop his letter," as he put it—should she be overwhelmed. Kathy always said no, soldiering on with little complaint. She has been a "weary stoic," says a friend of the family who didn't want to be named discussing their private affairs.

[…]

Yet last November, just as he was winding down his tour in Afghanistan, Allen became embroiled in the sex scandal that led to the downfall of CIA Director David Petraeus. The news had broken while he was back in Washington awaiting Senate confirmation for his next assignment: Supreme Allied Commander Europe, known colloquially as SACEUR. Instead of a smooth transition to one of the military's most prestigious posts, Allen had become the subject of a full-blown Washington media frenzy.

Petraeus had resigned after it was discovered that he was having an affair with his biographer, Paula Broadwell. But by then investigators had uncovered a cache of personal emails between Allen and Jill Kelley, a Florida socialite whom Broadwell saw as a rival for Petraeus's affection. One knowledgeable source recently described the emails to Newsweek as "flirty but unconsummated." Allen denied that he had committed adultery or that there was anything inappropriate about the exchanges. He even let it be known that he had taken precautions never to be alone with Kelley. But bureaucratic and political realities in Washington demanded an investigation, placing Allen under a cloud of suspicion. A source close to the family says the Allens were devastated by the tabloid treatment in the press, including false reports that the email exchanges were the digital equivalent of phone sex.

[…]

When he returned to Washington last month, even his closest aides believed he might still accept his promotion. But in the weeks leading up to his decision, Kathy's health had taken a dramatic turn for the worse, including multiple emergency-room visits, likely brought on by stress. So at age 59, after a brilliant 41-year career in the Marines, he decided to hang up his boots. After announcing his retirement, he told The Washington Post's Rajiv Chandrasekaran, "Right now I've just got to get [Kathy] well. It's time to take care of my family." A spokesman for Allen, Maj. David Nevers, portrayed Kathy's health as the main factor in Allen's decision, though he also conceded that "the investigation took a toll."
Klaidman argues that "we have continued to hold our military officials to a much higher standard of personal conduct—even as the demands we place on them have grown ever more grueling and extreme" than we do our elected officials. That's certainly true, although I'm actually fine with that. The David Vitters of the world are accountable to their constituencies; our general and flag officers are part of a profession with honor as its core value.
Nor am I persuaded by Klaidman's lament that, "if we don't change our standards, won't the inevitable result be more meaningless scandals—and more wasted careers?" Maybe. But, as valuable as Petraeus and Allen have been in their nation's service, it's not as if we lack for talented men behind them. John Brennan should be an outstanding CIA director and Joe Dunford a fine SACEUR.
To me, the "tragedy" of Allen and Petraeus isn't so much that their careers have been derailed; that's truly a shame but the qualities that got them to their previous exalted perches will enable them to bounce back. Rather, it's that the price of greatness seems to have been sacrificing their families.
In the particular case of generals running wars, it's a reasonable trade-off. For those two years, the tens of thousands of troopers whose lives have been entrusted to their command are in fact more important than their wives and children. But we essentially demand that level of sacrifice of all our senior officers and, to a lesser extent, the entire force. That's the nature of being on a constant war footing for over a decade.
While not exactly the same thing, we demand the same sort of sacrifice of leaders in all walks of life.  Anne-Marie Slaughter set off a months-long conversation about balancing career and family demands with her "Why Women Still Can't Have It All" cover story in the July/August issue of The Atlantic. While running the State Department's policy shop doesn't carry the same burdens as running a war, it nonetheless demands roughly the same work schedule. So does being a Fortune 500 CEO.  For that matter, so does being a head football coach in the NFL or the major college level.
Through a combination of external pressures and self-driven passion to excel, 18-hour days, working weekends, skipping vacations, and otherwise making work the center of one's existence is the norm at the top of many industries. In most of them, it's also the price of getting to the top.