The West Wing And American Politics
Not surprisingly, television and reality don't really coincide.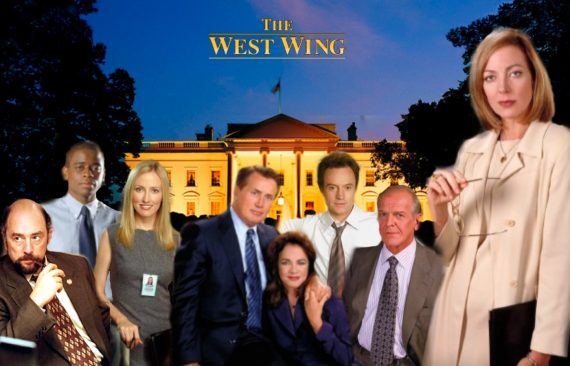 Though it's been off the air for six years now, Aaron Sorkin's political drama The West Wing remains a favorite of many people who are observers and commentators of the political scene. It's quite easy to see why. After all, what other television show has ever done an entire episode about a Senate filibuster, the manner in which White House staffers try to cajole votes for a piece of legislation in Congress, the State Of The Union Address (on multiple occasions), or, of all things, the 25th Amendment and the idea of a Speaker of the House temporarily taking over the Presidency? For political campaign geeks, the re-election campaign of President Bartlet, which covered most of Season Two and part of Season Three, along with the campaign to succeed him that dominated the plots of Seasons Six and Seven, were made to order. Heck, they even had a brokered convention and a Vice-President who died on the night of the Presidential Election. Combine that with generally superior acting and writing throughout the show's run and you've got everything the political geek, and many other Americans, could want.
As Yair Rosenberg explains at The Atlantic, though, the show really isn't a good guide to understanding what politics is like in the real world:
You wouldn't think to learn medicine from House or jurisprudence from Law & Order. But can you learn democratic governance from The West Wing? Some people seem to think so. At a ceremony honoring Burmese opposition leader Aung San Suu Kyi, Secretary of State Hillary Clinton reportedthat politicians in Burma have told her they've been attempting to understand democracy by watching Aaron Sorkin's celebrated show. It's actually not the first time a foreign official has made such a claim: European Union Foreign Minister Catherine Ashton told Newsweek in 2010 that she learned about America and "the mechanics of Washington life" from being "an avid viewer of The West Wing." Hillary Clinton, for her part, said she told one of the Burmese politicians that "I think we can do better than that."

Clinton's comment has provoked some backlash among West Wing faithful. Writing at the New Yorker, Ian Crouch argues at some length that "Clinton may be wrong in overlooking the power ofThe West Wing as a pedagogical tool." But Clinton — who has not-insignificant experience in this area — is absolutely right. While The West Wing may be some of the best American television ever produced, it is not a particularly accurate or insightful guide to the actual workings of American democracy. In fact, the very artistic and narrative choices that make it a superb drama make it a very poor representation of politics.
Well, that's a rather obvious observation, actually. The West Wing was never intended to be a treatise on American democracy or a recitation of history. After all, it existed in a universe where Presidential elections were held in completely different years than those in which we hold Presidential elections, and when it did make reference to former Presidents they were invariably fictional (although Owen Lassiter was quite obviously meant to be a fictionalized Ronald Reagan.) Nonetheless, it's undeniable that The West Wing did have an influence on people who were involved or interested in politics at the time it aired. For Democrats in the 90's and 2000's, it strikes me that it represented an idealized version of the perfect Democratic Presidency. For Republicans, and yes there were and are Republican fans of the show, I would suggest it represented a Democratic Presidency they could admire if not support, sort of a mix between John F. Kennedy and Harry Truman.
And yes, as Rosenberg points out, the whole thing was entirely unrealistic:
Rather than depicting how our government actually functions, The West Wing reflects many popular misunderstandings of it. To begin with, by situating itself in the White House and focusing almost exclusively on the individuals who inhabit it, the show inevitably falls prey to the fallacy of personality-driven politics. Thus, in Sorkin's fictional universe, a towering presidential figure — Josiah Bartlet — aided by a tireless staff of wunderkinds is able to tackle international and domestic crises through a mix of political dexterity and rhetorical finesse. There are few impasses an eloquent appeal cannot solve, and almost no foreign-policy conundrum for which a clever solution cannot be conceived. Outsiders — from the American people and their electoral preferences to foreign leaders and their national interests — play only bit parts in the ensuing drama.

Consider the following examples: In the show's sixth season, the charismatic Bartlet locks himself in a room with the Chinese president and — despite being hobbled by an attack of multiple sclerosis — personally secures an unprecedented summit for nuclear talks with North Korea. Now, China and the United States have dramatically different outlooks on everything from human rights to nuclear proliferation, not to mention entirely conflicting systems of governance. The show does not explain how these chasms are bridged. It simply implies that the difficulties of seemingly irreconcilable ideologies and national interests are no match for our protagonist's force of personality.

Earlier that season, the Bartlet Administration brings peace to the Middle East in much the same fashion. Over the span of a couple episodes, President Bartlet bangs some heads together at Camp David, commits American troops to police Palestine, and conveniently solves the Israeli-Palestinian conflict. As it turns out, the question of the division of Jerusalem can be resolved through some negotiating jujitsu and a personal plea to Israel's prime minister, who puts on a good show about how "my right arm will fall off before I ever sign a document giving up Jerusalem" (a nod to Psalm 137:5) before reneging after the commercial break.

The problem is that, contrary to the hopes of screenwriters and viewers everywhere, this is often how democratic politics actually works — through uninspiring compromise and failure. Politicians, no matter how magnetic or persuasive, are constrained by the views of their constituents and countless other factors beyond their control. (Tellingly, the Council of Economic Advisors is all but absent from The West Wing, even as political scientists have shownthat the strength of the economy largely tracks an incumbent president's reelection prospects, unlike their personality or speeches.)
All of this is true, but as a true fan of the show the thing that would bother me the most would be when the writers would get basic facts so completely wrong. For example, in an early First Season episode, we met a Congressman who was filling the seat that had been vacated when his wife passed away. The plot told us that this man had been appointed to the seat by the Governor of his State. There's just one problem, when a Congressman dies or resigns the procedure is that a Special Election is scheduled to fill the seat. It's only when a Senator dies or resigns that the Governor has the authority to appoint a successor, and then only until a Special Election can be held. There was also a glaring inaccuracy in the series finale when President Bartlet remarks that holding Inauguration Day on January 20th was something decided by "Jefferson and Adams." That's untrue on two levels. First, Thomas Jefferson was in Paris during the Constitutional Convention of 1787, and John Adams was representing the United States at the Court of St. James in London. Second, until the 20th Amendment was ratified in 1933, Inauguration Day occurred on March 4th as originally set forth in the Constitution. Minor quibbles? Perhaps, but for a show that had actual historians and political advisers on staff as consultants, it was a glaring error by the writers.
Rosenberg's bigger point, though, is a good one. For dramatic effect, the show centralized much decision making in the West Wing of the White House and largely exaggerated the roles of the President's senior advisers. In reality, there are dozens if not hundreds of people who work under them who do much of the grunt work that we end up seeing from any Administration. The other impact of the show, of course, is that it created an idealized version of the Presidency that, unfortunately, tends to reinforce many of the ideas that have supported the Imperial Presidency for decades now. Josiah Bartlet, after all, may have been an economic liberal but he was also a President who ordered the assassination of the Foreign Minister of a purported ally and sent about a hundred thousand troops into Kazakhstan to stand between the armies of Russia and China. And let's not even get into the whole "President's daughter kidnapped" plot, although it did provide for some interesting examinations of how the 25th Amendment might actually work in a crisis.
Rosenberg makes one final, compelling point:
Building a democracy around The West Wing's version of politics, then, is setting one's self up for disappointment. The show overstates the power of personalities to triumph over fundamental political realities. It exaggerates the import and impact of presidential rhetoric. And it concordantly minimizes the internal and external obstacles even the most well-meaning and capable politicians face when attempting to make policy. Such creative liberties add up to a romanticized portrayal which leads viewers to expect more from their elected officials and government than either can reasonably deliver.

The rise and fall of President Obama in the popular imagination offers a case study in the perils of such magical thinking. If George W. Bush self-identified as the "decider-in-chief," candidate Obama was seen as a "persuader-in-chief" — a man who through the power of his words and the force of his unique biography would heal partisan divides, ease racial teensions and calm discontent with America in Europe and the Muslim world. As Andrew Sullivan famously put it, Obama's face and backstory would be "the most effective potential re-branding of the United States since Reagan." In other words, Barack Obama was the avatar of personality-driven politics — and voters signed on for four seasons of the show.

Fast-forward to 2012 and disillusionment has set in, not with Obama so much as the naïve portrait of political life and the power of the presidency his candidacy once represented. In 2008, Obama promised a new era of post-partisan politics. In 2012, humbled by congressional gridlock, an ailing economy, and unrest abroad, he repudiated "the thinking that the president is somebody who is all-powerful and can get everything done." Which is to say, what plays well on television doesn't work so well in Washington.
To be fair, I'd argue that the unrealistic vision of the Presidency that The West Wing presented wasn't necessarily unique to the show itself. As Gene Healy documented in his excellent book The Cult Of The Presidency, the office of the President have become cloaked in an aura of authority and omnipotence that is totally unrealistic which has led to the accumulation of far more power in the hands of one person than the Founding Fathers, or the Constitution, ever intended.  But then, of course, the calm, reserved Presidency of Calvin Coolidge does't exactly make for good television, does it? Americans want to see the strongman President — think Air Force One or Independence Day — not the guy who actually adheres to the Constitutional limitations of his office. That's somewhat unfortunate.
I remain a huge West Wing fan. Indeed, I have the complete series box set sitting in a cabinet just a few feet away from me. It was great drama, and Martin Sheen absolutely stole the entire series, which is ironic only because the original plan for the show called for the President to be a minor character. But a realistic view of politics? Not a chance.