Can Rick Perry Be A Viable Candidate In 2016?
Could Rick Perry recover from his disastrous 2012 campaign to become a viable candidate?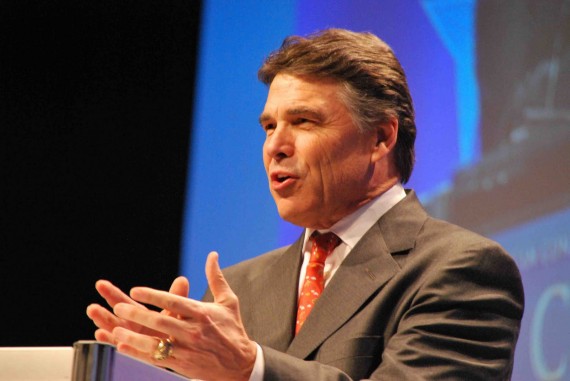 In his announcement yesterday that he would not be seeking a fourth term as Governor of Texas, Rick Perry left any questions about the future, and specifically the possibility that he might be a candidate for the GOP nomination for President in 2016, completely open. Despite Perry's non-committal response, National Journal's Tom DeFrank reports that Texas Republicans believe that a 2016 bid is exactly what Perry is aiming for:
Rick Perry is stepping down as the longest-serving governor in Texas history to clear the decks for a 2016 presidential campaign, according to several well-placed Republican sources. They said Perry is stepping down to make sure his declining popularity among Texas Republicans won't complicate his Oval Office ambitions.

Several Texas Republican sources told National Journal that despite Perry's insistence Monday that he hasn't decided on another presidential race, the governor has been passing the word for months he'll definitely run again in 2016.

(…)

Perry believes he can raise enough money as a former governor to finance a presidential bid despite giving up the huge leverage of incumbency.

"He's made a terrible miscalculation," said one prominent Texas GOP official whose ties to Perry have been rocky at times. "He thinks he's gonna be able to raise money as a lame duck. He's given up his biggest card.

"A sitting governor can say 'I'm the friendly incumbent — don't make me unfriendly.' That's how you raise money – you can hold your office over the head of donors," the official said. Perry, a 1972 Texas A&M graduate who became governor when George W. Bush was elected president in 2000, believes that as the national GOP becomes more conservative, he has a strong chance to rebound from his ill-fated 2012 run. His candidacy self-destructed when he couldn't remember the third government agency he'd abolish as president during a Florida primary debate.
Frankly, it was a lot more than just the "oops" moment, which didn't occur until a debate in mid-November, that did the Perry campaign in. He entered the race to much fanfare at a gathering sponsored by the conservative blog Red State that was held on the same day, and largely overshadowed, the Ames Straw Poll in August 2011. Within a month, Perry had rocketed to the top of the GOP polls and raised an incredible amount of money in a very short period of time. Then, the September debates hit, and the new frontrunner started getting hit from all sides on everything from his comments about Social Security, to his stance on immigration, which differed substantially from the rest of the candidates, and, most bizarrely from Michele Bachmann over his support for a voluntary HPV vaccination program for schoolgirls in Texas. In each of these debates, Perry's performance was, to put it mildly less than stellar, something that was later blamed at least in part on painkillers that the Governor was still taking related to a June 2011 back surgery and the fact that standing for the entire 90 minutes that each of these debates lasted. By the end of September, Perry's star had faded and Mitt Romney was back in the lead in the polls. By October, he was fading fast while former Godfather's Pizza CEO Herman Cain had become the GOP "flavor of the month." When the "oops" moment finally came in November, it was really just the final nail in a coffin that was already starting to close. The end of Perry's campaign just before the South Carolina Primary was, in every sense of the word, anti-climatic. As I noted at that time, in a post that goes into far greater detail about how badly the Perry campaign went, Perry's failings as a candidate were vast and many:
There's one final reason the Perry campaign failed, of course, and it's the fact that Perry just wasn't that good of a candidate. Debate skills aren't the most important thing in a a President, of course, but if Perry wasn't able to take on Mitt Romney or such luminaries as Michele Bachmann and Herman Cain, then what makes anyone think he ever would have been a formidable candidate in a General Election against Barack Obama. Perry reminded me of Rob Ritchie from The West Wing, a popular Southern Governor who ran against Josiah Bartlet in his bid for a second term and who, well, just wasn't very bright, a .22 caliber mind in .357 magnum world as Bartlet put it at one point. He may be fine for Governor of Texas but he never really was Presidential material, and the primary process revealed that quite clearly.
Even putting aside the well-placed questions about the ability of a lame duck/former Governor of Texas to raise the kind of money that he did in the 2012 cycle, one has to wonder why we should expect that a 2016 campaign would, in it's fundamentals, be any different. As more than one political observer noted at the time, the 2012 Presidential run was the first time that Perry had really faced serious sustained political opposition, and the first time that he was forced to engage in the kind of free-form debating that has become common in Presidential primary races. Even without the twin problems of back pain and painkillers, there's really no reason to believe that the same issues wouldn't crop up again in a 2016 run for the White House. Perhaps more importantly, though, Perry would be entering the 2016 race as the guy who flamed out four years earlier rather than the superstar that he was the first time around, and he'll be facing a far more formidable field than he did the first time around:
With political stars like Chris Christie, Marco Rubio, Paul Ryan, Rand Paul, Scott Walker and Ted Cruz in the mix, retreads from the failed attempts to stop Barack Obama have no reason to assume they start with an advantage over newcomers. More than that, the constituencies that seemed most likely to boost Perry in 2012 now have stronger claimants on their support. Santorum is a more natural candidate to support for social conservatives while Tea Partiers are far more likely to embrace fellow Texan Ted Cruz or one of the other conservatives. With Christie and potentially Walker in the race, Perry will also have strong competition for the title of most successful governor.

Perry may be a better candidate if he runs for president again, but the point is that his first try was so bad that anything would be an improvement. Second tries only lead to victory if the first impression a candidate makes on the national electorate is not as dismal as the one Perry made in 2011 and 2012. There are no absolutes in politics, but pegging him as a long shot for 2016 would probably be giving him more of a chance than he actually has.
Anything is possible I suppose, but there really isn't any contemporary record of a candidate who flamed out as badly as Perry did making a comeback and becoming a candidate capable of winning a party nomination in the subsequent, or any future, Presidential cycle. Losing the nomination is one thing, losing before the fight even really began because you were such a bad candidate is a completely different animal entirely. Perhaps Perry could be the one to do it, but it would not be easy, and it will be even harder running as a lame duck/former Governor than it would have been as a sitting Governor.