Trump Claims He Did More To Fight ISIS Than Obama. That Is, Of Course, Not True.
Another day, another Trump lie.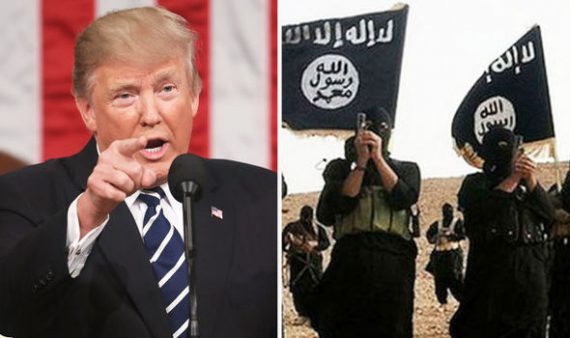 With the recent news that American-backed forces have taken most or all of the capital of the so-called Islamic State has led to another round of President Trump claiming that he has done more to combat ISIS than President Obama ever did. For example, during his recent speech at the Value Voters Summit, Trump stated; "We've done more against ISIS in nine months than the previous administration has done during its whole administration — by far, by far." To be sure, the fact that this victory, even though it may prove to be ephemeral as ISIS adapts by relocating to other locations and engaging in and encouraging terrorism outside of the boundaries of its territory, the fact that this happened under Trump's watch means that he'll likely get at least some of the credit for the success just as Obama did for things such as the success against al Qaeda in a war that began under his predecessor's watch. All that being true, though, the fact that he's claiming to have done more in nine months to fight ISIS than President Obama did during his entire Presidency is, as Washington Post fact checker Glenn Kessler notes, simply not true:
By the time Trump took office, Islamic State territory had fallen to 23,000 square miles, according to Jane's. As of June of this year, the Islamic State controlled 14,000 square miles — and it has fallen further since. But far more of the "liberation" of territory, in square miles, took place before Trump took office, including the recapture of east Mosul as well as cities across Anbar province (Fallujah) and key Syrian cities such as Manbij that controlled the Turkish-Syrian frontier.

Indeed, the plan that resulted in the liberation of Mosul and Raqqa was launched under Obama, and there wasn't much change other than looser rules of engagement with regard to striking targets of opportunity, resulting in an increased tempo. The assault on Raqqa began in November — two months before Trump took office, using the same coalition that ultimately captured the city.

"There is no doubt that the Trump administration followed the basic strategy set in place by the Obama administration," said Michael Morell, former deputy director of the CIA. "There is no doubt that Obama would have gotten where Trump is at this moment as well."

"There were no significant changes in the overall plan in combating ISIS," said Ali Soufan, chief executive of the Soufan Group, and a former FBI agent who specialized in international terrorism cases. "What we are witnessing today is  mostly the fruits of what the former administration started."

(…)

Anthony Cordesman of the Center for Strategic and International Studies dismissed land as a fairly useless metric given most of the territory is desert. But he said other metrics, such as air power, also bolstered the case that Obama had done more.

According to Cordesman's calculations, coalition forces have flown 63,758 sorties, of which 23 percent were flown under Trump. As for air munitions used, coalition forces dropped 65,731 in 2014-2016 versus 36,351 in 2017. That amounts to 36 percent under Trump.

"Obama set up virtually all the structure that did the key fighting under Trump," Cordesman said. He attributed Trump's claims of dramatic success as akin to "saying nothing happened in Europe until the allies in the West crossed the Rhine and entered Germany on March 7, 1945."

"Obama fashioned the strategy, the alliances and assembled the forces to destroy the caliphate, but the culmination of the process has occurred on Trump's watch," said Bruce Reidel, a senior fellow at the Brookings Institution. "It's a good example of Trump keeping Obama policy basically intact, not dramatically altering it. Now the territorial battle is coming to a close and the much harder ideological conflict is still to be won; that is Trump's challenge."

We asked the White House for backup of the president's statement. Officials blamed Obama for allowing the rise of the Islamic State and said a fuller response would be forthcoming, but we did not receive it before publication.
In other words, the basic truth here is that Trump's policies with regard to ISIS were not significantly different from those of President Obama in terms of either strategy or tactics. As the article notes, there were some changes in ground operations implemented by Secretary of Defense Mattis when he took office earlier this year, but the extent to which those changes actually made a difference in the way the fight against ISIS was being conducted were minimal at best. Trump made no other changes in the strategy that had begun under President Obama more than a year earlier, and which were largely responsible for the successes on the ground that ultimately made the capture of Mosul and Raqqa possible, nor did he made any increase in the number of American forces involved in the battles or the number of support missions flown by American aircraft. Perhaps more importantly, the fighting that was done on the ground was, by and large, done by Iraqi forces and by the American-backed Syrian rebels who have been fighting both ISIS and the Assad regime in Damascus. So, the argument that Trump did more to fight ISIS is, as Kessler notes, quite simply untrue:
A president taking credit for a successful outcome started by his predecessor is a time-honored tradition. Obama certainly claimed repeatedly that he saved General Motors during the Great Recession, even though he built on steps first taken by George W. Bush.

That still does not make it right. Trump exacerbates the braggadocio by specifically saying he has done "by far" more than Obama, even though he inherited a structure and plan developed by Obama. Experts credit Trump with some tactical shifts that may have stepped up the tempo — though the number of civilian deaths has soared as a result. But in reality, according to several metrics, more was done under Obama.

Trump earns Three Pinocchios.
As Kessler notes, there's nothing new about sitting Presidents taking credit for good news that happens under their Administration even when it's demonstrably untrue or when, as here, it can be shown that there was no significant change in policy from the previous Administration. In Trump's case, though, there has been an endless parade of this kind of credit claiming, none of which is supported by the available evidence. For example, in the wake of the release of nearly every monthly jobs report since he took office, Trump has claimed credit for the new jobs created (although, strangely enough, he had nothing to say earlier this month when the Bureau of Labor Statistics reported that the economy actually lost jobs in September) as has the rest of his Administration. In reality, job growth from February through September of this year actually lags behind the same period in 2016 and the same period for the previous three years, and if you include January in those calculations the disparity between 2017 and previous years becomes even larger. Furthermore, even if it were true Trump hasn't implemented any policies that could arguably be said to have any real impact on the economy as a whole, much less on job creation in particular. Nonetheless, Trump continues to claim that he's outperforming his predecessor.
As I said, it's natural for any sitting President to claim credit for good news that happens when they are in office. The correlation, though, doesn't mean that it's true and, in Trump's case the inclination to claim credit for things that aren't true has become a near daily occurrence. Of course, given that this is a White House where lies and half-truths are a part of the daily agenda, that isn't entirely surprising.