Trump Has Massive Lead In New CNN Poll
Donald Trump just keeps leading in the polls, and Republicans keep arguing that it can't last.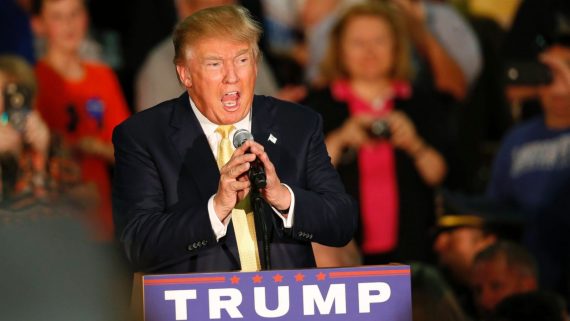 A new national poll of the national race for the Republican Presidential nomination from CNN and ORC International has Donald Trump with one of the largest leads we've seen him hold in any poll to date, while Ben Carson continues to sink and Ted Cruz rises:
Donald Trump is once again alone at the top of the Republican field, according to the latest CNN/ORC Poll, with 36% of registered Republicans and Republican-leaning independents behind him, while his nearest competitor trails by 20 points.

Three candidates cluster behind Trump in the mid-teens, including Texas Sen. Ted Cruz at 16%, former neurosurgeon Ben Carson at 14% and Florida Sen. Marco Rubio at 12%. All other candidates have the support of less than 5% of GOP voters in the race for the Republican Party's nomination for president.

Carson (down 8 points since October), former Florida Gov. Jeb Bush (down 5 points to 3%) and Kentucky Sen. Rand Paul (down 4 points to 1%) have lost the most ground since the last CNN/ORC poll, conducted in mid-October.

Cruz (up 12 points) and Trump (up 9 points) are the greatest beneficiaries of those declines. Rubio is also up slightly, gaining 4 points — an increase within the poll's margin of sampling error — since the last CNN/ORC poll.

Republican voters are most sharply divided by education. Among those GOP voters who hold college degrees, the race is a close contest between the top four contenders, with Cruz slightly in front at 22%, Carson and Rubio tied at 19% and Trump at 18%. Among those without college degrees, Trump holds a runaway lead: 46% support the businessman, compared with 12% for Cruz, 11% for Carson and just 8% for Rubio.

Several other recent polls have shown Trump reclaiming a solid lead atop the GOP field after several weeks of near parity with Carson. But the new poll finds the businessman with both his broadest support and his widest lead in any national live-interviewer telephone poll since he announced his candidacy in June.

The poll reflects Trump's dominance over the rest of the field on the issues voters deem most important to them. He holds massive margins over other Republicans as the candidate most trusted to handle the economy (at 55%, Trump stands 46 percentage points over his nearest competitor), the federal budget (51%, up 41 points), illegal immigration (48%, up 34 points), ISIS (46%, up 31 points) and foreign policy (30%, up 13 points).

Looking at those Republicans who consider each issue to be "extremely important" to their vote, Trump's standing on each issue is even stronger. Among those Republican voters who call the economy extremely important, for example, 60% say they trust Trump to handle that issue. Among immigration voters, 55% trust Trump on the issue. On foreign policy, Trump inches up to 32%, and among those who call terrorism an extremely important issue, 49% say they trust Trump most on ISIS.

The poll was conducted before the shootings in San Bernardino, California, on Wednesday, carried out by a man reported to have been radicalized and his wife.

More generally, about 4 in 10 Republicans say Trump is the candidate who would be most effective at solving the country's problems (42% name Trump, 14% Carson, 12% Cruz, 10% Rubio) and could best handle the responsibilities of being commander-in-chief (37% Trump, 16% Cruz, 11% Carson and 10% Rubio).

And a majority of Republican voters say they see Trump as the candidate with the best chances to win the general election next November (52% say Trump has the best chances there, compared with 15% for Rubio, 11% for Cruz and 10% for Carson).

On immigration, an issue that has been a focal point of Trump's campaign, most Americans say the government should not attempt to deport all people living in the country illegally (63%), and even more say such a mass deportation wouldn't be possible (81%). About half say such an effort would be harmful to the economy (47%), while about 3 in 10 say it would help (29%).

Among Republicans, a narrow majority (53%) think the government should try to deport all of the estimated 11 million immigrants currently living in the U.S. illegally, but most think it wouldn't ultimately be possible to achieve (73%). Republicans are more likely than others to see a deportation effort as helpful to the economy (44% think it would help, 30% that it would hurt).
The 36% that Trump reaches here is the among the highest numbers he's seen in any poll that has been conducted in the past five months, although it's worth noting that it does match recent polling from Reuters/Ipsos and Economist/YouGov, both of which are online polls that have traditionally shown Trump getting better numbers than he has in traditional polling. It's also worth noting that there has been some suggestion today that the CNN poll may be inflating Trump's level of support due to the order in which questions were asked in the poll, but that just reinforces the general caveat that one should consider individual poll results carefully and remember that they may not be entirely reflective of the state of public opinion. Notwithstanding that, though, it's also worth noting that the general picture painted by this poll is consistent with the one we saw in the Quinnipiac poll released earlier this week. Like that poll, the CNN poll shows the GOP race essentially dividing itself into a group where we have four people at the top — Trump, Carson, Cruz, and Rubio, although with Carson apparently sinking slowly but surely — and then a huge drop off that brings us to candidates like Jeb Bush, Carly Fiorina, Rand Paul, and Mike Huckabee, followed by what essentially amount to the non-entity candidates at this point, a group that includes George Pataki, Lindsey Graham, Rick Santorum, and Jim Gilmore. To that extent, the new poll is entirely consistent with what seems to be a new trend in the Republican race as we head into the holidays.
 Looking at the poll averages, we see the same trends that the individual polls seem to be showing. In the RealClearPolitics national average, for example, Trump is in a commanding lead at the top with 30.3%, giving him a more than thirteen point lead over Ben Carson, who now stands at 17.3 points, which is well blow where he had been last months before all the questions about his campaign and his candidacy began to developed. After Carson, we have Cruz and Rubio who are tied at 13.5 points and both seemingly destined to fight it out for second place as Carson continues to sink. After that, there is no candidate averaging above 5%. The best showing is by Jeb Bush, who is at 4.8%, far below where he was before the last two debates which his campaign and supporters described as crucial. Bush is followed by Fiorina (3.3%), Christie (2.8%), Huckabee and Kasich (both at 2.3%), and Rand Paul (2.0%). After that, none of the candidates still in the race are averaging above one percent. The numbers are largely similar in the broader average measured at Pollster. Looking at the status of who might get invited to the December 15th CNN debate, which requires an average of 3.5% in select national polling or a 4% average in either Iowa  or New Hampshire, it currently appears that the only candidates guaranteed an invitation to the main stage debate would be Trump, Carson, Cruz, Rubio, Bush, and Christie Rand Paul and Carly Fiorina are sitting on the bubble and, depending on polling released over the next week, may only be able to get in if CNN decides to round up poll results about 3.5% at the state level, The remaining candidates, including John Kasich and Mike Huckabee would get an invitation to the undercard debate, as would Fiorina, and Paul if they don't make the main stage, and it seems likely most if not all of the remaining candidates may not get a debate invitation at all, a development which would seem to be fatal to their campaigns as we head into the holiday season when a lot of voters will likely tune out coverage of the race and it's unlikely that poll numbers will move significantly before the next round of polling that will determine who gets invited to the last debate before the Iowa Caucuses, which will take place in Iowa on January 26, 2016.
 Inevitably, the latest round of polling is bringing up another round of commentary discounting the idea that Donald Trump really has a chance of being the Republican nominee for President. The two most notable today come from Stephanie Slade at Reason's Hit & Run blog and David Brooks at The New York Times. Slade notes that there are still two months left until people start voting, and repeats a point made by Nate Silver that shows that voters in Iowa and New Hampshire don't really commit to a candidate until we get much closer to caucus and primary day. Brooks makes a similar point, and argues that Trump will likely see his support drop off as we get closer to decision time for these voters. That may well be true, but the fact that Trump has dominated the polling for more than five months now and the closer we get to the primaries the less likely it seems that this support is just going to fade away. Much like many GOP insiders, Slade and Brooks seem to be putting their faith in the voters to reject Trump. What happens if they don't, though?