Trump May Cancel Trip To United Kingdom Due To Planned Protests
Reports are indicating that President Trump may cancel or delay his trip to the United Kingdom due to planned protests.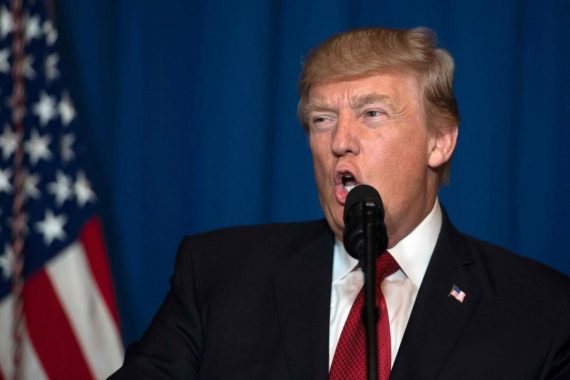 President Trump is scheduled to visit the United Kingdom later this year thanks to an invitation that will reportedly include a State Dinner hosted by Queen Elizabeth II, but there are reports out today that the trip may be delayed due to planned protests against Trump:
President Trump is considering scrapping or postponing a planned visit to Britain later this year amid a billowing backlash over comments he made after the recent terrorist attack in London, two administration officials said.

Over the past week, Mr. Trump has expressed increasing skepticism to aides about the trip after coming under intense criticism for a misleading charge he leveled against London's mayor, Sadiq Khan. A day after terrorists killed eight people in the British capital, Mr. Trump went after Mr. Khan on Twitter, saying the mayor had played down the danger to citizens in the wake of the assault.

The visit was originally scheduled as part of a trip to Europe next month. Then it was tentatively penciled in for the fall. National Security Council and State Department officials were working on the details but had not undertaken the usual "preadvance" trip to work out the specific logistics of joint appearances, said a person familar with the situation.

Mr. Trump, who was visiting his golf course in Bedminster, N.J., over the weekend, has not definitively ruled out going, the officials said. But he has told his staff that he wants to avoid a marathon overseas trip like his nine-day trek to the Middle East and Europe, which he found exhausting and overly long.

One other factor leading to his reluctance, said one of the officials, is his preference for having foreign leaders visit him — not the other way around.

But optics and politics are major considerations, too. Mr. Trump is deeply unpopular in Britain, and any visit by him — let alone a state visit with all its pomp — would probably be met with widescale protests. Recent polls have found that more than half of the British public views Mr. Trump as a threat to global stability.

At the same time, his poll numbers at home are hitting historic lows. The president has avoided trips to his home in New York, in part because of the potential for disruptions, several people in his orbit have said.

Mr. Trump has discussed the potential difficulties of a trip to Britain with Prime Minister Theresa May, who had a stunning setback in parliamentary elections on Thursday, although the subject of a visit was not raised when they spoke on the phone last week, the officials said.

Mrs. May's office, responding to a report in The Guardian that Mr. Trump did not want to visit Britain until he had more public support, issued a statement on Sunday saying there had been "no change" to plans for a state visit.

"We aren't going to comment on speculation about the contents of private phone conversations," a spokeswoman for Mrs. May's office said. "The queen extended an invitation to President Trump to visit the U.K., and there is no change to those plans." Mrs. May extended the invitation to the president around the time of his inauguration.

A postponement of the visit has been seen as a possibility for some time. On Friday, a senior national security official, briefing reporters aboard Air Force One, announced that the president had added a stop in Poland to his early July trip to Hamburg, Germany, for the Group of 20 summit meeting. But the official made a point of not discussing the Britain visit, saying that only the Germany and Poland legs of the trip had been planned.

Officials in Mrs. May's government have also avoided publicly discussing Mr. Trump's possible visit. Some senior diplomats, including Peter Ricketts, who was the national security adviser under David Cameron, Mrs. May's predecessor as prime minister in the Conservative government, have said it is too early for a formal state visit. Those are normally granted after several years in office, if at all. But Mr. Ricketts said he had no objection to a governmental visit.

During a joint news conference at the White House in January, Mrs. May said that Queen Elizabeth II had extended the invitation for a state visit, adding that the monarch was "delighted that the president has accepted that invitation."

In the months since, Mr. Trump has remained a deeply polarizing figure in the United States and in Britain.
As noted above, the reports of a cancellation or delay originated with a report in The Guardian that cited sources saying that Trump didn't want to visit if there were going to be mass protests, as many reports have indicated there would be. The reports also come just days after Trump had engaged in a Twitter war with London Mayor Sadiq Khan that began with Trump attacking Khan in the wake of the terror attack in Central London. This bizarre Twitter rant on Trump's part baffled his critics and led former CIA and NSA Director Michael Hayden to call Trump "irresponsible" for attacking the Mayor in the wake of a serious terrorist attack. It wasn't the first time that Trump had attacked Khan for reasons that only he can explain, and it generated much commentary regarding just how welcome Trump would be if he visited London anytime in the near future. For what it's worth, the BBC is reporting that the Prime Minister's office is reporting no change in current plans for a Trump visit in the fall, but that's far short of an outright denial. As of now, the White House has not commented on the question.
For what it's worth, the people of the United Kingdom don't seem at all eager for a visit from the 45th President of the United States. Public opinion polls have shown that the majority of the public in the U.K. has a negative view of Trump, and it's likely that his comments about Mayor Khan have only made that situation worse. When his planned visit was first announced, many Members of the House of Commons in both the Conservative and Labour parties spoke out against the idea of giving him honors given some of his past statements about Great Britain and his positions on issues such as immigration in general and Muslims in particular. Some Britons have even planned a truly British welcome for the President should he come for a visit. If he's trying to delay the trip because of those protests because of the planned protests, then perhaps he's the one who is the low-energy coward that he's criticized many his opponents of being.