Trump Once Again Displays His Nixonian Side
A new report indicates that President Trump wanted to use the Justice Department to target political enemies. The last time that happened, it led to Articles of Impeachment.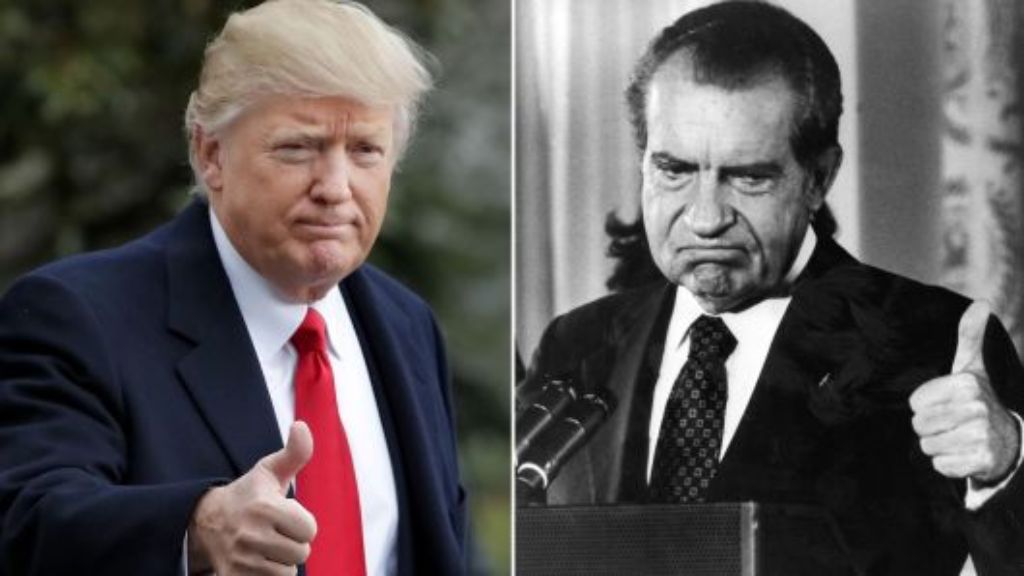 Late yesterday, The New York Times reported that President Trump wanted to order the Justice Department to investigate Hillary Clinton and James Comey and that he was only thwarted by the advice and actions of his former White House Counsel:
WASHINGTON — President Trump told the White House counsel in the spring that he wanted to order the Justice Department to prosecute two of his political adversaries: his 2016 challenger, Hillary Clinton, and the former F.B.I. director James B. Comey, according to two people familiar with the conversation.

The lawyer, Donald F. McGahn II, rebuffed the president, saying that he had no authority to order a prosecution. Mr. McGahn said that while he could request an investigation, that too could prompt accusations of abuse of power. To underscore his point, Mr. McGahn had White House lawyers write a memo for Mr. Trump warning that if he asked law enforcement to investigate his rivals, he could face a range of consequences, including possible impeachment.

The encounter was one of the most blatant examples yet of how Mr. Trump views the typically independent Justice Department as a tool to be wielded against his political enemies. It took on additional significance in recent weeks when Mr. McGahn left the White House and Mr. Trump appointed a relatively inexperienced political loyalist, Matthew G. Whitaker, as the acting attorney general.

It is unclear whether Mr. Trump read Mr. McGahn's memo or whether he pursued the prosecutions further. But the president has continued to privately discuss the matter, including the possible appointment of a second special counsel to investigate both Mrs. Clinton and Mr. Comey, according to two people who have spoken to Mr. Trump about the issue. He has also repeatedly expressed disappointment in the F.B.I. director, Christopher A. Wray, for failing to more aggressively investigate Mrs. Clinton, calling him weak, one of the people said.

A White House spokesman declined to comment. A spokeswoman for the F.B.I. declined to comment on the president's criticism of Mr. Wray, whom he appointed last year after firing Mr. Comey.

"Mr. McGahn will not comment on his legal advice to the president," said Mr. McGahn's lawyer, William A. Burck. "Like any client, the president is entitled to confidentiality. Mr. McGahn would point out, though, that the president never, to his knowledge, ordered that anyone prosecute Hillary Clinton or James Comey."

It is not clear which accusations Mr. Trump wanted prosecutors to pursue. He has accused Mr. Comey, without evidence, of illegally having classified information shared with The New York Times in a memo that Mr. Comey wrote about his interactions with the president. The document contained no classified information.

Mr. Trump's lawyers also privately asked the Justice Department last year to investigate Mr. Comey for mishandling sensitive government information and for his role in the Clinton email investigation. Law enforcement officials declined their requests. Mr. Comey is a witness against the president in the investigation by the special counsel, Robert S. Mueller III.

Mr. Trump has grown frustrated with Mr. Wray for what the president sees as his failure to investigate Mrs. Clinton's role in the Obama administration's decision to allow the Russian nuclear agency to buy a uranium mining company. Conservatives have long pointed to donations to the Clinton family foundation by people associated with the company, Uranium One, as proof of corruption. But no evidence has emerged that those donations influenced the American approval of the deal.

Mr. Trump repeatedly pressed Justice Department officials about the status of Clinton-related investigations, including Mr. Whitaker when he was the chief of staff to Attorney General Jeff Sessions, according to a person with direct knowledge of the conversations. CNN first reported those discussions.

In his conversation with Mr. McGahn, the president asked what stopped him from ordering the Justice Department to investigate Mr. Comey and Mrs. Clinton, the two people familiar with the conversation said. He did have the authority to ask the Justice Department to investigate, Mr. McGahn said, but warned that making such a request could create a series of problems.

Mr. McGahn promised to write a memo outlining the president's authorities. In the days that followed, lawyers in the White House Counsel's Office wrote a several-page document in which they strongly cautioned Mr. Trump against asking the Justice Department to investigate anyone.

The lawyers laid out a series of consequences. For starters, Justice Department lawyers could refuse to follow Mr. Trump's orders even before an investigation began, setting off another political firestorm.

If charges were brought, judges could dismiss them. And Congress, they added, could investigate the president's role in a prosecution and begin impeachment proceedings.

Ultimately, the lawyers warned, Mr. Trump could be voted out of office if voters believed he had abused his power.
It's difficult to overstate the meaning of this report, even if the investigations that Trump wanted never took place. Essentially, if The New York Times is to be believed, the President of the United States attempted to use the Justice Department to not only investigate but prosecute his political enemies. While some would argue that this is hardly surprising given the fact that Trump himself telegraphed that he would do precisely this during the course of the campaign, including during one of the three debates with Clinton herself during which he told her to her face that he wanted to put her in jail, and that he would do so if and when he became President.The idea of investigating and prosecuting Clinton and Comey even though there's no evidence that either one of them did anything illegal is also something that Trump has repeatedly referred to in the campaign-style speeches he continues to give as President.
It's no exaggeration to say that this, using the tools of law enforcement against political enemies, is a fairly serious matter. So serious that it was the subject of the second Article of Impeachment that was approved by the House Judiciary Committee against President Nixon just days before he resigned from office. While Trump, unlike Nixon, was ultimately talked out of taking the course of action he wanted to take, but that doesn't make the story any less significant, nor does it make this President any less dangerous to the Rule of Law.
Whether or not this all ultimately leads to impeachment remains to be seen, but Matt Naham at Law & Crime makes a persuasive argument for the proposition that a report like this arguably helps to strengthen any case that Robert Mueller may be putting together against the President:
William A. Burck told the Times that McGahn was not going to comment on the legal advice he's given to the president. Still, Burck said, "the president never, to his knowledge, ordered that anyone prosecute Hillary Clinton or James Comey."

The interesting thing about this comment is that it's quite blatantly a non-denial denial. The Times reported that Trump wanted to order a prosecution. McGahn said that Trump never, to his knowledge, ordered a politically-motivated prosecution. The distinction is important.

As has been reported previously, Mueller has reportedly looked into Trump's tweets and other public statements targeting former FBI director Comey, former FBI deputy director Andrew McCabe, and former U.S. Attorney General Jeff Sessions. In August, one tweet from Trump said that Sessions, who famously recused himself from the Russia investigation, "should stop this Rigged Witch Hunt right now, before it continues to stain our country any further."

Former federal prosecutor Renato Mariotti argued at the time that this kind of tweet demonstrated "corrupt intent," and was "among the many reasons why Mueller will conclude Trump obstructed justice." Mariotti would add that Mueller and his prosecutors would have looked at that tweet and thought, "They think this is more evidence of corrupt intent. … adding more tabs to their exhibit binder."

Now, Jeff Sessions is out of the picture and has been replaced by acting Attorney General Matthew Whitaker, whose public statements on CNN in various forms indicated that Whitaker was more than a mere skeptic of the Mueller Probe. He said that Mueller may have gone "too far" and even used the president's own words ("witch hunt") to describe it.

As this Whitaker controversy is still brewing, the New York Times is providing information that could, in the same way as the aforementioned tweet, be seen as demonstrative proof of "corrupt intent." A prosecutor could persuasively argue that if Trump would suggest prosecuting Comey for his handling of the Clinton email probe, it stands to reason that Trump would fire Comey because of the Russia investigation.

(…)

18 U.S.C. § 1503 defines obstruction of justice as: "an act that 'corruptly or by threats or force, or by any threatening letter or communication, influences, obstructs, or impedes, or endeavors to influence, obstruct, or impede, the due administration of justice.'"

How else is one to interpret the desire to order the prosecution of political opponents, one of whom was the director of the FBI and asking questions about Russia and the Steele Dossier?
Without commenting too deeply on whether or not Naham is correct about the extent to which this report could strengthen an obstruction case against the President, it most certainly demonstrates yet again the extent to which he refuses to respect the political and legal norms that have restrained previous Presidents. Additionally, it's an apt demonstration of the contempt that this President has shown for the Rule of Law, something I've written about several times before here, here, here, and here. Unlike any President before him with the exception of Nixon, Trump clearly views the Justice Department not as the chief law enforcement agency in the United States, but as an institution that ought to exist to protect him and punish his political enemies. The only thing that has restrained him in that regard, it seems, has been the urging of people like former White House Counsel Don McGhan. That's a little too close for comfort if you ask me.